CBS All Access: 6 Things You Need to Know Before You Subscribe
There are as many ways to cut your cable subscription as there are movies and television shows to watch. CBS All Access is a new service made for cable cutters that are ready to abandon broadcast television too.
Like Netflix, Hulu Plus, Amazon Prime Video, CBS All Access is a video subscription service. A $5.99 monthly fee unlocks thousands of old television shows for you, and the CBS All Access library includes thousands of classic shows. It's one of the many ways you can watch episodes of Star Trek and The Twilight Zone.
But, CBS All Access isn't just a way to watch television shows that have already aired. There are TV shows available to subscribers that others can't watch. The service is the only way to watch The Good Fight, and Star Trek fans will need a membership to watch Star Trek: Discovery this fall. Reality TV show fans can watch what's happening in the Big Brother house in real-time through the app's live feeds.
And if all that wasn't enough, CBS All Access offers live television, so that users who really want to see a new episode of NCIS or watch live sports don't need to connect an antenna to their television. In this way, it's an alternative to Sling TV and PlayStation Vue.
Read: PlayStation Vue vs Sling TV: What You Need to Know
Here's what you need to know about CBS All Access before and after you purchase a subscription to watch your favorite shows.
Whether You Want Commercials or Not Changes the CBS All Access Price
CBS All Access' price depends on how much you're willing to pay for an uninterrupted TV binge and movie binge. Everyone has access to the same shows and movies, however, not everyone can skip commercials. The cheapest CBS All Access plan costs $5.99 a month from the web and $6.99 a month through the iTunes Store. You can buy a year of the service for $59.99. Expect to see commercials with this option. Binging your favorite television shows without interruption costs $9.99 a month or $99.99 a year online. iPhone and iPad users pay $11.99 a month for this plan through the iTunes Store.
You can also add Showtime to your CBS All Access subscription if the content it offers isn't enough for you. A CBS All Access Limited Commercials Plan + Showtime bundle cost $14.99 a month. Adding Showtime's content to a Commercial Free Plan increases the monthly price to $18.99.
Anyone can try CBS All Access free for a week.
What You Can Watch on CBS All Access Today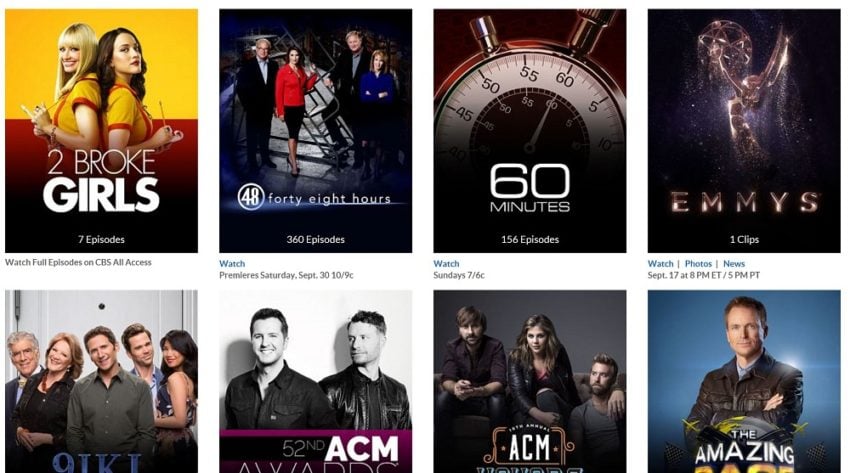 Today, a CBS All Access subscription unlocks more than 8,500 television show episodes. This number includes programming made for the service, shows that have aired on broadcast television and a small set of films from MGM and CBS Films.
The service's prime time line-up includes entire seasons of 60 Minutes, 2 Broke Girls, CSI: New Orléans, Criminal Minds, Elementary, Hawaii Five-O, NCIS and NCIS New Orléans. Besides adding new episodes when they air, the network has each show's complete catalog. You may find a show or two that breaks this rule. For example, only The Big Bang Theory's last 7 episodes are available in CBS All Access today.
The bulk of CBS All Access' library comes from classic shows. Stark Trek, Frasier, Sabrina The Teenage Witch, Mission Impossible, Perry Mason and The Brady Bunch are a few of the big-name programs ready to watch with a subscription.
Finally, CBS All Access subscribers can stream CBS Daytime and CBS News programming. This line-up includes CBS Sunday Morning, 60 Minutes, Face the Nation, CBS This Morning, The Bold and the Beautiful, Let's Make a Deal and The Price is Right.
Look through a full list of CBS All Access program before subscribing here.
CBS All Access is the Only Place to Watch Star Trek: Discovery
There are three shows meant to lure you into subscribing to CBS All Access. None of these shows have aired anywhere else – including CBS' broadcast network.
The Good Fight is the only original drama series that you can watch today. It stars Christine Baranski, who continues her character from The Good Wife. Its entire 10-episode first season is available today.
Big Brother: Over the Top is the first reality TV show to be produced by a streaming service, according to CBS. It's still hosted by Julie Chen, and subscribers get exclusive access to live camera feeds and additional footage directly from the Big Brother House.
Star Trek: Discovery is CBS All Access' third original show. It's a continuation of the Star Trek TV shows that used to run on the network before Paramount revived the film franchise. Discovery takes place before the original Star Trek show, it seems. One episode will air on CBS' broadcast channel on September 24th before the show moves to CBS All Access permanently.
Read: New Star Trek TV Series: 5 Things Fans Need to Know
You Can Use CBS All Access to Watch Sports & Live TV
Depending on where you live, you can use your CBS All Access subscription to enjoy everything that your local broadcast channel airs that isn't available on-demand.
Sports fans benefit from this the most. Any sporting event that airs on your CBS broadcast station, won't be blocked out. This includes regular season NFL games. You do have to make sure you are using the CBS All Access app for your television for NFL games, sadly. Those can't be streamed to a smartphone.
Read: How to Watch NFL Football Live on Android
Unfortunately, you should expect one major problem with watching live TV and sports through the service specifically. Like some other video services, content deals in your area decide whether you can use the feature. Use the Check Availability link to see if this is available in your area before you subscribe.
Read: 8 Best Live TV Apps: No Cable, No Problems
You Can Watch CBS All Access Anywhere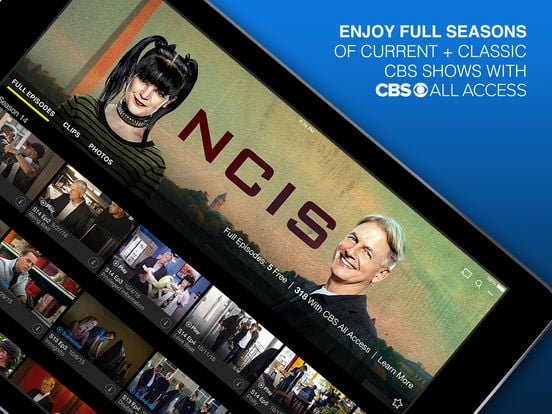 CBS All Access is available on just about every platform you could want to watch on. Most users are well covered. CBS All Access is available on iPhone and any device running Google's Android operating system. Remember, these apps don't let you stream NFL games. You can watch on your laptop or tablet with the iPad and Windows 10 app if your smartphone's display is too small for you. There are no viewing restrictions on these apps.
The best place to CBS All Access is in a living room. The service has Apple TV, Fire TV, Roku, PS4, Xbox One and Google Chromecast experiences. These devices don't have NFL viewing restrictions either.
You Can't Use CBS All Access Outside the United States
Finally, don't subscribe to CBS All Access if you travel outside of the United States or visit Puerto Rico frequently. A subscription only grants streaming rights within the country and doesn't cover U.S. territories, according to CBS All Access FAQ entry.
All told, CBS All Access is a great way to watch television, and it could get better if CBS continues its push to add shows that you can't watch anywhere else. If you're planning to get rid of cable and you love CBS, add it to your list of services to try.