Dell Latitude 7212 Is a Surface Pro Alternative for Work  
The most demanding jobs requires a PC that can hold up to just about anything, and that's exactly what the new Dell Latitude 7212 is designed to do. It's a Surface Pro alternative with a rugged exterior that can stand up to moisture, shock, grit and grime.  
Officially called the Dell Latitude 7212 Rugged Extreme Tablet, there's very little that this $1,899 mobile Windows 10 PC can't stand up to. It's rated for extreme cold, heat and humidity. Its rugged frame passed MIL-STD-810G testing for vibration, humidity, salt fog, altitude, thermal extremes and freezing. In short, it works in places where an iPad Pro or Surface Pro with a case simply wouldn't. Like the iPad Pro and Surface Pro, a cover with a backlit keyboard lets users interact with the device. It's 11.6-inch FHD is rated for both durability and easy visibility and still lets users interact with touch. 
Read: 12.9-Inch iPad Pro vs 2017 Surface Pro  
All this does come at a price. With its lowest capacity battery, the Latitude 7212 weighs 2.82 pounds and is nine-tenths of an inch thick. That's an improvement over Dell's latest generation rugged tablet, but bulkier than the average tablet for sure.  
The updated rugged design holds some updated internals. Latitude 7212 buyers can choose a dual-core 7th Generation Intel Core i3, Intel Core i5 or Intel Core i7 processor. These are the same processors at work in high-end PCs. Businesses with compatibility concerns can opt for a 6th Generation Intel Core i5 processor and Windows 7 for their Latitude 7212 tablets instead. The tablet's RAM options are limited to 8GB and 16GB of RAM. 
The Dell Latitude 7212 has options for every kind of work scenario. For those that are in the field all day, the Latitude 7212 supports mobile internet connectivity. Swappable batteries let users go 19 hours without connecting the tablet to power. An optional fingerprint reader and TPM 2.0 switch keep all data inside the tablet safe, and GPS technology provides real-time positioning and mapping details. If photos are a big concern, buyers can add a front-facing and rear-facing camera sensor.  
Also, despite its ruggedness, the Latitude 7212 Rugged Extreme Tablet has every essential port a worker could need away from the office. There's a full-size USB Type-A port, USB Type-C port, headphone jack, SmartCard reader, lock slot and NFC technology so that they can share info with other devices without having to connect a cable.
Because an enterprise PC is only as good as the accessories you can add to it easily, Dell has kept compatibility with all its previous rugged tablet cases, docks, kickstands, straps and batteries. Pins on the back of the tablet allow workers to dock and undock at a desk quickly. 
The Dell Latitude 7212 Rugged Extreme Tablet goes on sale today at Dell.com.
10 Best Surface Pro Alternatives in 2020
ThinkPad X1 Tablet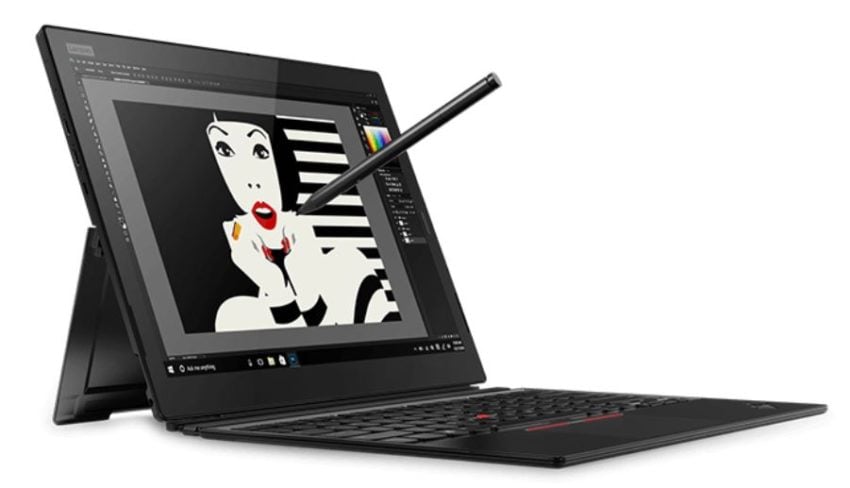 The ThinkPad X1 Tablet offers a lot of great features: a durable shell, an amazing display and Amazon's Alexa personal assistant.

The ThinkPad X1 Tablet has a 13-inch display. And, despite its good looks, the device has passed 12 military torture tests to ensure it can survive dust storms, cold temperatures, drops and spills. Finally, If you don't find Microsoft's Cortana personal assistant useful, the ThinkPad X1 Tablet has the same Alexa personal assistant your Echo smart speakers do. A Surface Pro won't survive a drop or spilled liquid and Cortana isn't as useful as Alexa is.


Read: ThinkPad X1 Carbon, X1 Yoga and X1 Tablet Have Stunning Display and Alexa


The third-generation ThinkPad X1 Tablet has powerful processors, plenty of RAM and other options. Models come with up to an 8th generation Intel Core i7 processor and 16GB of RAM. You won't get stuck waiting for web pages to load or your photo editor to process your touch-ups. If you don't like passwords, use the IR camera on the front of the ThinkPad X1 Tablet to sign into Windows. This 2-in-1 also has a fingerprint reader.

The ThinkPad X1 Tablet's screen detects 4,096 different levels of pressure from its digital pen. Besides that, it's a really detailed display. Windows, your videos and everything else you do on it looks crisp and detailed. Again, it's three times as sharp as an HD display.

Like other Surface Pro 4 alternatives, this Windows 2-in-1 connects to its included keyboard cover using a special slot on its bottom edge. It has Thunderbolt 3 ports for fast data transfers, a MicroSD card reader and a headset jack. With LTE connectivity, you can add the ThinkPad X1 Tablet to your smartphone data plan. You can't do that with a Surface Pro 4.