Don't Turn on iCloud Drive When You Install iOS 8 Today
The iOS 8 release date is here, but there is one iOS 8 feature that isn't ready for most users just yet. If you use any iOS apps that sync with iCloud to a Mac App on your computer you should choose to turn on iCloud Drive later.
iCloud Drive is an iOS 8 feature that delivers a new way to access all of your files, but it only works on iOS 8 and OS X Yosemite.
iOS 8 arrives on September 17th, but there is no official OS X Yosemite release date confirmed at this time. We know that it arrives later this year and there is a good chance that it will arrive next month as a free update to most Macs.
For users that rely on iCloud to keep data synced between an iPhone or iPad app and a Mac app don't enable iCloud Drive yet.
RealMac makes popular To Do list app Clear for iPhone and iPad and Clear for Mac. If you turn on iCloud Drive you will no longer be able to sync the apps until the OS X Yosemite release date. Nik Fletcher of RealMac explains the problem with turning on iOS 8's iCloud Drive feature now.
"If you upgrade to iCloud Drive, you will only be able to sync with devices running iOS 8 or OS X Yosemite. As OS X Yosemite is still pre-release (and not yet available) upgrading to iCloud Drive will prevent you from syncing with Clear for Mac until both OS X Yosemite is released and you upgrade to OS X Yosemite."
When you install iOS 8 on your iPhone and iPad you need to choose Not Now on the iCloud Drive screen. This doesn't mean you will never get the benefit of iCloud Drive. You can turn on iCloud Drive later in Settings -> iCloud -> iCloud Drive. Don't turn this on just yet, but when you install OS X Yosemite on your Mac you can toggle this on.
For users who own a Windows PC, this is not much of an issue. You can go ahead and turn on iCloud Drive which will give you better access to files and iCloud storage than previously offered.
During the iOS 8 release date and the days right after there may be some delay in migrating from iCloud to iCloud Drive. This could take seconds or hours, so even if you are using the OS X Yosemite beta you may want to wait.
The iOS 8 release time arrives at 10 AM Pacific / 1 PM Eastern and it brings a collection of exciting new features to iPhone, iPad and iPod touch. Check out the slideshow below for more on the iOS 8 features you can enjoy soon.
What's New in iOS 8
iOS 8 vs iOS 7 Walkthrough - Home Screen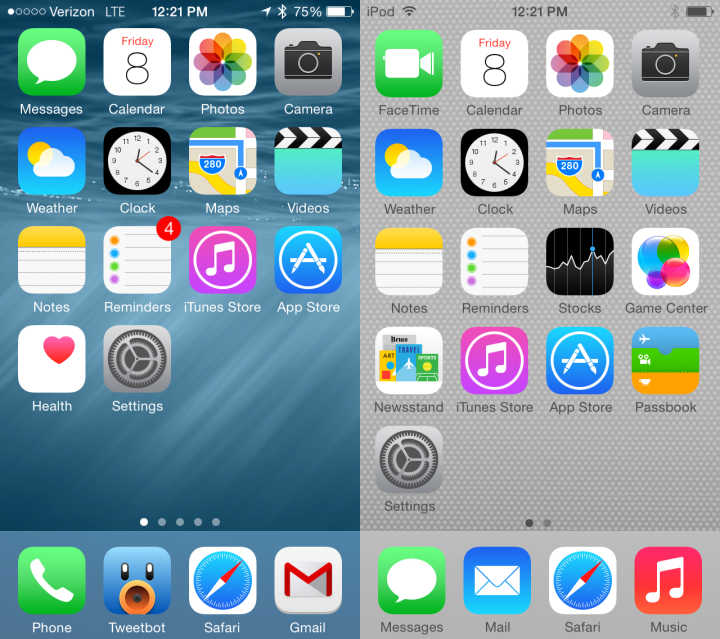 We start our iOS 8 vs iOS 7 walkthrough with the iPhone home screen, which is where you'll start your iOS 8 experience after an update this fall.
These screens are incredibly important as you see them anytime you turn on the iPhone or need to choose an app to launch. There is no way around using them, so Apple needs to make sure they work just right.
As you can see in the iOS 8 vs iOS 7 comparison above, there is no change between the home screen in the new iPhone software. Apple changed the status bar and some other small visual changes in iOS 7, but there are no updates for iOS 8.
We could see Apple change the home screen slightly for iOS 8 for the iPhone 6. The new iPhone will feature a larger 4.7-inch display with a higher resolution. This is something Apple may use to add more icons to the screen. Or they could stick with the current layout, it's tough to tell.