Fallout 76 Beta: 5 Things You Need to Know
Bethesda's Fallout 76 beta is here and this guide will take you through everything you need to know if you want to try Fallout 76 early.
Fallout 76 pre-orders are live and Bethesda's next entry in the Fallout series hits the Xbox One, PlayStation 4, and Windows PC on November 14th.
If you want to try the game out before the release date you can do so via the Fallout 76 beta. The beta lets you try the full version of the game ahead of the official release date and it'll also help Bethesda squash bugs and performance problems before the game arrives this fall.
Now that the Fallout 76 beta is here, here are a few things you should know.
You Need to Pre-Order Fallout 76
If you want to try the Fallout 76 beta you'll need to pre-order a copy of the game. All three versions (standard, Tricentennial and Power Armor Edition) come with access to the Fallout 76 beta.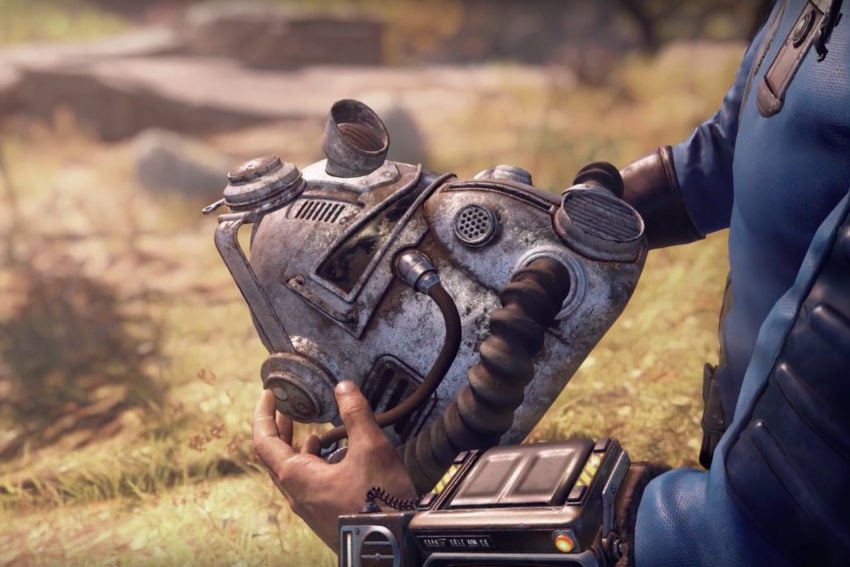 As of right now, it doesn't look like Bethesda will open it up to those who don't want to pre-order the game. That could change, but those who want to secure a spot in the beta will want to pre-order.
Those who don't participate in the beta will get ample feedback from testers. The beta won't be under NDA which means testers can post screenshots, stream, and make videos without fear of punishment.
Fallout 76 Beta Schedule
Bethesda opened up beta testing to Xbox One owners on October 23rd. The company has now confirmed a full Fallout 76 beta schedule for Xbox One, PS4, and PC.
Bethesda says that while the beta will stretch into November, the servers "will not be running 24/7." Instead, the company will use "targeted timeframes" so that it can get as many people as possible playing at the same time.
The company says that on "any given day" the beta might be up and running for anywhere between four to eight hours. It says it will continually do this "again and again" from the start of the beta until a few days before launch in November. Here's what that looks like: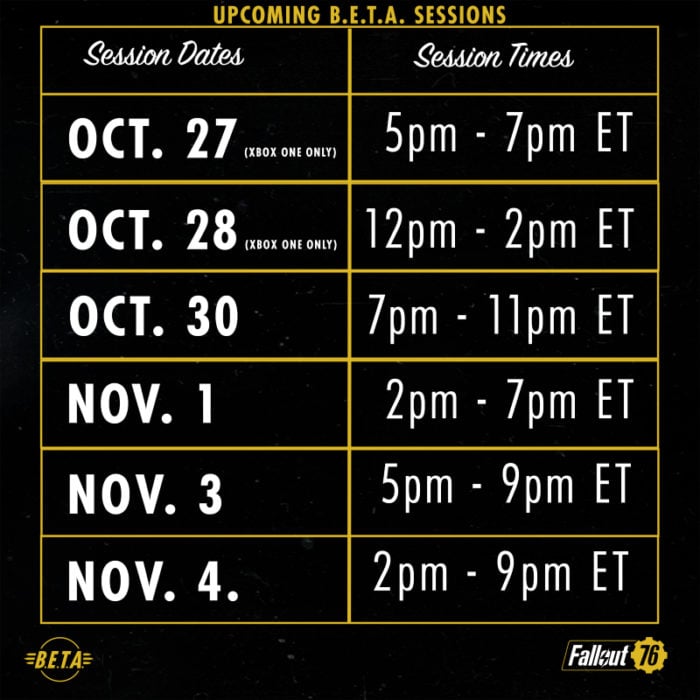 PC and PS4 players will get access to the Fallout 76 beta on October 30th.
Other Fallout 76 Beta Info
Here are a few other things to know about the Fallout 76 beta:
The PC version of the Fallout 76 beta will only be available via Bethesda.net. Fallout 76 won't be available on Steam at launch and it's unclear when or even if Bethesda plans to launch it there.
You will need a subscription to Xbox Live Gold or PlayStation Plus to play the beta and Fallout 76.
The beta is around 48GB.
You aren't required to sign an NDA to try the beta. You can share everything you see.
Bonus content from the game's Tricentennial Edition will be made available when Fallout 76 launches in November.
How to Download Fallout 76 Beta (Digital)
Those who have pre-ordered Fallout 76 for Xbox One are now allowed to pre-load the beta. If you pre-ordered a digital version of the game, here's how to download it right now:
Log into your Xbox One with the account you used to pre-order.
Search for "Fallout 76" on the Xbox Store
Select the "Fallout 76 B.E.T.A." product page and download the beta.
How to Download the Fallout 76 Beta (Physical)
If you pre-order a copy of the game via Microsoft, Sony, or Bethesda.net, you will automatically receive access to the beta on the Xbox One Store, PlayStation Store, or Bethesda.net eShop account you pre-ordered with.

If you pre-ordered a physical copy, here's how to get it:
Log in

 to your Bethesda.net Account and redeem the code that came with your purchase receipt.
Once you do this, you will receive your beta code on your account's 

transaction history page

.
This code must be redeemed on your Xbox One.
3 Reasons to Buy Fallout 76 & 7 Reasons to Wait
Buy If You Love Online Games & Fallout
If you like the sound of an online Fallout-style RPG, you might want to buy a copy of Fallout 76.
Fallout 76 is an online survival RPG inspired by games like Rust and DayZ.
It's much different than the Fallout games you're used to, but it still has quests, a leveling system, V.A.T.S. (though it's nothing like the V.A.T.S. from previous games) and tons of enemies to kill just like Bethesda's traditional single-player RPGs.
It also has base building (dubbed C.A.M.P.), something Bethesda introduced in Fallout 4 back in 2015. Fallout 76 allows you to build anywhere on the map.
Fallout 76 is more Fallout Online/Elder Scrolls Online than Fallout 5. If sharing an open, evolving Fallout world with friends sounds amazing, think about buying a copy of the game today, tomorrow, or sometime in the near future.

As an Amazon Associate I earn from qualifying purchases.