Fallout 76 Pip-Boy 2000 Construction Kit: 5 Things to Know
There won't be a Fallout 76 Pip-Boy Edition, but the Fallout 76 Pip-Boy 2000 Construction Kit is the next best thing.
Fallout 76, the next installment in the long-running Fallout series, comes in three editions: Standard, Tricentennial, and a $200 Power Armor Edition that comes with a wearable Power Armor helmet and other collectibles.
If those aren't enough, Bethesda's also announced a Fallout 76 Pip-Boy 2000 Mk VI Self-Assembly Construction Kit from ThinkGeek and The Wand Company.
What Is the Fallout 76 Pip-Boy 2000 Construction Kit?
The Fallout 76 Pip-Boy 2000 Construction Kit lets you build your very own version of the Pip-Boy Model 2000 Mark VI, the Pip-Boy from Fallout 76. ThinkGeek says it takes one to two hours to build.
It's the only officially-licensed Pip-Boy 2000 replica making it an ideal item for collectors and cosplayers.
What Comes With It?
The Construction Kit includes 150 genuine RobCo Industries parts, a holotape, faux leather case, and an instruction manual straight from Vault-Tec. It also comes with the tools required for assembly.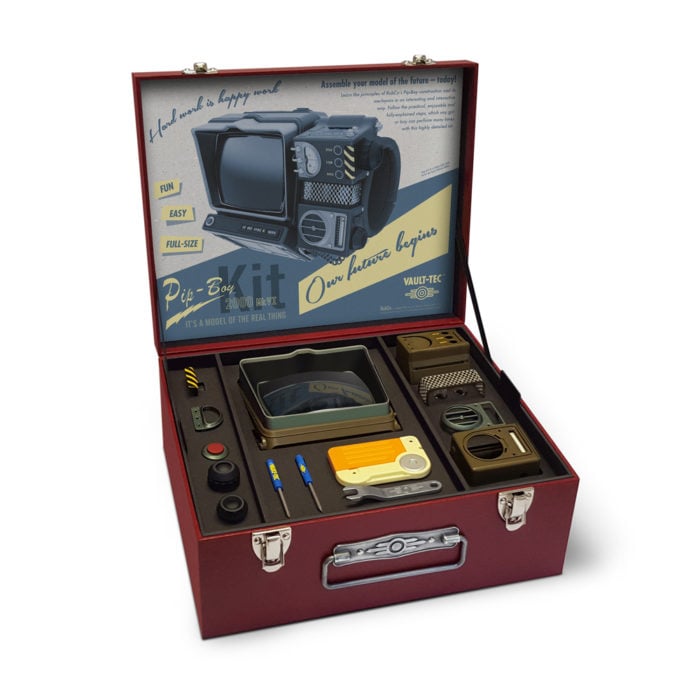 ThinkGeek says the device's spring-loaded buttons are designed to press. The knobs turn, the radio dial works, and the holotape player opens up to eject the holotape. Unlike ThinkGeek's Pip-Boy 3000, the Pip-Boy 2000 doesn't come with an electronic functionality.
It's important to note that the Construction Kit doesn't come with a copy of Fallout 76.
Where to Buy It
There are three places that are taking pre-orders for the Construction Kit. You can either place an order directly through ThinkGeek, put in an order via the Beth Store, or pre-order through GameStop.
The device is exclusive to Bethesda, GameStop and ThinkGeek so it almost certainly won't go on sale at Amazon, Best Buy, or any other high-profile retailer.
ThinkGeek limits purchases to two per customer. Any orders exceeding this limit will be cancelled.
Release Date
ThinkGeek lists the Pip-Boy 2000 Construction Kit with a Holiday 2018 release date, but Bethesda and GameStop both state that it'll start shipping in November.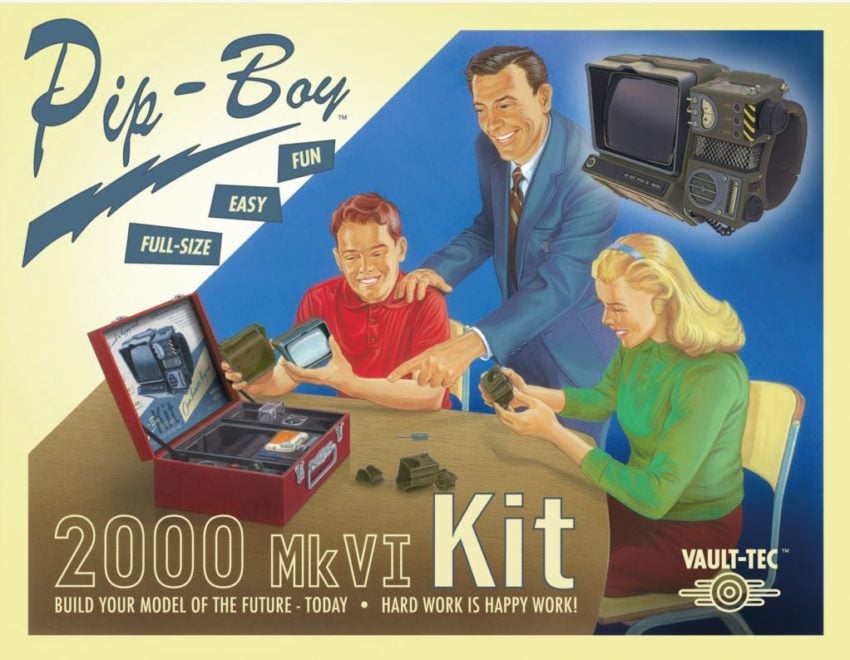 GameStop says it plans to release the Construction Kit on November 13th. Fallout 76 is scheduled to arrive on Xbox One, PlayStation 4, and Windows PC on November 14th.
How Much Does It Cost?
The Pip-Boy 2000 Construction Kit costs more than a copy of Fallout 76, but it's cheaper than the Fallout 76 Power Armor Edition bundle.
All three sites are selling the kit for $150, or, $50 cheaper than the Power Armor Edition. We don't expect to see any pre-release deals.
It's unclear how much stock these retailers have. Bethesda's Power Armor Edition has sold out at many retailers ahead of launch and there's a chance the Construction Kit sells out as well.
Those who want the collectible on release day are advised to pre-order.
3 Reasons to Buy Fallout 76 & 7 Reasons to Wait
Buy If You Love Online Games & Fallout
If you like the sound of an online Fallout-style RPG, you might want to buy a copy of Fallout 76.
Fallout 76 is an online survival RPG inspired by games like Rust and DayZ.
It's much different than the Fallout games you're used to, but it still has quests, a leveling system, V.A.T.S. (though it's nothing like the V.A.T.S. from previous games) and tons of enemies to kill just like Bethesda's traditional single-player RPGs.
It also has base building (dubbed C.A.M.P.), something Bethesda introduced in Fallout 4 back in 2015. Fallout 76 allows you to build anywhere on the map.
Fallout 76 is more Fallout Online/Elder Scrolls Online than Fallout 5. If sharing an open, evolving Fallout world with friends sounds amazing, think about buying a copy of the game today, tomorrow, or sometime in the near future.