Fallout 76 Power Armor Edition Pre-Order Problems
Bethesda's Fallout 76 Power Armor Edition is a hot commodity and we're starting to see pre-order issues pop up as we push toward the release this fall.
There are three versions of Fallout 76. A standard edition, a Tricentennial Edition, and a $200 Power Armor Edition bundle that comes with a copy of the game and several bonus items including a wearable Power Armor helmet.
Like the Fallout 4 Pip-Boy Edition before it, the Power Armor is a limited run and stock has already dried up long before the game's official release date in November.
Demand for the Pip-Boy Edition led to a variety of pre-order problems and we're starting to see some of the very same issues affect Power Armor Edition pre-orders.
Fallout 76 Power Armor Edition Cancellations
One of the most frustrating problems Fallout 4 Pip-Boy Edition buyers encountered were pre-order delays and cancellations.
Some buyers claimed their shipment got delayed for unknown reasons and some claimed their pre-order was cancelled without warning. The latter issue is reportedly starting to impact the Power Armor Edition launch.
It appears Best Buy and Walmart are starting to cancel Power Armor Edition pre-orders. The retailer is telling customers it's cancelling the pre-orders because they oversold pre-orders.
The retailer says it's going to refund cancelled pre-orders and those affected will be able to keep their codes for the upcoming Fallout 76 beta.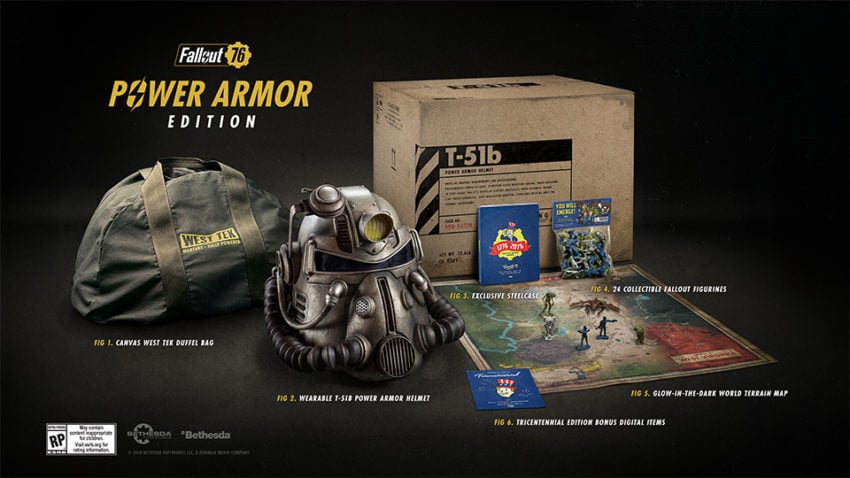 At this point, there's not much those affected by the cancellations can do. We recommend getting in touch with Best Buy customer service and it wouldn't hurt to contact Bethesda itself though there's probably not much it can do outside of releasing more stock.
Those that haven't pre-ordered the bundle should try to find an alternative to Best Buy. Bethesda, GameStop, and others are also taking pre-orders for the bundle.
Those that've pre-ordered a Power Armor Edition will want to keep a close eye on the order status as we push through the summer.
We saw a flurry of Pip-Boy Edition cancellations occur in the fall in the buildup to Fallout 4's release date so expect to see more Power Armor Edition cancellations emerge later this year.
Fallout 76 Power Armor Edition Stock
Another issue impacting the Power Armor Edition release is the limited amount of stock available at retailers like Bethesda, Amazon, Best Buy, GameStop, Target, and Walmart.
As we push toward the game's release this fall, most retailers are showing depleted stock. The bundle is "Currently Unavailable" at Amazon, "Coming Soon" at Best Buy, no longer available at Walmart, and "Not Available" at GameStop .
We've occasionally seen new stock emerge, but it usually dries up within minutes.
Bethesda hasn't said if it plans to release additional Power Armor Edition stock later this year so it's unclear if sites like Amazon will start taking pre-orders again.
Bethesda managed to release additional Pip-Boy Edition stock after it sold out, but there's no guarantee the company does the same with this year's bundle.
At this point, those looking to buy a Power Armor Edition bundle ahead of the November 14th release date have two options.
The first option is to track Power Armor Edition stock this summer. There's an easy way to do that and our guide will show you how to get setup in minutes.
The other option is to buy the bundle on the resale market.
Fallout 76 Power Armor Edition Prices
Herein lies another problem. Yes, resellers are selling Fallout 76 Power Armor Edition pre-orders on sites like eBay and Craigslist. Unfortunately, you probably can't find someone selling a pre-order for its suggested retail price of $200 at the moment.
The Power Armor Edition is starting to pop up on resale sites like eBay, but scalpers are charging a lot more than $200 for the bundle.
Most listings are currently in the high $200s and we're seeing some scalpers charge $300+ for the rights to the bundle. We don't expect these to budge this summer and we could even see prices start to jump once Bethesda makes more announcements and when the release date gets closer.
Those who don't want to pay $290+ for the Power Armor Edition will need to keep a close eye on official outlets or wait until after the Fallout 76 release date in November for prices to potentially drop.
There's also a chance Bethesda and its retail partners release more stock around, or after, the game's release. Additional Pip-Boy Edition stock emerged shortly after the Fallout 4 release date due to cancellations.
3 Reasons to Buy Fallout 76 & 7 Reasons to Wait
Buy If You Love Online Games & Fallout
If you like the sound of an online Fallout-style RPG, you might want to buy a copy of Fallout 76.
Fallout 76 is an online survival RPG inspired by games like Rust and DayZ.
It's much different than the Fallout games you're used to, but it still has quests, a leveling system, V.A.T.S. (though it's nothing like the V.A.T.S. from previous games) and tons of enemies to kill just like Bethesda's traditional single-player RPGs.
It also has base building (dubbed C.A.M.P.), something Bethesda introduced in Fallout 4 back in 2015. Fallout 76 allows you to build anywhere on the map.
Fallout 76 is more Fallout Online/Elder Scrolls Online than Fallout 5. If sharing an open, evolving Fallout world with friends sounds amazing, think about buying a copy of the game today, tomorrow, or sometime in the near future.