Google Pixel 4 Release Date, Price & Shipping Info
The new Google Pixel 4 and Pixel 4 XL are finally official and available now. With a set of powerful cameras on the back and fancy, fluid screens, these are almost Pixel perfect. In this breakdown we'll tell you everything you need to know about these impressive phones, and where you can buy the Pixel 4.
On October 15th Google announced its latest devices, they started shipping on the 22nd, and they're officially available in stores after October 24th. Here are the best Pixel 4 deals. Then, we explain the specs, release details, pricing, color choices, shipping info and more for potential buyers.
Important Google Pixel 4 & 4 XL Release Details
Available now to Buy at Google, Best Buy & More
Release in Stores and Online Starting October 24th
Google Pixel 4 starts at $799 – Pixel 4 XL starts at $899
Choose from three Pixel 4 Colors (Just Black, Clearly White, & Oh So Orange)
Google Pixel 4 Release Date (and Pixel 4 XL)
First things first, when can you get Google's new Pixel phone? Well, just as we expected and similar to last year it's about a week after being announced.
The Google Pixel 4 and Pixel 4 XL got released on October 24th following a short pre-order period. It's available from most carriers, several retail stores, and Google's online store.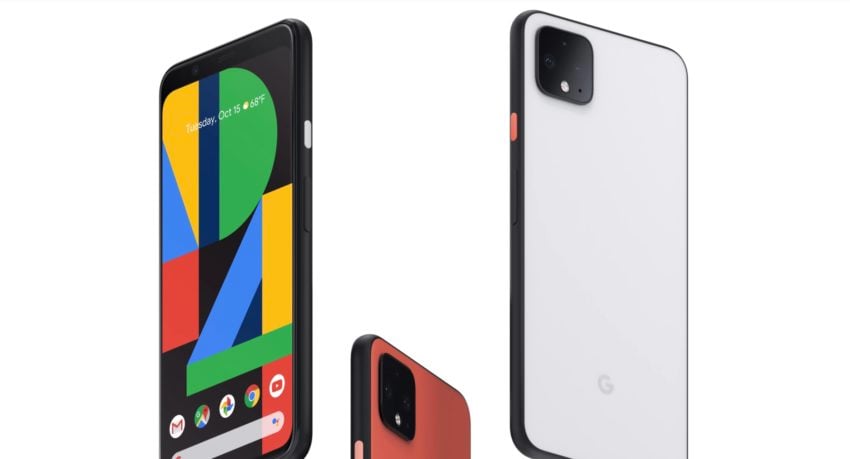 Google once again partnered with Verizon Wireless, which is the only option at checkout on the Google Store. However, the phone will also be sold by T-Mobile, Sprint, and even AT&T. Furthermore, the unlocked model on the Google Play Store works everywhere, including T-Mobile and Google Fi. You can get it on Amazon, too, but we're hearing they're way behind on shipments.
Google Pixel 4 Pre-Orders
As many Pixel and Nexus users probably know, Google's phones always sell out or end up in short supply. We're hoping that's not the case, but you'll want to pre-order the Pixel 4 anyways, just in case. Even last year the Pixel 3 saw ship dates slide into mid-November on the first day of pre-orders.
Google's Pixel is available to pre-order immediately as of October 15th. Those end on the 22nd and it'll officially arrive online, on doorsteps, and in stores.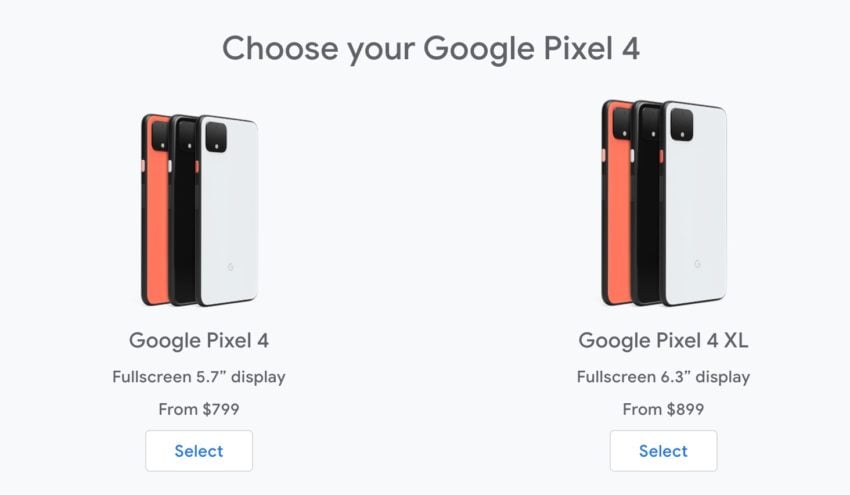 Google Pixel 4 and Pixel 4 XL Display
Perhaps one of the most exciting and important parts of the Pixel is the screen. Well, aside from the powerful new dual rear cameras. This year Google went with a unique approach but that's because buyers didn't like the notch from last year.
The Google Pixel 4 and 4 XL have 5.7 and 6.3-inch screens again, in 1080p and the bigger model gets a Quad-HD resolution. However, both offer a new 90 Hz refresh rate for fast performance and smooth user experiences. This is something we've seen on gaming devices or the OnePlus 7T, but not from other big brands like Samsung or Apple.
Google Pixel 4: 5.7-inch 1080p Smooth 90Hz HD Display (OLED)
Pixel 4 XL: 6.3-inch Quad-HD Smooth 90Hz Display (OLED)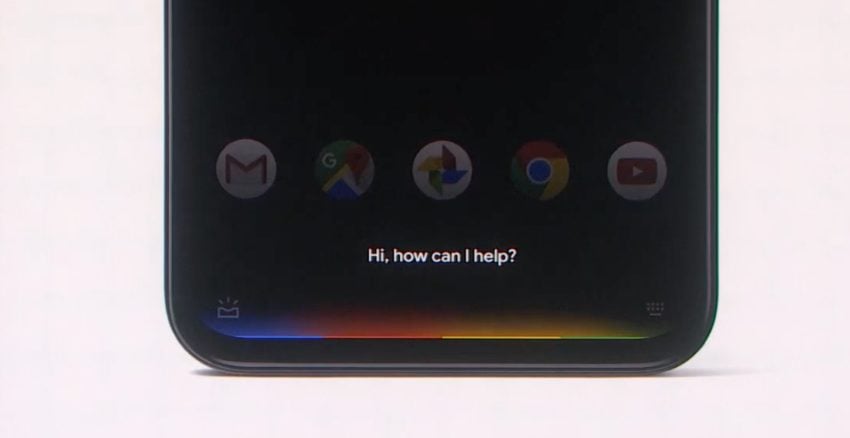 Google's new phones refresh up to 90 times per second, instead of only 60 Hz (or less) making everything look and feel smoother and faster than ever before. The higher refresh rate makes a substantially noticeable difference on OnePlus phones, and we're excited to see it on the new Pixel.
In case you didn't notice, Google didn't show the phone a whole lot during the event. If you're wondering, yes the Pixel 4 and Pixel 4 XL have a "forehead" or bezel above the display. They're not "bezel-free" like the iPhone 11 or OnePlus 7 Pro. Instead, Google packed a bunch of sensors and features into the top and decided to ditch the big notch from last year.
However, the rest of the phone is all screen with very small bezels on the bottom and sides. It looks pretty great, honestly, and this is likely a personal preference for buyers. Do you like Apple's notch or Samsung's cut hole screens? If not, consider Pixel 4.
Google Pixel 4 Specifications & Features
Sporting a better and beautiful new 6.3-inch OLED display, the big Pixel 4 XL should look and perform great. Every aspect of these phones are better, even if they look somewhat similar to previous models.
One thing to keep in mind is you'll get to choose between two different phones to get exactly what's right for you.
Pixel 4 & Pixel 4 XL Specs 
5.7 and 6.3-inch FHD and Quad-HD 90Hz "Smooth Display" AMOLED screens
8-Core Qualcomm Snapdragon 855 Processor with 6GB of RAM (Same processor as Galaxy S10)
64 and 128GB storage configurations, no microSD expansion
Android 10 (previously known as Android Q)
Improved Dual Rear AI Cameras: Main 

12.3 Megapixel f/1.7 sensor & 16MP Telephoto zoom f/2.4 or ultra-wide angle lens, and a Spectral Sensor 

Front 8MP camera for Portrait selfies, emoji and more
2,800 mAh and 3,700 mAh Battery with Fast and Wireless Charging
IP68 Dust & Water Resistant
USB Type-C, Google Assistant, Face Unlock technology, no 3.5mm headphone jack, no fingerprint sensor
No mention of 5G
Some things worth noting here are the fact that Google's phones no longer have a fingerprint scanner. Instead, Google added several cameras and sensors in that bar above the screen, the forehead, and it does some fancy facial recognition similar to Apple's FaceID that unlocks the iPhone. That said, Google claims its face unlock is better and faster than anything else on the market.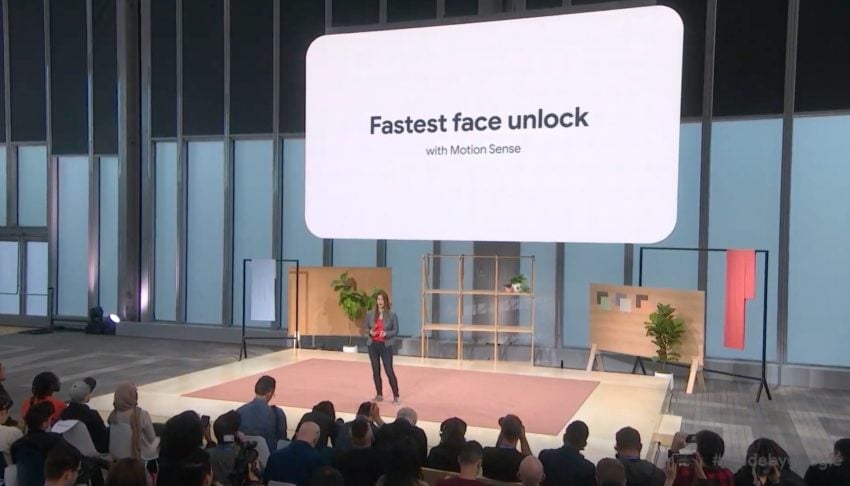 Using Google's "motion sense" technology the phone knows when you pick it up that it should be ready to do the unlock process. So, the processor is already thinking and the camera is ready. Simply look at the phone (from better angles than most face unlock options) and it'll instantly, quickly, and securely unlock. There is no fingerprint sensor on the Pixel 4.
Google Pixel 4 Price, Colors & Storage Options
How much will this new phone cost now that it has a faster screen, more cameras, and some crazy technology inside? Well, the same as last year. As expected, Google is keeping the pricing fairly reasonable while undercutting Samsung and Apple at the same time. That said, they don't have a budget model like the competition does.
Pixel 4 64GB – $799 (or 128GB for $899)
Pixel 4 XL 64GB – $899 (or 128GB for $999)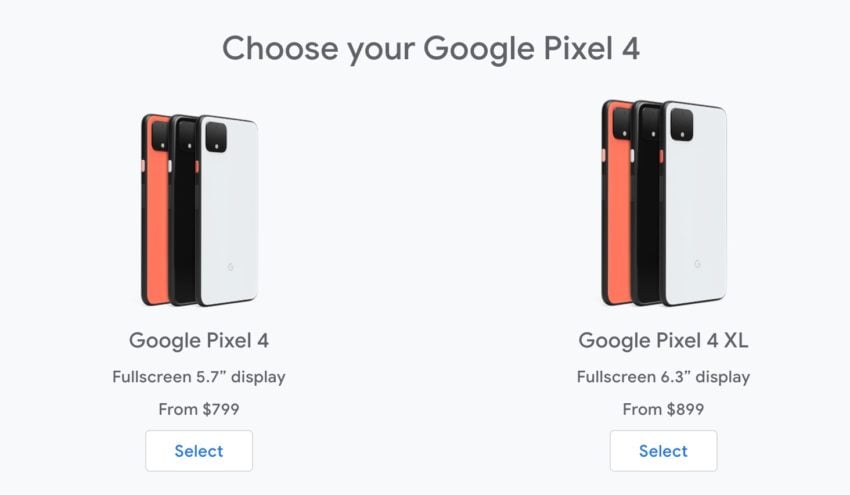 So, you're getting a substantially better and faster phone with dual rear cameras, a stunning screen, and great performance for the same price as last year. As a comparison, the iPhone 11 Pro is $999 for 64GB compared to $799 for the Pixel 4. Then, the bigger iPhone 11 Pro Max is $1,099 compared to Google's $899 Pixel 4 XL price point.
You can get the Pixel 4 series in three color choices: Just White, Clearly Black, and "Oh So Orange".
Pixel 4 Carrier Support
As we mentioned earlier, Google's Pixel 4 is finally available from all major carriers in the United States. However, we're not sure when they'll all offer the devices, how much they charge, or what to expect. The Google Store only has Verizon or an unlocked model for sale and doesn't mention other carriers at all.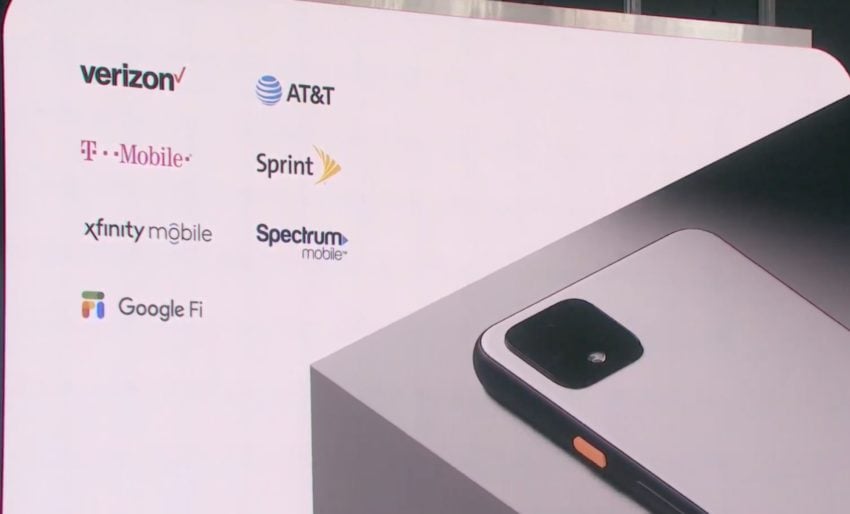 Google likely has a partnership with Verizon, but other carriers can sell the phone in retail stores come October 22nd. Either way, you can get the Pixel 4 or Pixel 4 XL unlocked or from Verizon, T-Mobile, AT&T, Sprint, Spectrum, Google Fi, Xfinity, and possibly more in the near future. We'll update once we learn more from those partners.
Pixel 4 Comparisons, Deals, Cases & Info
Before you go, we wanted to share a few more things with potential buyers. The links below will take you to some of our Pixel 4 coverage and comparisons against other high-end devices, that way you know which phone is right for you.
Then, we've put together a guide on the best Pixel 4 features, Pixel 4 deals, Pixel 4 cases, and even screen protectors. That way once you buy the phone you'll be ready to roll and enjoy all it has to offer.
Other Details
In closing, we want to mention a few things we saw in rumors or that you might be wondering. No, Google didn't mention 5G in any capacity during the event. We're fairly certain they have a 5G phone coming, but that likely won't be until 2020.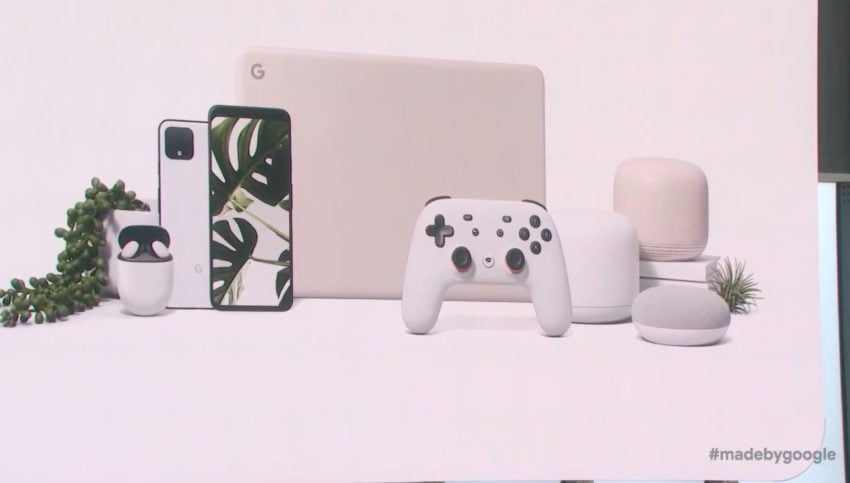 Then, Google took the stage to also announce a new set of Pixel Buds 2 that be available in 2020 for $179. Along with a new Nest Mini (Google Home Mini) smart speaker, a new Nest WiFi kit with a Nest Mini built-in, which is pretty neat, and they announced Stadia will be available from November 19th.
The other surprise from the event is a new Google PixelBook Go. A Chrome OS laptop built from the ground up to be fast, affordable, friendly and easy to use. We'll update this post as we learn more.
Are you buying the Pixel 4?

As an Amazon Associate I earn from qualifying purchases.