How Long Will the iOS 8 Update Take?
The iOS 8 release arrives tomorrow to deliver new features to users. The iOS 8 update and installation will take some time, so not everyone will want to click update as soon as the iOS 8 release starts.
Update: iOS 8 download times improve to 15 to 30 minutes. 
Update 2: How to Manually Install iOS 8 – Faster Downloads
Apple skipped a new look for the iOS 8 update, focusing on great new features that iPhone and iPad users begged for during the last several years. iOS 8 runs on the iPhone 4s and newer, iPad 2 and newer and the iPod touch 5th generation, and it is a free update.
One thing we are already hearing from users is, "How long will the iOS 8 update take to complete?"
The time it takes to finish the iOS 8 update changes based on a few factors that will vary based on when and where you try to start the iOS 8 update.
The one thing you can do to help speed up the iOS 8 update is make sure you start the iOS 8 download on a good internet connection and if possible wait a few hours until the initial rush dies down.
If Apple's servers hold up to the number of people who want to download the iOS 8 update, you may be able to complete the iOS 8 installation and start enjoying new features in as little as 15 minutes, but you should plan on a longer process if you are updating on the iOS 8 release date.
Just as users run into trouble trying to buy the new iPhone at the same time and waiting in lines outside stores on the iPhone 6 release date means delays and frustration, everyone trying to download the iOS 8 update at the same time can cause some problems.
During the iOS update last year some users reported downloads of two to four hours, even on a good connection. This happens when millions of users all try to install the new iOS update at the same time. The iOS 8 release time starts at 10 AM Pacific / 1 AM Eastern so if you want to avoid these long iOS 8 download times don't bother updating until you the evening of the iOS 8 release date.
If you plan ahead you can cut down on some of the most time-intensive iOS 8 update steps. Here's a look at what you can do now to speed up the iOS 8 update and how long you can expect the process to take.
Sync and Backup: 5-45 Minutes (Optional)
You don't need to sync and backup your iPhone or iPad before the iOS 8 update, but you should. There is always a chance that an update will break and you will need to restore from a backup. Just to be safe you should make sure you have a recent backup. Plug your iPhone or iPad in to iTunes or connect to iCloud and make sure you back up today or tonight. We prefer to manually perform a backup in iTunes before an iOS 8 update just so you have a local copy of the data if something does go wrong.
Backup & Transfer Purchases: 1-30 Minutes (Optional)
After you backup the iPhone or iPad you can choose File -> Transfer Purchases to make sure your apps and other purchases are stores on your computer.
iOS 8 Download: 15 Minutes to 6 Hours
If you plan to start the iOS 8 upgrade right away, the iOS 8 download time will vary from 15 minutes to several hours. After the initial rush dies down, in the evening of September 17th and later, you can expect the iOS 8 download to complete in 15 to 20 minutes.
It's the first day and load from millions of iOS 8 upgrades happening at once that slow things down for a while. iOS 8 download times are between three and six hours on September 17th.
iOS 8 Update Time: 15-30 Minutes
Once the iOS 8 download finishes the iPhone or iPad needs to install the iOS 8 update. During this step you can not use the iPhone or iPad at all. If you are not at home or some place you can avoid using the device you should wait to perform this last part of the iOS 8 upgrade.
The iPhone or iPad will restart and you will see an Apple logo for most of this process.
How Long Does it Take to Upgrade to iOS 8?
Once you add all of this time up, it's clear that you should plan on at least 40 minutes to complete the iOS 8 update, and almost an hour to be safe.
| Task | Time |
| --- | --- |
| Sync (Optional) | 5-45 minutes |
| Backup and Transfer | 1-30 minutes |
| iOS 8 Download | 15 Minutes to Hours |
| iOS 8 Update | 15-30 Minutes |
| Total iOS 8 Update Time | 36 minutes to Hours |
You can checkout the slides below to see what's new in iOS 8 on the iPhone, iPad and iPod touch. The iOS 8 update comes just tow days before the iPhone 6 release date.
What's New in iOS 8
iOS 8 vs iOS 7 Walkthrough - Home Screen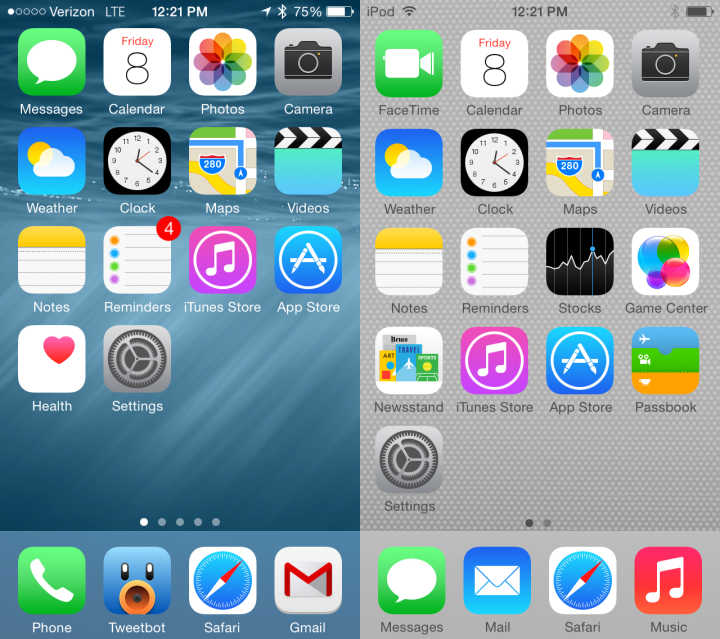 We start our iOS 8 vs iOS 7 walkthrough with the iPhone home screen, which is where you'll start your iOS 8 experience after an update this fall.
These screens are incredibly important as you see them anytime you turn on the iPhone or need to choose an app to launch. There is no way around using them, so Apple needs to make sure they work just right.
As you can see in the iOS 8 vs iOS 7 comparison above, there is no change between the home screen in the new iPhone software. Apple changed the status bar and some other small visual changes in iOS 7, but there are no updates for iOS 8.
We could see Apple change the home screen slightly for iOS 8 for the iPhone 6. The new iPhone will feature a larger 4.7-inch display with a higher resolution. This is something Apple may use to add more icons to the screen. Or they could stick with the current layout, it's tough to tell.

As an Amazon Associate I earn from qualifying purchases.