How to Downgrade macOS Mojave Beta to macOS High Sierra
You can downgrade the macOS Mojave beta to macOS High Sierra easily if you need to go back to a stable version on your Mac. If you are tired of testing the macOS 10.14 beta and you want to go back to macOS 10.13.5 to get away from macOS Mojave beta problems, this is that you need to do.
Going back to macOS High Sierra is an easy process, but it is time consuming, so make sure you set aside enough time to complete the process. During parts of this you will not be able to use your computer, so plan ahead.
You will need a Time Machine backup made on macOS High Sierra before you upgraded. This will put everything back where it was before you started using the beta, but you need to have made a backup before moving over to the beta. You can check to see if you have a macOS Mojave Time Machine backup, but unless you've been doing important work on the beta, it's not a major issue.
This guide will show you how to complete a macOS Mojave beta downgrade to go back to macOS High Sierra.
How to Downgrade macOS Mojave Beta to High Sierra
Connect your Mac to power and plan on spending a little time with your Mac to get this process started. The first step is to erase your Mac. Then you will install macOS High Sierra from a clean install. Finally you will restore a Time Machine Backup, which will get you back to where you were right before you switched to macOS Mojave.
You'll need a good internet connection and this guide assumes you installed the macOS Mojave beta on your main drive.
Erase Your Mac Drive
Restart your Mac using the Apple menu in the upper right.
When it is restarting hold Command and R until the Utilities menu appears.
Choose Disk Utility
Click Continue and then Click on Startup Disk.  Often labeled Macintosh HD
Click Erase.
Choose the APFS file format from the list and click on Erase.
If you don't have a solid state drive you may need to choose Mac OS Extended for the format in step 6, but most Apple computers will be using APFS. He3re's more from Apple on which you should choose.
Reinstall macOS High Sierra
It will take a few minutes to erase the drive. Once completed, you can start installing macOS High Sierra.
On the main macOS Utilities screen, choose Reinstall macOS.
Click Continue and then Agree to any terms and conditions.
Wait for the Mac to restart and then you are back on macOS High Sierra.
Restore Your Time Machine Backup from High Sierra
Now that you are back on macOS High Sierra, you still need to install all of your files, apps and data. Your Time Machine backup includes all of this information and can put it back in place quickly. If you prefer, you can skip this step and start fresh, which may be smart if you were having macOS High Sierra problems.
Restart your Mac and hold Command and R to get to macOS Utilities.
Choose the Restore From Time Machine Backup option.
Click Continue. Then choose the backup that you want to restore from. You will need to connect to WiFi if you have a wireless Time Machine drive or plug in if it is on an external drive.
Click Continue after you choose the latest backup and then wait for the restore to complete.
The Time Machine restore process will take a while to complete. The best thing you can do is step away and check in on your Mac every 30 to 60 minutes to see if it is done.
14 New macOS Mojave Features That Will Change How You Use Your Mac
AirPods 2 Support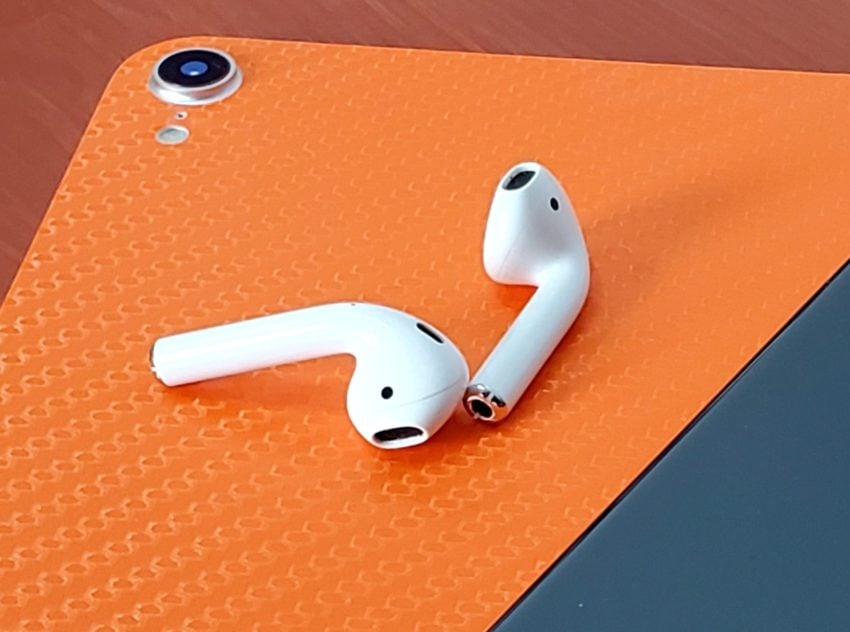 If you use the new AirPods 2 then you will need to install macOS 10.14.4 on your Mac. This update adds support for the new AirPods.
This should help with faster switching between devices as well as other general features and usage. Apple calls this out in the release notes, so if you are getting the new AirPods install the update today.
Apple AirPods 2 add in a H1 chip, better battery life for calls and you can now use Hey Siri with them at any time without tapping to activate Siri. Here's more on what AirPods 2 can do.

As an Amazon Associate I earn from qualifying purchases.