How to Fix Bad iOS 13 Beta Battery Life
The iOS 13 beta is causing a number of problems and one of the more common problems is abnormal battery drain. These are sometimes a bit tricky to fix, especially on beta software, but there are a few things you should try before you downgrade back to iOS 12.
The fact that we're hearing about weird iOS 13 beta battery drain issues comes as no surprise. Battery issues popup after every single iOS release and we typically see a lot of complaints from beta users. It's a common side effect of pre-release software.
If you encounter severe battery drain while running beta software, your first instinct might be to drop back down to an official version of iOS. This is certainly an option. However, if you want to continue to use the iOS 13 beta, there are some potential fixes that might work for you.
In this guide we'll take you through some potential fixes for bad iOS 13 battery life. The fixes we've listed here have worked for us and many others in the past and there's a good chance one of them will work for you.
Restart Your Device
We always recommend a quick restart before you do anything else, especially if you haven't restarted or turned off your device in awhile.
Power your device down, wait a minute, and power it back on. A quick reboot can have a tremendous impact on your device's performance so give it a shot before you move onto these other fixes.
Check Out Your Apps
The next place to turn is your apps. Apps, particularly third-party applications, have a tendency to act up on beta software so there's a good chance this is the source of your issues.
Checking app performance is really easy on iOS 13 and it should only take you a few minutes to find the culprit, if there is one. Here's what you need to do:
Go to the Settings app.
Select Battery.
Head into the Battery Usage tool. This tool will show you the apps eating up your battery life and when they're doing so.
If you use an application a lot, it's obviously drain more battery than an app you don't use. That said, if you see something that doesn't look right, you'll want to investigate further.
If you see an app eating up an abnormal amount of battery, try deleting that app from your device and see if that improves your  battery life.
If it's an essential application, we recommend downloading the latest updates. If that doesn't help, and you really need to the app to get through your day, you might need to downgrade to iOS 12.
Use Low Power Mode
Low Power Mode is an extremely useful tool limits certain functions on your device to conserve battery life. iOS will prompt you to use the feature once your device hits 20% battery, but you might want to use it more liberally if your device is experiencing rapid battery loss.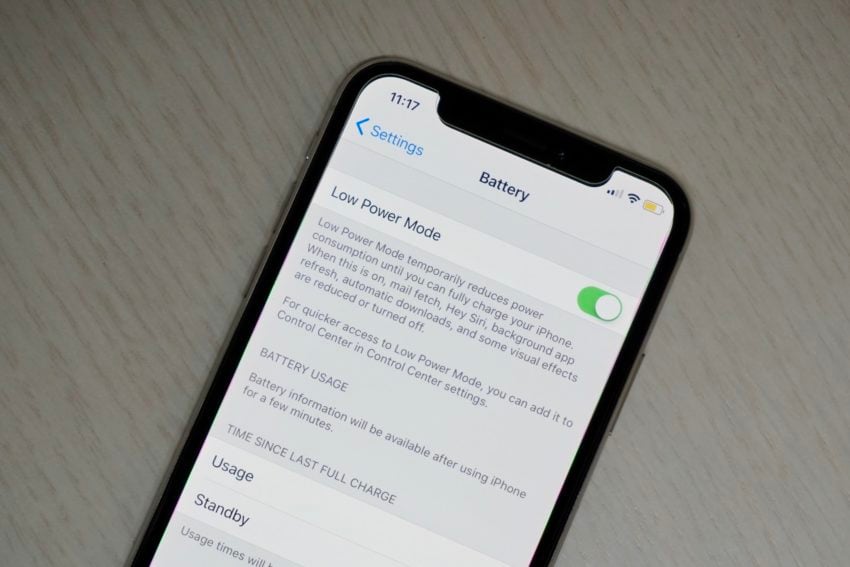 Here's how to enable Low Power Mode on your device:
Head into Settings.
Select Battery.
Tap Low Power Mode
Toggle it on whenever you need it.
If you don't want to head into your Settings every time you want to use it, you can also add a shortcut to Low Power Mode to your Control Center.
Control Center is the menu that pops up when you pull up from the bottom of the screen or pull down from the top right of the screen on a newer iPhone model.
Here's how to add a Low Power Mode shortcut to Control Center:
Head into Settings.
Tap Control Center.
Select Customize Controls.
Find Low Power mode in the list and tap the green "+" symbol.
Now, when you go into Control Center, you'll notice a little battery meter symbol. Tap that symbol to turn Low Power Mode on or off.
Disable Your Widgets
If you don't use widgets, try disabling them and see if that improves your device's battery life. Here's how to do this:
Swipe to the right while you're on your device's home screen.
Scroll all the way to bottom of your widgets and select Edit.
You should now see a list of your apps and services. These are your widgets and you might notice that some of them are active on your device. To deactivate a widget, you simply:
Tap the red circle with the white line.
Tap Remove.
First, disable the widgets you never use. If you still notice battery drain, return to this screen and either use trial and error or disable all of them. After that, check your battery life.
You can always turn them back on if you determine they aren't the source of your problems.
Manage Your Display
There's a chance your display is the source of your battery issues so you'll want to manage it closely while you're using the iOS 13 beta.
Your device's sensors work to read the lighting in your environment and they adjust the screen to suite the situation. More often than not, they read the environment correctly. However, there are times when your screen might be too bright. If your screen is bright for no reason, your device is draining battery for no reason.
To combat this, try manually managing your screen brightness by turning off auto-brightness. Here's how to do this:
Go into Settings.
Tap General.
Go into Accessibility.
Tap Display Accommodations.
Toggle Auto-Brightness Off.
Once you flip Auto Brightness off, you'll need to adjust your display's brightness manually. You can either go into Settings > Display & Brightness and toggle the slider there or you can pull up Control Center and toggle it there.
If you prefer to do it via Control Center, the brightness toggle is the slider on the right hand side. It's that sun-looking symbol.
Turn Off Raise to Wake
If you don't need your device's display to turn on every time you pick it up, try turning off Raise to Wake. It could help you conserve battery life. Here's how to do that:
Head into your Settings app.
Go to Display & Brightness.
Toggle the Raise to Wake function off.
You can always toggle it back on if you want to use it and/or you don't notice a difference.
Reset All Settings
If none of those steps work, try resetting your device's settings.
Note that this will cause your device to forget known Wi-Fi networks (and Bluetooth connections) so make sure you write down your passwords before you do this. Here's what you need to do:
Go to Settings.
Go to General.
Scroll and tap Reset.
Tap Reset All Settings and enter your passcode if one is enabled.
Once this is done, you'll need to reconnect to your Wi-Fi and Bluetooth devices.
Download the Latest iOS 13 Beta
Be sure to keep up with Apple's beta releases. If a new iOS 13 beta is available, try installing it and see if your battery life evens out.
Apple will release new iOS 13 betas every two weeks in the beginning and and once a week when we get closer to the final release this fall.
The software will improve over time so future iOS 13 betas should run better than the early versions.
Downgrade to iOS 12
If you can't find a manual fix and/or don't want to wait for the next version of the beta, you can downgrade back to iOS 12.
The downgrade option will always be available, but your downgrade options could change over time.
Right now, you can downgrade back to iOS 12.3 or iOS 12.3.1, but we expect the iOS 12.3 downgrade path to close up in the near future.
After Apple releases iOS 12.4, you'll be able to downgrade back to it, but Apple will then, at some point, close off the iOS 12.3.1 downgrade path. Keep this in mind.
For more on the downgrade, take a look at our walkthrough.
Buy a Battery Case or Battery Bank
If you really want to stay on the iOS 13 beta through the duration of the testing period, buying a battery case or battery bank could help offset battery drain.
If you don't know where to start, we've got lists of the best iPhone XS cases, best iPhone X cases and best iPhone 8 cases to help you along.
We generally recommend going with a Mophie battery case, but Apple's official battery cases are a great alternative if you prefer going with a first-party accessory.
If you don't want to put a bulky case on your iPhone, you might want to snag a battery bank.
Battery banks are small, portable power sources. For instance, the RAVPower battery pack can provide six full iPhone charges before it needs a charge.
There are a ton of great options out there, but RAV's device, Mophie's powerstation and the Anker Powercore 20100 are among the best.
4 Reasons Not to Install iOS 13.7 & 11 Reasons You Should
Install iOS 13.7 for Better Security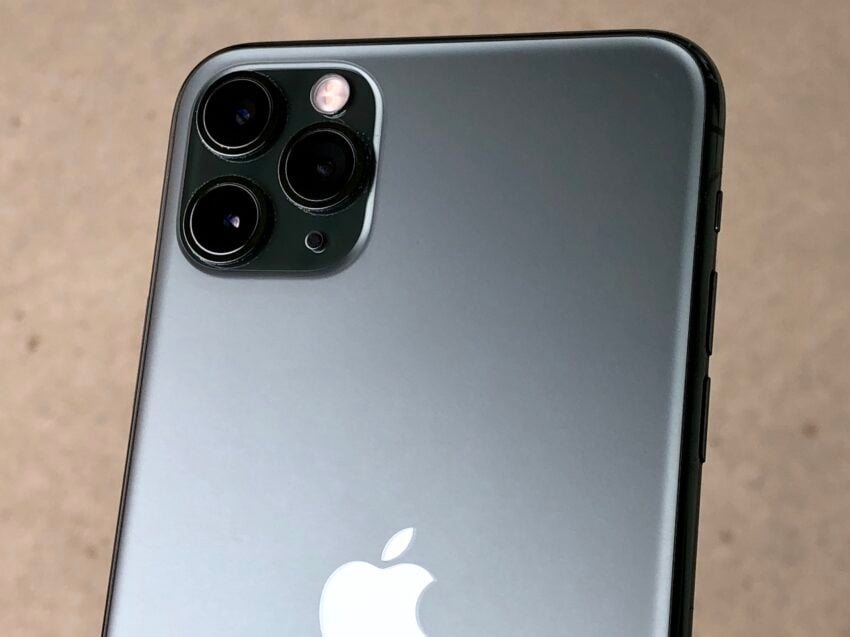 If security is important to you, think about installing the iOS 13.7 update.
iOS 13.7 doesn't have any known security patches on board. That said, if you skipped iOS 13.6 or an older version of iOS, you'll get security patches with your upgrade.
iOS 13.6 had more than 20 patches for security issues on board which made it an extremely important update. If you skipped iOS 13.6, you get the patches with iOS 13.7.
If you want to learn more about iOS 13.6's security patches, head on over to Apple's security site for more information.
If you skipped iOS 13.5.1, you get its security patch with your upgrade to iOS 13.7. You can read more about it on Apple's website. The patch is for an exploit used by jailbreak developers.
If you skipped iOS 13.5, iOS 13.7 brings iOS 13.5's 41 new security patches with it. Apple's posted the details on its website and you can dig into the particulars if you're interested.
Among them, patches for the company's Mail app, Wi-Fi, AirDrop, Bluetooth, FaceTime, Messages, and Notifications.
If you skipped the iOS 13.4 update, you'll get iOS 13.4's 28 security patches with your upgrade. You can read about all of them on Apple's website right here.
iOS 13.4 also brought several improvements to Apple's Intelligent Tracking Prevention. Apple's John Wilander outlined them in a blog post and it's worth checking out.
Reports have outlined a vulnerability in Wi-Fi chips made by Broadcom and Cypress Semiconductor that left billions of devices susceptible to attack.
Dubbed Kr00k, the vulnerability allows nearby attackers to decrypt sensitive information that's relayed over-the-air.
Fortunately, it looks like the issue was patched up with the release of iOS 13.2, an update that arrived all the way back in October.
So if you're running a really old version of iOS 13, you'll really want to move your device up to the newest version of iOS 13.
If you skipped iOS 13.3.1, you get its patches with iOS 13.7.
The iOS 13.3.1 update included 21 new security patches that will help protect your device from harm. The company's outlined those patches in detail if you want to dig in.
If you skipped iOS 13.3, you get its patches with iOS 13.7. iOS 13.3 brought 12 new security patches to the iPhone and you can read about each one over on Apple's security page.
The iOS 13.3 update also added support for NFC, USB, and Lightning FIDO2-compliant security keys in the Safari browser.
If you missed iOS 13.2, it had 16 new security patches on board. You can read about all of them on Apple's website right here.
iOS 13.1.1 brought a security patch for a third-party keyboard issue to your iPhone. If you're interested in the particulars, you can read about them over on Apple's website.
If you passed on installing iOS 13.1, you get an additional patch with your iOS 13.7 update. You can learn more right here.
If you're moving up from iOS 12, you'll get iOS 13.0's nine security patches with your upgrade to iOS 13.7. Read about those here.
If you skipped iOS 12.4.1 or any older versions of iOS 12, you'll get their security patches with your iOS 13.7 update.
iOS 12.4.1 only had one patch on board, but Apple's iOS 12.4 update brought 19 security patches to the iPhone. If you're interested in the specifics, you can read about them on right here.
In addition to those patches, iOS 13 itself comes with some security and privacy upgrades including improved anti-tracking features in Safari and the ability to get rid of location metadata in your photos.
You also now have the ability to block apps from using Bluetooth and the ability to allow apps to access your location just once.
iOS 13 will also send you reminders about applications that track your data.