How to Fix iOS 8.1 Battery Life
We'll show you how to fix iOS 8.1 battery life to make your iPhone or iPad last longer after updating to iOS 8.1.
Apple's free iOS 8.1 update did not deliver the same chorus of complaints about bad battery life, but if you are experiencing bad iPhone battery life or your iPhone is hot and the battery is draining fast you can use this guide to fix iOS 8.1 battery life problems.
This guide delivers help to get better battery life on the iPhone, iPad and iPod touch. Any iOS 8.1 battery life problems are most noticeable on the iPhone, and specifically on older devices like the iPhone 5s, iPhone 5 and iPhone 4s.
This guide will help with iOS 8 battery life, but it assumes that you already upgraded to iOS 8.1 for the many fixes and features it brings to the iPhone and iPad.
For almost every user iOS 8.1 is worth installing, even on older devices like the iPhone 4s. You can see more about the iOS 8.1 performance if you are trying to decide if it is OK to upgrade.
7 iOS 8.1 Battery Life Fixes & Tips
We'll show you iOS 8.1 battery tips to help your iPhone last longer and iOS 8.1 battery life fixes that help find the reason your iPhone runs out of power so fast.
On average you should expect between 8-12 hours of use on the iPhone 4s and newer, though it varies based on your usage. If you are seeing battery life less than 10 hours you may need to fix a problem, rather than make a small tweak to keep the battery going longer.
Find iPhone Apps Using Your Battery
With iOS 8 and iOS 8.1 Apple makes it easy to find the apps that are using your battery life. When you find an app that uses too much battery life you can limit your use of it when away from power, stop background activity or remove it completely.
You will also see where poor coverage is to blame for bad battery life. When your phone needs to search hard for a signal it runs the battery down faster, so keep that in mind and you may need to turn on Airplane mode when you have no real cell signal.
Go to Settings -> General -> Usage -> Battery Usage to see which apps use the most battery life in the last 24 hours and for the last seven days. 
Limiting Facebook and games during the day is an easy way to stretch the iOS 8.1 battery life longer on your devices.
Limit BackGround App Refresh
The iPhone can refresh apps in the background so that the data is there when you open the app. This is very handy, but even with smart updating in the background it does use more battery life.
Instead of turning Background app refresh off completely, you should find apps that use it too much and turn it off for them one, by one to see if that solves any iOS 8.1 battery life problems.
Go to Settings -> General -> Background App Refresh -> Turn it off for each app that is using too much power.
Stop Using Auto Brightness
The iPhone and iPad include sensors to change the screen brightness based on the light in your environment, but too often the device will boost the screen brightness to obscene levels.
Go to Settings -> Display & Brightness -> Auto-Brightness -> Off and you will soon see the benefits of keeping your screen at a reasonable brightness level.
You can always turn it up or down on your own when you need it using the Control Center.
Restart or Reset Your iPhone
If you notice that the iPhone battery life is very short or that the iPhone is warm, you need to restart it or reset it. Simply hold the power button and slide to turn off for a normal restart.
You can also reset the iPhone by holding the iPhone home button and the power button for about 10 seconds. This will not remove any of your data, but sometimes this is enough to fix whatever was draining your iPhone battery life.
Reset All Settings
Here's where you'll start to see the iOS 8.1 battery life fixes that can handle major problems that are draining your iPhone battery life in a few hours. If you see the usage and standby numbers listed as the same when you look at iOS 8.1 battery usage this is the step you need to take.
Go to Settings -> General -> Reset -> Reset All Settings and then enter your pass code when prompted. This will take 5-10 minutes to complete and will put all settings back to defaults.
This will not remove any data or photos from your iPhone.
Restore the iOS 8.1 Update
If nothing else works you should try to install the iOS 8.1 update again using restore. You'll need to do this on your computer with iTunes installed. This will wipe your phone completely. You can try restoring from your backup after the update, but if the problem returns you will want to do this again without restoring from backup.
Plug in and 

backup to the computer or to iCloud

Turn off Find My iPhone – 

Settings -> iCloud -> Find my iPhone -> Off

in iTunes 

Click Restore

Follow the prompts and the iPhone will 

reinstall iOS 8. from scratch

.
When it completes click 

Restore from Backup

 to put your information back on the iPhone or Choose to 

set up as a new iPhone

.
Expect to spend 20 to 45 minutes for this process, and maybe longer if you restore from backup.
iPhone Battery Replacement
If nothing else fixes your iPhone battery life you should make an appointment with Apple. Back up your iPhone before you go and ask if your iPhone battery is bad. They can test this in store and if it is in warranty they will replace it. There is a one year warranty by default and two years with AppleCare+.
There is also an iPhone 5 battery replacement program to fix defective batteries on some models for free. If you are out of warranty you will pay $79.95 plus shipping and tax for a battery replacement through Apple.
What's New in iOS 8
iOS 8 vs iOS 7 Walkthrough - Home Screen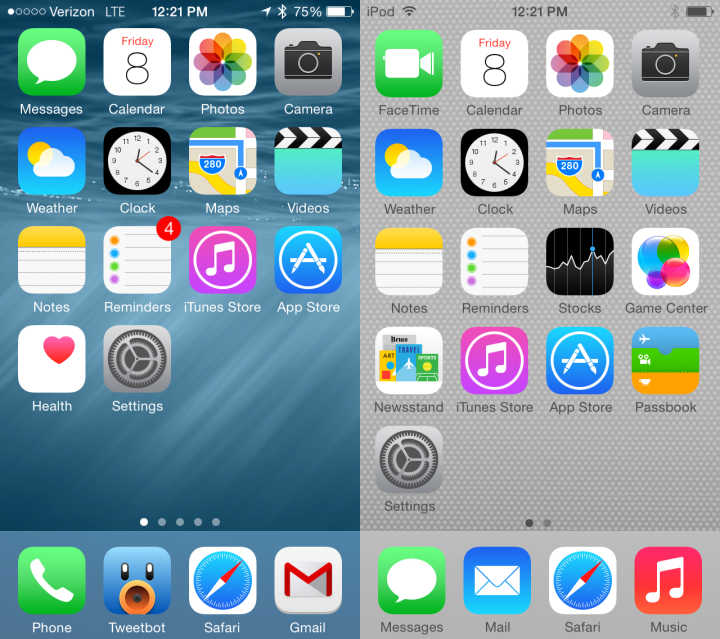 We start our iOS 8 vs iOS 7 walkthrough with the iPhone home screen, which is where you'll start your iOS 8 experience after an update this fall.
These screens are incredibly important as you see them anytime you turn on the iPhone or need to choose an app to launch. There is no way around using them, so Apple needs to make sure they work just right.
As you can see in the iOS 8 vs iOS 7 comparison above, there is no change between the home screen in the new iPhone software. Apple changed the status bar and some other small visual changes in iOS 7, but there are no updates for iOS 8.
We could see Apple change the home screen slightly for iOS 8 for the iPhone 6. The new iPhone will feature a larger 4.7-inch display with a higher resolution. This is something Apple may use to add more icons to the screen. Or they could stick with the current layout, it's tough to tell.

As an Amazon Associate I earn from qualifying purchases.