How to Fix Surface Pro Keyboard Problems
For owners of the Surface Pro 4, 2017 Surface Pro and Surface Pro 3, there's nothing more frustrating than Surface Pro keyboard problems. Use these tips and workarounds to solve all your issues with them.
Every mobile accessory has issues, but Surface Pro keyboard problems are exceptionally frustrating because of each Surface Pro's design. A Surface Type Cover is the best, most reliable way to get work done when Tablet Mode is turned off and you have the device's kickstand extended. Even in Tablet Mode, a working Surface Type Cover is key. Microsoft designed the cover to shut itself off when folded backward, but issues could keep that from happening.
Here's how to fix Surface Pro keyboard problems and get Surface Pro working again.
How to Fix Surface Pro Keyboard Disconnecting Problems
You're sitting there, typing away when suddenly your Surface Pro makes all your apps full screen and puts you into Tablet Mode. Out of all the issues users report, Surface Pro keyboard disconnection problems seem to happen the most.
First, check to make sure the disconnection problems weren't caused by an update to Windows 10. Microsoft updates every Surface Pro's firmware through Windows 10 and these updates sometimes install new keyboard and trackpad drivers for stability. Tap on the Start button in the bottom-right corner of your screen. Tap the Settings cog in the bottom-left edge of the Start Screen or Start Menu. Tap on Update & Security. Finally, tap on the View Installed Update History link.
Look for any recent Surface firmware updates in your update history. If your device did install one, that's what caused your issue. Restart your Surface Pro and you shouldn't need to do any more troubleshooting.
Now, if the issue comes back again and again, a hardware issue or software issue could be behind your Surface Pro keyboard problems.
Disconnect your Surface Type Cover from the cover port. Check the pins along the top of the cover to make sure they aren't damaged or have a lot of grime covering them. Your keyboard uses these pins to get power from your Surface Pro and communicate with Windows 10. If one of the pins is damaged, plan on buying a new cover.
The easiest way to rule out a software issue is to reset your Surface Pro. You can do that with the Settings app and still keep all your files where they are. Use Gotta Be Mobile's How to Reset Windows 10 as a guide to get this done.
Read: 8 2017 Surface Pro Problems & How to Fix Them
How to Fix Stuck Keys on Your Surface Pro Keyboard
You're typing away and a key on your cover suddenly doesn't work. It happens to every keyboard at some point. What's actually causing the problem determines how serious an issue this is or not.
If you eat near your Surface Pro, you're bound to get a crumb underneath your keys. Because there's a switch underneath the key telling your Surface Pro that you pressed it, crumbs can cause problems. Try using a sheet of paper or compressed air to get the crumb out. Don't press the key repeatedly to crush whatever is underneath. That only creates smaller crumbs.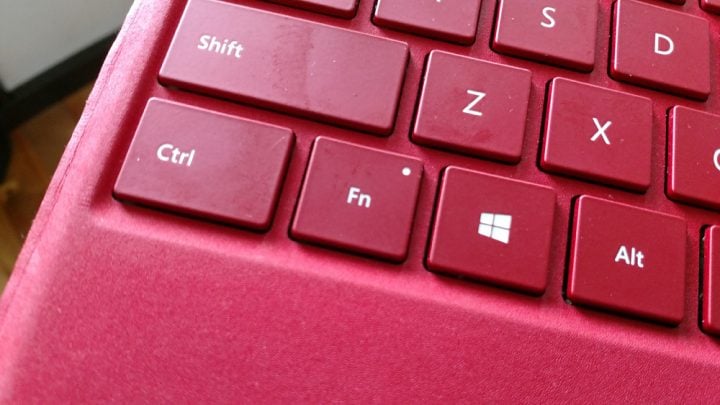 Unfortunately, stuck keys caused by small particles getting in between the key and the mechanism underneath your keyboard isn't covered under warranty. You will need to buy a replacement keyboard if nothing you do can get the key working again.
How to Fix Surface Pro Keyboard Trackpad Problems
If your Surface Type Cover's trackpad is feeling a little sluggish, don't rush out to buy a new one. There are touchpad settings inside Windows 10 that could improve your experience.
Open the Start Menu by tapping or clicking on the Start icon in the bottom-left corner of your screen. Now, click the Settings cog along the right edge of the Start menu. Inside the Settings app, click Devices.
Look for Touchpad in the menu on the left side of your screen. Use the Touchpad Sensitivity setting to adjust how quickly your Surface Pro keyboard response to your finger movements. While you're here, you can also change scrolling direction and turn multi-touch gestures on so that it's as easy to zoom in on pictures with the trackpad as it is your device's touch display.
Read: 12 Surface Pro 4 Tips for New Owners
Which Surface Type Covers Are Compatible with Your Surface Pro
Generally, you can avoid Surface Pro keyboard problems by making sure you have the right Surface Type Cover for your device.
Think of the entire Surface Pro line as divided into two generations. The Surface Pro and Surface Pro 2 have their own covers that are perfect for their screen-size and shape. Covers made for these devices have the same port as newer models, but are missing the magnetic bar that snaps to the bottom of your display for a more comfortable typing experience.
If you have one of these covers and you're upgrading to a newer Surface Pro, leave this cover behind. Don't buy these covers online, even though they're significantly cheaper than newer models either. There's no real guarantee that they will continue to work because they rely on firmware updates that Microsoft may stop issuing at any moment.
The Surface Pro 3 Type Cover, Surface Pro 4 Type Cover and Surface Signature Type Covers are what you need. Microsoft designed these covers to match the screen size that it still uses today. Each has the magnetic bar that locks them to the bottom of your Surface's display and they all still get firmware updates for stability.
A [easyazon_link identifier="B00N3K3KOC" locale="US" tag="gbm-ea-20″]Surface Pro 3 Type Cover[/easyazon_link] costs as little as $89.90 on Amazon, and [easyazon_link identifier="B0163H1HT6″ locale="US" tag="gbm-ea-20″]Surface Pro 4 Type Covers[/easyazon_link] cost as little as $97.99. Amazon has the [easyazon_link identifier="B0723B58DW" locale="US" tag="gbm-ea-20″]Surface Signature Type Covers[/easyazon_link] for $119.
Read: 11 Essential Surface Pro Accessories
If you've tried everything and you still can't fix your Surface Pro keyboard problems, definitely consider abandoning Microsoft's covers for one of the keyboards made by other companies. The Brydge 12.3 Surface Keyboard turns your Surface Pro into a Surface Book and uses Bluetooth technology, for example. You can also abandon keyboard covers entirely and use a standalone mobile keyboard and mouse to get things done.
10 Best Surface Pro 4 Keyboards & Why You Need One
Surface Keyboard

The $99 Surface Keyboard is a great way to get the sensation and feedback of a Surface Type Cover at your desk.
Microsoft designed Surface Keyboard for the Surface Studio, but its Bluetooth radios allow it to talk to any Windows 10 PC. It doesn't lock into the port on the bottom of your Surface Pro 4 and it doesn't feed off your device's internal battery. This keyboad has the same silver finish as your Surface Pro and its key caps match the soft keys of the Surface Type Cover. A number pad and full-size directional buttons let you skip the keyboard shortcuts that the Surface Type Cover forces you to use.
Amazon sells the Surface Keyboard for $79. Buy it if you are building out a desktop setup with the Surface Dock and an extra display.
If you prefer signing into Windows 10 without a password, consider buying the Modern Keyboard with Fingerprint ID. It's the standard Surface Keyboard with a fingerprint reader embedded into one of its keys. The Microsoft Store sells it for $129.99.

As an Amazon Associate I earn from qualifying purchases.