How to Get Destiny 2 Bright Engrams & What You Need to Know
There aren't a lot of things in Destiny 2 that are more important than Bright Engrams. Part reward and commodity, Destiny 2 Bright Engrams unlock some very important gear for your Guardians.
Because they're so important, there's more than one way to get Destiny 2 Bright Engrams. If you're just enjoying the game's content, you get Bright Engrams for leveling your Guardian as you complete the game's story. Through the game, Bungie has also made it possible to get Bright Engrams without grinding and leveling. Eventually, you can buy Destiny 2 Bright Engrams with in-game currency and save yourself some play time.
Here's how to get Destiny 2 Bright Engrams, and everything that you need to know about them.
Read: Destiny 2: What New Players Need to Know
What are Destiny 2 Bright Engrams
Destiny 2 Bright Engrams are basically mystery packages full of items to improve your Guardian with. Even if you've never heard of an Engram, you're probably familiar with the concept. Practically every online game for PC, Xbox One or PS4 has loot boxes that unlock special items.
As with the loot box systems of other games, you only know what's in Destiny 2 Bright Engrams after you've unlocked them. Bungie calls this unlocking decryption, but the concept is the same. A decrypted Bright Engram reveals all the new items and extras you can use on your Guardian.
Bright Engrams can unlock sparrows, character armor, weapons and shaders. You can also get a Sparrow from a Bright Engram. Sparrows are the floating motorbikes that make exploring the game's huge environments less tedious.
How to Get Destiny 2 Bright Engrams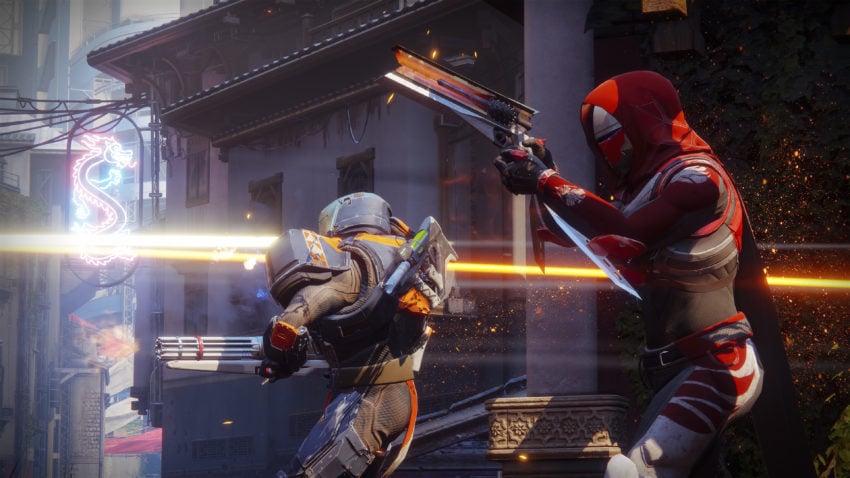 Eververse, an in-game trading company, is the only place that can decrypt your Destiny 2 Bright Engrams. You get access to Tess Everis, the head of the trading company, once you reach the Farm. She also handles free in-game rewards.
Read: Destiny 2 Classes: Which Class Should You Choose?
Earn Destiny 2 Bright Engrams
The most convenient way to get Destiny 2 Bright Engrams is to earn them by progressing in the game. After you reach level 20, you get them every time you earn enough XP to level up again. You can get them when you level up each of the game's Faction Reputations.
Read: 5 Destiny 2 Tips to Level Up Faster
Buy Destiny 2 Bright Engrams
Destiny 2 is a huge game with a lot to do. That gives you plenty of opportunities to level up your character and claim Bright Engrams. However, leveling takes time, and some Destiny 2 players don't have as much time as others to play. That's why you can also buy Destiny 2 Bright Engrams with two in-game currencies.
Bright Dust is what you get when you break down items you get from Bright Engrams. You will need to break down a lot of items to have the amount of Bright Dust you need to buy a Bright Engram from Eververse. Don't break down anything that you think you might need later in the game.
You can also use Silver to buy Destiny 2 Bright Engrams. Unlike Bright Dust, there's no way for you to earn Silver in the game. You use real money to buy Silver through the Xbox Store and PlayStation Store. Then, you use the Silver to buy Bright Engrams from Eververse. Silver exists to save users that really want the game's best items from spend hours grinding.
Read: 5 Destiny 2 Cheats, Tips & Hacks
Bright Engrams come in single, three and five packs. A single Bright Engram costs 200 in Silver, and a three pack of Bright Engrams cost 500 Silver. Five Destiny 2 Bright Engrams costs 800 Silver.
Unfortunately, you can't buy just 200 Silver in Destiny 2. So, plan on spending at least $5. That will get you 500 in Silver, which can buy two Bright Engrams. Destiny 2 gives you bonus Silver the more money you spend. Buy 1000 Silver for $10 and you get an extra 100 Silver. Spend $20 on 2000 Silver and you get 300 Silver free. Spending $50 unlocks 5000 Silver and an 800 Silver bonus.
You don't have to give your credit or debit card information to the Xbox Store or PlayStation Store to buy Destiny 2 Silver if you don't want to. GameStop and Amazon both sell prepaid codes of the currency. Buying through them gets you a code that you add to your account to unlock your Silver.
5 New Destiny 2 Features Worth Upgrading For
Destiny 2 Cinematic Story
The most exciting of Destiny 2's features are what Bungie is calling its "cinematic campaign." That's because the original Destiny arrived with an unorthodox single-player. The story wasn't cohesive and didn't dive into the game's lore much. There were times when the story that was there seemed out-of-place.
Destiny 2 promises a real narrative. Nathan Fillion and Lance Reddick star in the game's story. During the middle of a calm meeting, it slowly dawns on the command staff at Earth's last remaining city that something is about to go wrong. Soon they're bombarded by a huge garrison of battleships. The Red Legion wants the power of the Traveler Orb floating above the city for itself. Gamers can expect lots of cutscenes between tasks in the game's campaign. The scenes Bungie has shown off so far feel more like a movie than a video game. They are better at conveying what's going on than Destiny's story.

As an Amazon Associate I earn from qualifying purchases.