How to Install the iOS 8.2 Update
Learn how to install the iOS 8.2 update on iPhone, iPad and iPod touch to prepare for the Apple Watch release, fix iOS 8.1.3 problems and gain new features. This iOS 8.2 upgrade guide will show you how to upgrade without using iTunes or a computer and how to upgrade with iTunes if you don't have much storage space.
The iOS 8.2 update is a free software upgrade for all devices running iOS 8. Like the iOS 8.1.3 update before it, this upgrade makes it easier to update to the new version with less free space on your iPhone or iPad. For users who plan to buy an Apple Watch this is a required upgrade, and there are other new changes inside for all users.
The iOS 8.2 update arrived on March 9th after the Apple Watch event for the iPhone 4s and newer, iPad 2 and newer and iPod touch 5th generation. Users will see a small notification on the Settings app on the iPhone or iPad to indicate the iOS 8.2 update is waiting. This iOS 8.2 update guide will walk you through how to install iOS 8.2 and get eh new features and fixes for iOS 8.1.3 problems.
Read: iPhone 6s Rumors
You'll need at least 50% battery life to start the upgrade or to be charging. You can start the update from below 50% battery life, but you will need to hit that mark before installing. Users need a WiFi connection to download iOS 8.2, which is a very large update from around 400 MB and up.
Here is how to update to iOS 8.2 and tips to make sure you do it the right way.
iOS 8.2 Update Guide
Before you start installing iOS 8.2 on the iPhone and iPad you should make sure you have a good backup of your device on a computer or in iCloud. It is unlikely that you will experience a major failure, but it can happen and older devices appear more prone to upgrade problems and failures.
Read: 41 Siri Tips and Tricks
It is also a very good idea to install the iOS 8.2 update from somewhere you are not rushed and have access to power and a reliable internet connection. We recommend upgrading from home, and not while traveling or at the end of your work day. If you are using a work iPhone, ask your IT department before upgrading.
How to Install iOS 8.2
After you make sure you have a current backup, at least 50% battery life and can go without using the iPhone or iPad for at least 15 minutes you can follow these directions to start.
Go to the Settings app on the iPhone. This is often on the main home screen. If you don't see it pull down from the home screen and type Settings to find it.
Inside the Settings app go to General and then tap on Software Update.
On this screen the iPhone or iPad will search for an update. The process could take up to a minute to find the iOS 8.2 update.
Once it finds the update you can tap on Learn More to see what the update fixes or Download and Install to start installing iOS 8.2.
After you tap Download and Install enter your Passcode if you have one.
Agree to the terms and conditions and then to the pop up asking if you agree a second time.
Wait while the iOS 8.2 update downloads. This may take a few minutes or over a half an hour depending on the size and the speed of your Internet connection.
When complete you should see a notification to Install iOS 8.2. You may see a pop up that says it will install in 10 seconds with a countdown or simply the Install Now option on the Software update page.
After this starts the iPhone will go to a black or white screen with the Apple logo and a progress bar. After a short period it will restart and you will see an Apple logo while it reboots.
When this is done enter your passcode and unlock the device. You can now use the new iOS 8.2 update on your iPhone or iPad. That is all you need to do to upgrade to iOS 8.2.
The iOS 8.2 upgrade process should take about 25 to 30 minutes depending to complete, and the device will be unusable for part of the process.
You can see what's new in iOS 8 in the comparison below, which will show you what to look for if you are upgrading from iOS 7.
What's New in iOS 8
iOS 8 vs iOS 7 Walkthrough - Home Screen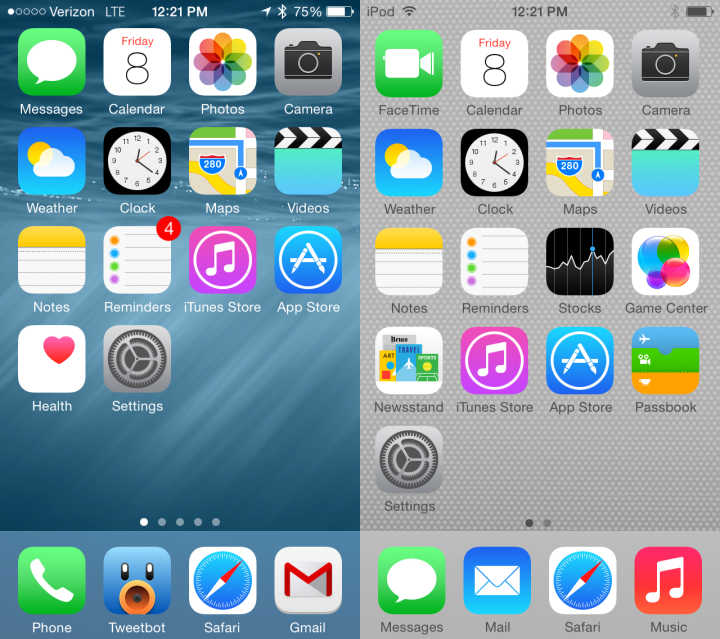 We start our iOS 8 vs iOS 7 walkthrough with the iPhone home screen, which is where you'll start your iOS 8 experience after an update this fall.
These screens are incredibly important as you see them anytime you turn on the iPhone or need to choose an app to launch. There is no way around using them, so Apple needs to make sure they work just right.
As you can see in the iOS 8 vs iOS 7 comparison above, there is no change between the home screen in the new iPhone software. Apple changed the status bar and some other small visual changes in iOS 7, but there are no updates for iOS 8.
We could see Apple change the home screen slightly for iOS 8 for the iPhone 6. The new iPhone will feature a larger 4.7-inch display with a higher resolution. This is something Apple may use to add more icons to the screen. Or they could stick with the current layout, it's tough to tell.