How to Play Elder Scrolls Blades Early
The Elder Scrolls: Blades is Bethesda's new first person RPG and it's coming to the iPhone, iPad, and Android later this year. If you don't want to wait for the official release date you'll need to sign up for early access.
If you've ever wanted to play a high quality, Skyrim-type game on your mobile device, you'll get the chance this fall. The Elder Scrolls: Blades is Bethesda's latest entry in the long-running Elder Scrolls series and it puts iPhone, iPad, and Android users inside a massive world with forests and dungeons to explore and cities to build.
The game features the single player storyline you'd expect from an Elder Scrolls game, but it also includes some other elements including PVP arena combat where you'll take on other mobile players.
All versions of Blades will connect to one another which means those playing the game on an iPhone X will be able to interact with players using an Android device.
Bethesda hasn't confirmed an official release date, but the game is currently up for pre-order ahead a release sometime later this year. Blades is free so pre-ordering won't cost you any money.
If you want to be among the first to play The Elder Scrolls: Blades you'll need to pre-register. Pre-registering only takes a few seconds. Here's how to do it.
How to Play Elder Scrolls Blades Early
Head to the official The Elder Scrolls: Blades website.
Click Sign In.
If you already have a Bethesda account, enter your credentials. If you don't, you'll need to create an account. It only takes a minute or two.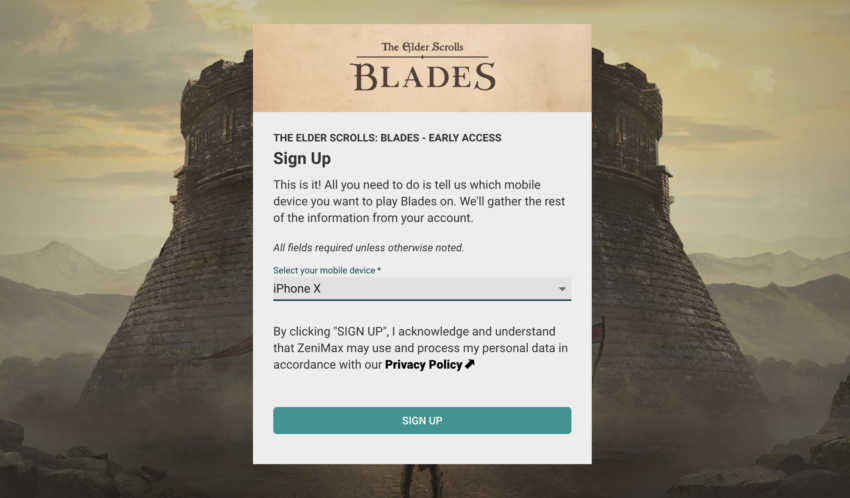 Now click Sign Up for Early Access.
At this point you should see a drop down menu. Click it to open up a list of devices.
Scroll down the list and select the device you'll be using to play Elder Scrolls: Blades.
Click Sign Up.
Once you've completed this you'll be pre-registered to play Elder Scrolls: Blades early. Bethesda hasn't confirmed a date, but says it will get in touch when it's ready to launch the title.
Unfortunately, Bethesda is no longer offering a sword and helmet bonus to those who pre-register. That offer ended on June 15th.
3 Reasons to Buy Fallout 76 & 7 Reasons to Wait
Buy If You Love Online Games & Fallout
If you like the sound of an online Fallout-style RPG, you might want to buy a copy of Fallout 76.
Fallout 76 is an online survival RPG inspired by games like Rust and DayZ.
It's much different than the Fallout games you're used to, but it still has quests, a leveling system, V.A.T.S. (though it's nothing like the V.A.T.S. from previous games) and tons of enemies to kill just like Bethesda's traditional single-player RPGs.
It also has base building (dubbed C.A.M.P.), something Bethesda introduced in Fallout 4 back in 2015. Fallout 76 allows you to build anywhere on the map.
Fallout 76 is more Fallout Online/Elder Scrolls Online than Fallout 5. If sharing an open, evolving Fallout world with friends sounds amazing, think about buying a copy of the game today, tomorrow, or sometime in the near future.

As an Amazon Associate I earn from qualifying purchases.