How to Setup iCloud Drive on iOS 8 & OS X Yosemite
Apple's iCloud Drive is a new online storage option that works across iOS 8 and OS X Yosemite. This iCloud Drive setup guide will show you how to turn on iCloud Drive, set it up and how to use the service.
With iCloud Drive on your iPhone, iPad and Mac you can make sure that you always have access to your files and data. The service is even compatible with Windows computers so you can see your files from any devices.
iCloud Drive is new for iOS 8 and OS X Yosemite with a small amount of storage included for free and plans from 99 cents to $20 a month depending on how much storage you need.
Here's a closer look at iCloud Drive, explaining what it is, how you can set it up and what you can do with it now.
You need to make sure all of your devices are on iOS 8 and OS X Yosemite before you start using iCloud Drive. Once you switch over any devices on the older versions will not be able to use files stored here.
What is iCloud Drive?
iCloud Drive is an online storage and syncing service from Apple. It is like Dropbox, Box.net and other online storage services, but it includes deeper integration with the iPhone, iPad, iPod touch and Macs on OS X Yosemite.
Apple does not limit iCloud Drive to Macs. You can only use the service on mobile devices from Apple, but there is an iCloud Drive app for Windows. This is part of the iCloud Control panel which creates a special folder for your iCloud Drive files on Windows.
On OS X Yosemite there is a new iCloud Drive file in Finder that shows your files. You can drag and drop new files here and they will show up on the iPhone or iPad in compatible apps that work with the service.
You get 5GB of iCloud Drive storage for free. You can buy more iCloud storage for a monthly fee. Here's how much more iCloud Drive storage costs. This includes storage for your photos and for iCloud backups. You can go to Settings -> iCloud -> Storage -> Change Storage Plan -> Choose the storage option -> Buy -> Enter password to upgrade to more storage from your iPhone or iPad.
20GB – $0.99 per month
200GB – $3.99 per month
500GB – $9.99 per month
1TB – $19.99 per month
If you need to use your files on Android or Windows Phone you should consider sticking with a service like Dropbox that works across mobile devices.
iCloud Drive Apps
There are no iCloud Driver apps for iPhone, iPad, Mac or Windows. This is rather confusing, especially on the iPhone or iPad. Here's how this works on each of these devices.
When you install OS X Yosemite iCloud Drive is turned on and shows up in your Finder. On the left side there is a listing of folders and you should see iCloud Drive. You can drag files or folders here and they will upload to iCloud.
You can download the iCloud Control Panel for Windows to enable iCloud Drive on Windows and then you can add files to an iCloud Drive folder on your Windows Computer.
It looks like there is an iCloud Drive iPhone app or iPad app, but there is not. Instead there are apps that work with iCloud Drive and allow users to access iCloud Drive and the file types that they can open. For example if you open Pages for iPhone or iPad you'll find your compatible files.
Hopefully we'll see Apple or a third-party offer a iCloud Drive app with access to files more like there is on Mac and Windows in the near future, but for now there is no iCloud Drive app, just apps that support iCloud Drive.
How to Turn on iCloud Drive on iPhone & iPad
You need iOS 8 installed on your iPhone or iPad to use iCloud Drive. This includes updates to iOS 8 like iOS 8.0.2 and iOS 8.1. When you upgraded there was a question asking if you wanted to turn iCloud Drive on. If you chose yes you are already up and running, but if not you'll need to follow these steps. You can also use these directions to check if iCloud is turned on for that iPhone or iPad.
Go to Settings -> iCloud -> iCloud Drive – > On. With that series of taps you've turned on iCloud Drive on your iPhone or iPad. You need to make sure this is on across all of your iOS devices. You may want to turn off use Cellular Data on this screen if you don't have a large data plan.
If you own other devices that are not upgrades you will see a pop up warning. If you plan to turn iCloud Drive on for all of your iOS devices and install OS X Yosemite on your Mac you can continue without any worries and then turn on the service on your other devices.
How to Use iCloud Drive on iPhone or iPad
Since there is no iCloud Drive app you need apps that work with iCloud Drive to use the service on iPhone or iPad. Right now there are not a large number of iCloud Drive apps for iPhone and iPad, but developers are adding support and it should soon be a common option.
When you are using an app that supports the new feature, like Pages or Scanner Pro you'll see an option to use iCloud. On Pages this is part of saving a new document and in Scanner Pro you can choose iCloud Export.
After you do this you'll see a listing of iCloud Drive folders and files that you can navigate around. You can choose where to save the file or from where to open a file. When you save a file here appears on your Mac or Windows computer almost instantly with a good connection.
How to use iCloud Drive on Mac
Using iCloud Drive on the Mac is as simple as installing OS X Yosemite. After you install the free update iCloud Drive is on by default and it shows up in your Finder, as you can see below.
When you upload a file from the iPhone or iPad it will appear in this folder. You can also add new folders and files from Mac by dragging and dropping. You can manage your storage by adding new folders and organizing things on a Mac, just like any other folder on your computer.
How to Use iCloud Drive on Windows
On Windows you'll need to install the iCloud Control panel and then turn on iCloud Drive. This iCloud Drive for Windows Guide walks you through that process.
After you install the iCloud Control Panel on Windows you'll see a iCloud Drive folder under your favorites on the Explorer. This is where you can see your files.
You can drag and drop other files or folders to this place and they will be available on your iPhone or iPad. When you upload to iCloud Drive from your iPhone the file will appear here soon after.
What's New in iOS 8
iOS 8 vs iOS 7 Walkthrough - Home Screen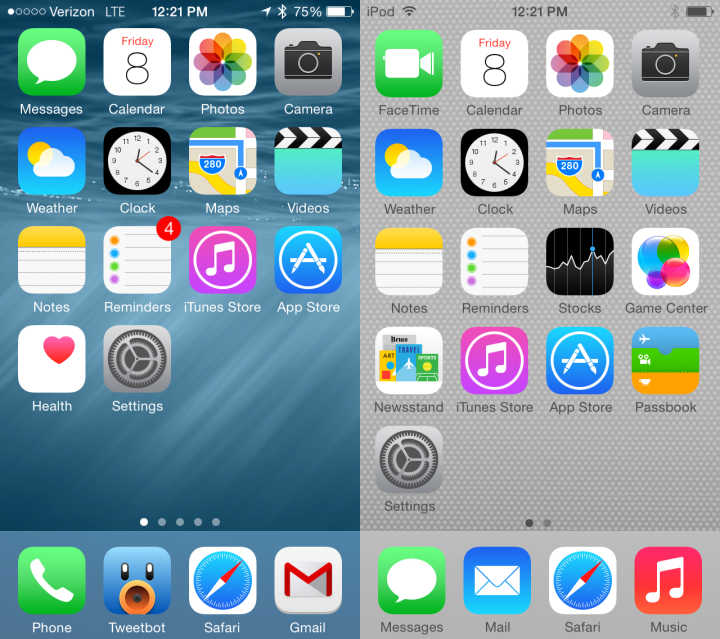 We start our iOS 8 vs iOS 7 walkthrough with the iPhone home screen, which is where you'll start your iOS 8 experience after an update this fall.
These screens are incredibly important as you see them anytime you turn on the iPhone or need to choose an app to launch. There is no way around using them, so Apple needs to make sure they work just right.
As you can see in the iOS 8 vs iOS 7 comparison above, there is no change between the home screen in the new iPhone software. Apple changed the status bar and some other small visual changes in iOS 7, but there are no updates for iOS 8.
We could see Apple change the home screen slightly for iOS 8 for the iPhone 6. The new iPhone will feature a larger 4.7-inch display with a higher resolution. This is something Apple may use to add more icons to the screen. Or they could stick with the current layout, it's tough to tell.