How to Speed Up Your Old Laptop
When web pages won't load quickly and your PC takes a long time to start, the first thing most people do is buy a new PC. Don't be one of them: use these tips to speed up your old laptop instead.
Truth is, in the time it takes you to research and buy a new laptop, you could easily speed up your old one. Uninstalling programs that you aren't using and blocking programs at startup can really speed things up. Using your old laptop's utilities to delete away old files also helps. Clearing away Windows and installing it again is the ultimate way to speed up your old laptop. Windows 8 and Windows 10 both have built-in utilities that make that process painless.
There are hardware upgrades you can use to speed up your laptop too. Older laptops let you add faster hard drives and RAM. Your laptop's performance heavily depends on both those things.
Here's how to speed up your old laptop.
Clean Up Old Files
Windows works best when there's enough space on your hard drive to cache the files you use often. Hibernation, the state your PC goes into when you close the lid, also requires large amounts of free storage.
Your quest to speed up your old laptop starts with your files. Even over a few months, lots of files will accumulate in your download folder and elsewhere on your PC. These files themselves aren't harmful, but the more space they hog, the closer you come to running out of storage.
Go through your files and look at what takes up the most space. On Windows 10, type Storage into the search box at the bottom-left corner of your screen. The Storage Sense utility automatically deletes files that you don't need. Turn this on.
Click on your drive for a break down of what is taking up the most space on your PC. Use this breakdown to decide what files to delete.
Read: How to Free Up Space in Windows 10  
There's no Storage Space utility on Windows 8. Instead, you must look through your PC for files that you don't need. You can check how much free storage you have left by opening the My PC area and looking at your hard drive's storage meter.
Add More Storage or Faster Storage
If all the files left on your PC are essential, consider adding more storage space to your PC instead. Some laptops let you swap out their internal hard drives for faster models with more space. Add a solid state drive. PCs with SSDs start in seconds not minutes and moving files takes less time than on a mechanical hard drive.
Tech services, like Best Buy's Geek Squad and Staples' Easy Tech, can tell you if upgrading to an SSD is possible. They will transfer your files and Windows over to the new drive too. Geek Squad charges $39.99 for hardware installation and $99.99 to transfer files. A Samsung 850 EVO SSD with 500GB of storage is $159.99 at the retailer. That's $300 in upgrades and fees before taxes.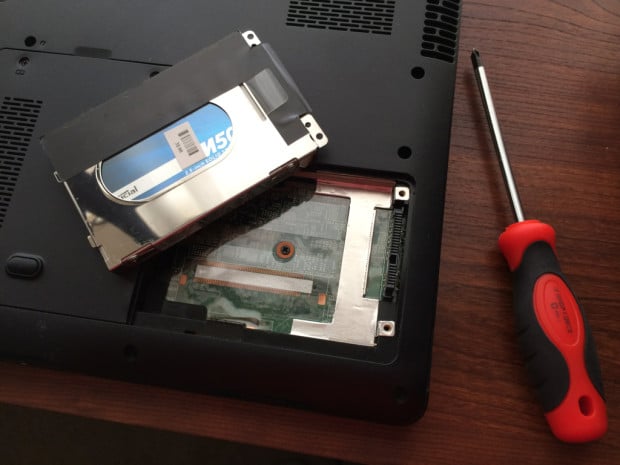 Some laptops are too thin to swap out their hard drives. On these PCs, adding removable storage is your best option. Look for an SD or microSD card slot on your PC. If you have one, buy a spacious storage card to leave inside it and move your non-essential files there. Gotta Be Mobile's guide to Moving Your Music, Video and Pictures to an SD in Windows 8.1 walks you through moving your files and making them easy to find in Windows. This trick also works on Windows 10. Use the Best Surface Pro 4 MicroSD Cards breakdown to find a great SD card for your device.
Cloud storage services are your last option to speed up your old laptop by adding more space. Windows 10 and Windows 8 have built-in support for Microsoft's OneDrive storage service. If you move your music or photos to OneDrive, you can leave them there and delete the versions on your PC. The Music and Photos app in Windows 10 find files OneDrive automatically.
Read: Is Microsoft OneDrive Worth Using?
Add More RAM to Speed Up Your Laptop
At the heart of every PC are three pieces of hardware: a hard drive, a processor and RAM. We've already discussed hard drives, and you can't replace your laptop's processor. You can add more RAM. With more RAM, switching between apps and multitasking becomes easier.
All laptops don't allow you to upgrade your RAM, but many do. As with hard drives, consult your manual to learn if adding more RAM to your laptop is possible. Ask about a RAM upgrade at a tech bench service if you've never done anything like this before. It's hard to predict how much a RAM upgrade will cost you. Different laptops take different RAM.
Uninstall Programs
Every program you install from the internet, no matter what it does, can cost you performance. So, if you want to speed up your old laptop, aggressively delete programs that you aren't using.
How to Remove Programs in Windows 10 walks you through deleting utilities you downloaded outside the Microsoft Store. Learn how to delete apps and programs with this How to Remove Apps in Windows 8.1 walkthrough.
Block Programs at Startup
Every time your PC starts, programs start along with it. On really fast PCs, this isn't a big problem, but too many of them can make a slow PC feel even slower. To speed up your old laptop, limit which programs start the moment you turn on your PC.
On Windows 10, type Startup into the search box at the bottom-left corner of your screen. Disable any non-essential apps or programs. Media apps, like iTunes and Spotify, tend to add themselves to startup without you knowing.
Reset Your PC
When nothing else works, it's time to reset your PC back to factory settings. Windows will delete your existing installation and reinstall itself.
How easy a reset is for you depends on your laptop's storage. You must create a restore drive for really inexpensive laptops or order one from the company that made your PC. Look through the manual that came with your laptop to learn how. Mid-range and high-end laptops have a button. Use Gotta Be Mobile's How to Reset Your Windows 10 PC guide to reset a Windows 10 laptop. How to Reset Your Windows 8 Laptop, Desktop or Tablet walks you through getting Windows 8.1 PCs back to a fresh Windows installation.
Back up your files if you plan to speed up your old laptop with a reset. Windows 10 and Windows 8 will only save your files if there's enough free storage space left inside to do so. Otherwise, it will delete them all.
Read: How to Make a Full Back Up of Your Windows 10 and Windows 8.1 PC
5 Best Windows 10 Laptops Under $500 in 2018
Dell Inspiron 15 3000 - $429.99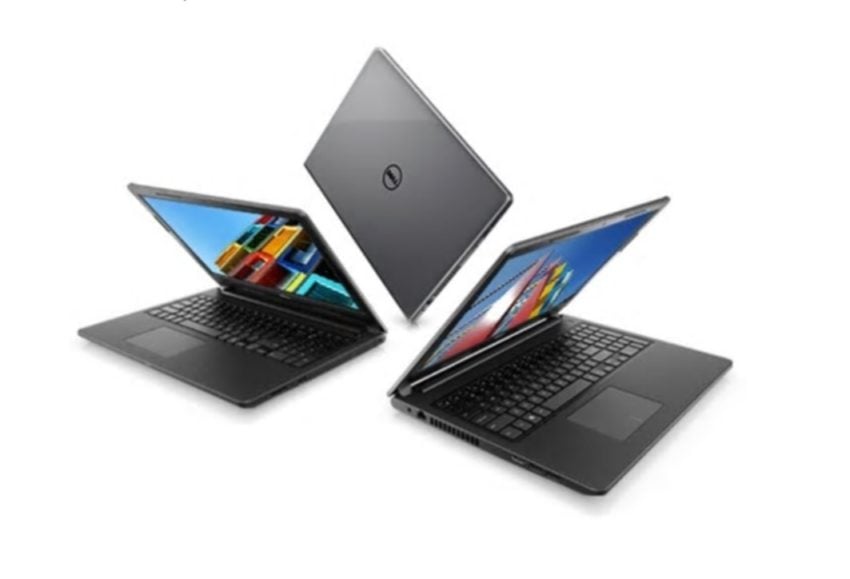 One of Dell's cheapest Windows laptops ever, the Dell Inspiron 15 3000 is for classic laptop lovers. Its 15-inch screen will never leave you wanting to connect an external display and it has plenty of ports and an all-too-rare DVD drive.
You get to choose whether you want the lowest possible price or a more well-balanced machine that costs a little more. The $299 model has 4GB of DDR3 RAM, a 500GB hard drive and an Intel Celeron Processor. Exchanging those for a more performance friendly Intel Core i3 processor, 6GB of RAM and 1TB of internal storage for photos, videos documents and videos brings the price to $429. The $499.99 model has an Intel Core i5 processor and 8GB of RAM.
Every Dell Inspiron 15 3000 has an SD card reader, headset jack, USB 2.0 port, lock slot, Ethernet port USB 3.0 port and a HDMI port. At 8 hours between charges, they should all last through a day of classes or casual browsing at your favorite coffee shop.


As an Amazon Associate I earn from qualifying purchases.