How to Use AirDrop on iOS 8 & OS X Yosemite
With iOS 8 and OS X Yosemite you can quickly send photos links and more from iPhone or iPad t your computer. This guide explains what AirDrop is, how to use AirDrop and what's new with this feature in iOS 8 and OS X Yosemite.
You need iOS 8 on your iPhone or iPad an OS X Yosemite on your Mac to use all the new AirDrop features. These are free updates that work on even older devices, but you need somewhat new iPhones, iPads or Macs to use AirDrop.
AirDrop is an easy way to wirelessly share photos, links, contacts and more even if you aren't connected to WiFi. The service only works between Apple devices, and with the latest updates you can finally send photos from your iPhone right to your Mac.
What You Need to AirDrop
You need to update to iOS 8 on the iPhone or iPad and to OS X Yosemite on the Mac to make this work. Updating the iPhone takes about 30 minutes and plan on about an hour to update the Mac. Both updates are free and should install without losing any date. You should still backup just to be safe.
AirDrop works with the following devices. You cannot hack it to work on any older devices, so if you're iPhone or iPad is not listed you will need to wait.
iPhone 5 or newer
iPad 4 or newer
iPad mini or newer
iPod touch 5th generation
To use AirDrop from the iPhone to Mac you need a newer Apple computer as well. Apple shares the official list of supported products;
MacBook Pro (Late 2008 or newer) – MacBook Pro (17-Inch Late 2008), white MacBook (Late 2008) do not support AirDrop
MacBook Air (Late 2010 or newer)
MacBook (Late 2008 or newer)*
iMac (Early 2009 or newer)
Mac Mini (Mid 2010 or newer)
Mac Pro (Early 2009 with AirPort Extreme card, or Mid 2010)
Once you confirm that you own supported devices you can get started using AirDrop between the iPhone, iPad and Mac.
How to Use AirDrop
To use AirDrop you need to turn on WiFi and Bluetooth on all the devices you want to use. If any of these are turned off the devices will not see each other. We'll walk through how to share from iPhone to another iPhone or iPad, from iPhone to a Mac and from a Mac to an iPhone. The process is similar, but not identical across all the actions.
AirDrop from iPhone to iPhone or iPad
You'll need the devices in the same room, with WiFi and Bluetooth on. Holding the iPhone you want to send from find a file like a photo and press the share button.
You may only see a blank AirDrop logo at first, but the other iPhone or iPad should soon show up. If it doesn't you may need to tap on the AirDrop Logo once. Also make sure the screen is on for the other device.
When you see the contact picture and name of the device you want to send to, tap on the circle. This will start the transfer and if you are sending to yourself it will auto download on the second device and open to the photo or webpage. If you are sending to someone else they need to accept the file.
AirDrop from iPhone to Mac
To send from iPhone to Mac the process is essentially the same. You find what you want to send, tap the share button and then look for the contact with a Mac shown. Tap on it to send.
Occasionally the Mac may not appear. If this happens open the AirDrop folder in Finder and see if that fixes it. You may also need to change the setting to Allow me to be discovered by Everyone.
On the Mac the files save to the downloads folder and links open in Safari. If you send to someone else they can accept or decline. If you send to yourself it will automatically save.
AirDrop from Mac to iPhone or iPad
You can also send files from your Mac to the iPhone or iPad. You'll need a Finder window open to the AirDrop folder. This should be on the left side of the Finder window. If you do not see it you can click Go -> AirDrop from the menu.
You should now see the iPhone or iPad you want to send to like in the screenshot above. You need the screen on, and sometimes this is still troublesome so you may need to try a few times to get the devices to see each other.
Drag the file you want to share  on top of the user icon, let go and it will appear on the iPhone in a few seconds. If it is a photo it appears right in the Photos app and links open in Safari. If it is a file type that you can open with multiple apps the iPhone will ask what app to open it with.
You can then open it in that app or cancel if you do not wan to use any of the listed apps.
AirDrop from Mac to Mac
The process of sending from one Mac to another is very much like sending to an iPhone. Instead of dropping on the icon for an iPhone or iPad you can do this on a Mac icon. You may need to click the Don't see who you're looking for? option to connect to an older Mac.
After you drag and drop the file it will appear on your other computer in a few seconds depending on the file size and if it is a file it will appear in downloads.
Check out other new iOS 8 features in the slides below.
What's New in iOS 8
iOS 8 vs iOS 7 Walkthrough - Home Screen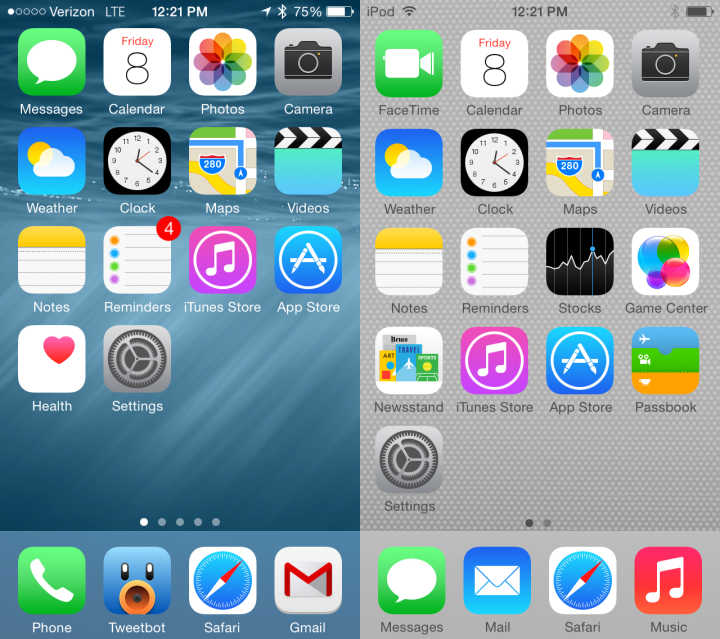 We start our iOS 8 vs iOS 7 walkthrough with the iPhone home screen, which is where you'll start your iOS 8 experience after an update this fall.
These screens are incredibly important as you see them anytime you turn on the iPhone or need to choose an app to launch. There is no way around using them, so Apple needs to make sure they work just right.
As you can see in the iOS 8 vs iOS 7 comparison above, there is no change between the home screen in the new iPhone software. Apple changed the status bar and some other small visual changes in iOS 7, but there are no updates for iOS 8.
We could see Apple change the home screen slightly for iOS 8 for the iPhone 6. The new iPhone will feature a larger 4.7-inch display with a higher resolution. This is something Apple may use to add more icons to the screen. Or they could stick with the current layout, it's tough to tell.