PlayStation E3 2017: How to Watch, Games & Predictions
The PlayStation E3 2017 press briefing will bring game reveals and lots of new things to talk when it airs June 12th. Gamers hope a slew of video game announcements and price changes for the PS4 and PS4 Pro are on tap for the show.
The Electronic Entertainment Expo happens every June. To kick-off its presence at the show, Sony opens the week with reveals of what it's planning to bring to gamers for the rest of the year and beyond. It's at E3 Media Showcases that we get news of new exclusive games meant only for PS4 players. Sony has used the briefing to tease new gaming consoles, TV services, and VR accessories too.
Some gamers will trek to Los Angeles, California to see the PlayStation E3 2017 Media Showcase and events in person. Everyone doesn't have to though. Sony will livestream its PlayStation E3 2017 festivities for everyone to see. Here's how to watch the PlayStation E3 2017 Media Showcase, and what we think Sony might reveal at the show.
Read: Xbox One S vs PlayStation 4 Pro: Hardware Compared
When is the PlayStation E3 2017 Media Showcase?
The PlayStation E3 2017 Media Showcase starts on Monday, June 12th at 6 PM Pacific Time. That's 9 PM Eastern Standard Time. Typically, these events last around an hour or more, but Sony has not confirmed how long this year's media showcase will run.
How to Watch the PlayStation E3 2017 Media Showcase?
We know that gamers can stream the press conference from home because Sony confirmed that on its dedicated E3 2017 website. These streams will appear on PS4 consoles connected to PlayStation Network. Additionally, PlayStation's YouTube profile, Twitch profile and Live.PlayStation website will carry the briefing and stream footage from the show floor.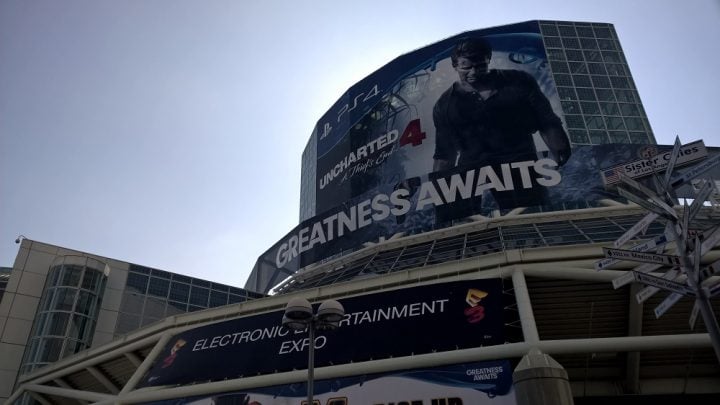 Spike TV, which has broadcasted E3 press events in the past, won't show the PlayStation E3 2017 Media Showcase this year. For now, its online schedule doesn't show any E3 conferences at all.
The PlayStation E3 Experience lets gamers watch the media showcase in theaters across Canada, the United States and Latin America. Sony plans to give out special trading cards and exclusive digital extras at this year's event. The PlayStation Blog has a list of participating theaters and constant updates on available tickets.
PlayStation E3 2017 Predictions: Games
Sony goes into the PlayStation E3 2017 Media Showcase with another stellar year behind it. The PS4 Pro arrived on store shelves last fall. Gamers that buy a PS4 Pro get 4K video playback and games with enhanced graphics. The PlayStation VR headset that the company teased at two previous E3 events launched last year too. Expect Sony to focus on games for all these pieces of new hardware.
Read: 5 Best PS4 Exclusive Games Coming in 2017
Unless there is a surprise delay, Spider-Man PS4 is still set for release in 2017. The company should discuss this game at the show. There's a lot we don't know about it. Spider-Man PS4 is not its final title. We have yet to see any of the game's villains either.
Expect footage from other PS4 exclusive games to surface at the show. The company's God of War reveal surprised gamers during Sony's E3 2016 Media Showcase. The Last of Us Part 2 was another major shocker from Sony last year. Both should get a brief mention, even if they don't get new teasers. Detroit: Become Human had a very flashy trailer during last year's show. It's another anticipated game PlayStation executives could show off.
Sony will talk about games that aren't exclusive to the PS4. The Call of Duty franchise gets downloadable content first on PlayStation. Sony will have content to tease from Call of Duty: World War 2. It's teased the franchise at its briefings every year for some time now. PS4 users get exclusive Destiny 2 content. Sony will want to talk about that during the show too.
PlayStation E3 2017 Predictions: PlayStation VR
It's hard to imagine that the PlayStation E3 2017 Media Showcase won't have a huge amount of time dedicated to the PlayStation VR. Sony could use the show to put the focus back on it. If it doesn't, it risks gamers forgetting the headset exists.
There are no rumors pointing to a PlayStation VR price cut, but one seems inevitable. PlayStation VR started as one of the cheapest ways to get virtual reality games at $499. An Oculus Rift VR headset costs $499 now. Microsoft's coming Xbox Scorpio console will support VR headsets too. If Sony wants to keep its edge in the space, it'll need to do something to jumpstart PlayStation VR sales.
Expect the company to show off all the different games coming for PlayStation VR buyers too. After all, PlayStation VR is for gaming. The company needs some must-have experiences for the headset as it goes into the fall and winter.
Read: 8 Exciting 2016 PlayStation VR Games
The PlayStation E3 2017 Media Showcase is only the beginning. Expect footage from developers on the show floor and other surprises too. A new PS4 price cut is already building hype ahead of E3 2017. It brings the price of the PS4 with 500GB of storage space to $256 on Amazon.
5 Best PS4 Exclusive Games Coming in 2017
Crash Bandicoot N. Sane Trilogy
The Crash Bandicoot games were synonymous with the PlayStation during its formative years. Past games in the series let players use jumps and spins to take on enemies. Long levels offered combat, crates and fruit that players needed to collect. There are three games in the series.
Crash Bandicoot N. Sane Trilogy includes all three older games. It has Crash Bandicoot, Cortex Strikes Back and Crash Bandicoot Warped. The original experience of all these games are there, but developer Vicarious Visions has added in a checkpoint system and a manual save system across all the games in the trilogy. Checkpointing ensures that gamers don't lose progress when they forget to save. Crash Bandicoot N. Sane Trilogy has upgraded audio and 4K visuals to along with the updated saving features. This game arrives for PS4 on June 30th for $39.99.

[ Buy Crash Bandicoot N. Sane Trilogy from Amazon for $39.99 ]