Huge Reason You Need to Upgrade from iOS 7 to iOS 8 Today
If you are still using iOS 7 on your iPhone or iPad there is a new major reason to install the iOS 8.1.3 update right now. Although the iPhone is mostly safe from viruses and malware a new discovery outlines a threat that can collect text messages, photos, start voice recording and more. This iPhone malware can run even if you are not jailbroken.
If you are already on an earlier version of iOS 8, you don't need to upgrade to iOS 8.1.3 to get the benefit, but for upgraders the iOS 8.1.3 update is the easiest option to install at this time.
If you are on iOS 7 and click a link that asks you to install a new profile on the iPhone this virus could potentially infect your iPhone. On iOS 7 after a user follows through with this action the app hides itself from view and can restart if you kill the process or restart the phone. On iOS 8 the icon shows up and the process cannot restart itself.
The exact method of installation is unknown and in the grand scheme of things you may not think you are a target but Trend Micro outlines a reason you should at least pay attention to this threat if you still use iOS 7.
"The actors of Pawn Storm tend to first move a lot of pawns in the hopes they come close to their actual, high profile targets. When they finally successfully infect a high profile target, they might decide to move their next pawn forward: advanced espionage malware"
This, "economic and political cyber-espionage operation," casts a wide net to try to find a high value target. You may not be a high value target, but that doesn't mean you can't accidentally install the iPhone malware.
You should not follow directions to that say, "Tap Here to Install the Application.", if you did not take steps to start installing an application. The tool tricks users into allowing an app that is outside of the App Store to run on the iPhone. This can happen on iOS 7 and iOS 8, but the application is visible on iOS 8 so users know that they are infected.
Apple announced iOS 8 in Summer 2014 and the iOS 8 release in September delivered a large upgrade to the iPhone 4s and newer, iPad 2 and newer and the iPod touch 5th generation. At this point 25% of active iPhones, iPads and iPods are using iOS 7, which leaves them vulnerable to this attack vector.
After using the iOS 8.1.3 update and iOS 8 on various devices there are many reasons the iOS 8.1.3 update is worth installing on your iPhone and iPad. You can read our iOS 8.1.3 reviews to discover how it performs on each device. The iOS 8.1.3 update on the iPhone 4s is a little slower than iOS 8.1.2 and is slower than iOS 7 overall. The iPad 2 delivers good performance on the iOS 8.1.3 update even as an old device.
Newer devices running the iOS 8.1.3 update typically perform well, but you can read the iOS 8.1.3 review roundup to see how the update performs on your specific device.
For users who do not want to install the iOS 8.1.3 update on an older iPhone or who cannot update to iOS 8.1.3 because they use an iPhone 4 or iPad 1, make sure you don't install provisioning profiles that can install an app outside of the App Store even when you aren't jailbroken.
What's New in iOS 8
iOS 8 vs iOS 7 Walkthrough - Home Screen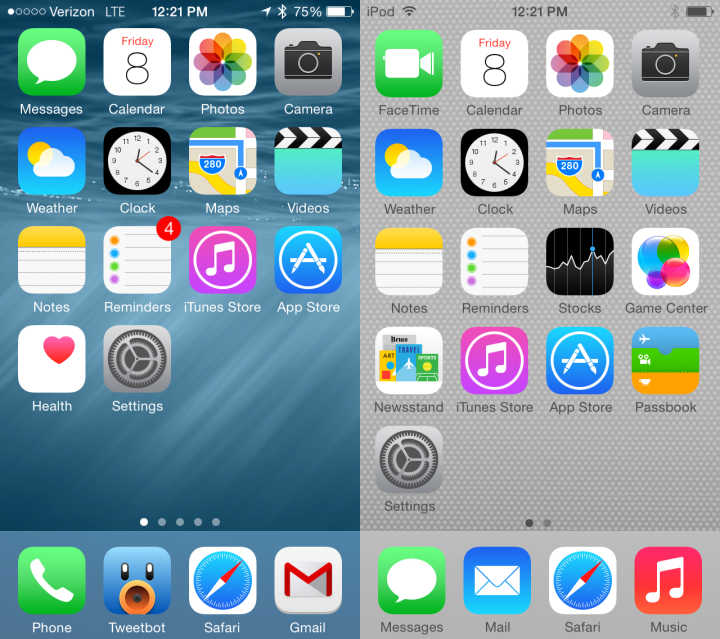 We start our iOS 8 vs iOS 7 walkthrough with the iPhone home screen, which is where you'll start your iOS 8 experience after an update this fall.
These screens are incredibly important as you see them anytime you turn on the iPhone or need to choose an app to launch. There is no way around using them, so Apple needs to make sure they work just right.
As you can see in the iOS 8 vs iOS 7 comparison above, there is no change between the home screen in the new iPhone software. Apple changed the status bar and some other small visual changes in iOS 7, but there are no updates for iOS 8.
We could see Apple change the home screen slightly for iOS 8 for the iPhone 6. The new iPhone will feature a larger 4.7-inch display with a higher resolution. This is something Apple may use to add more icons to the screen. Or they could stick with the current layout, it's tough to tell.

As an Amazon Associate I earn from qualifying purchases.