iOS 8.0.1 Update Breaks Cell Service, Touch ID
Apple just started the iOS 8.0.1 release, but you should not install the small update promising to fix iOS 8 problems. The iOS 8.0.1 update breaks cell service on many iPhones. After the update touch ID no longer works on some iPhones either.
After installing iOS 8.0.1 on the iPhone 6 and iPhone 6 plus on AT&T and Verizon we no longer have cell service on either device and Touch ID will not unlock the iPhone.
Update: This issue may be limited to iPhone 6 and iPhone 6 Plus only.
Update 2: Apple may be in the process of pulling the iOS 8.0.1 update for iPhone 6 & iPhone 6 plus
Update 3: How to Downgrade from iOS 8.0.1 to iOS 8
Update 4: Apple Pulls iOS 8.0.1
Users who update to iOS 8.0.1 will see a Searching… error on the AT&T iPhone 6 and a No Service error on the Verizon iPhone 6. The problem does not appear limited to these carriers.
The iOS 8.0.1 update promises fixes for many iOS 8 problems, but the inability to make phone calls or use the Internet on the iPhone trumps any potential iOS 8 fixes that it includes.
So far restarting the iPhone 6 does not fix the problem. Resetting Network Settings on iOS 8 does not fix the problems either. For the time being you should not update to iOS 8.0.1 on any device.
If you are affected by this iOS 8.0.1 no service problem, you can use these two options to make a phone call as long as you are connected to WiFi.
Some users no longer see the iOS 8.0.1 update listed on the iPhone 6. This may be the first sign that Apple is pulling the iOS 8.0.1 update. It still shows on older iPhones and an iPad Mini Retina we own.
Apple pulled the iOS 8.0.1 update shortly before 3 PM Eastern, but there is no official word on any iOS 8.0.2 release or a fix for the no service problems.
We are not alone in experiencing the iOS 8.0.1 problems with service and Touch ID.
iOS 8.0.1 turned my SIM card into a newt

— vil (@vilhalmer) September 24, 2014
iPhone people should avoid iOS 8.0.1. you lose mobile connectivity and your TouchID breaks

— lee:ross (@systemmeltdownn) September 24, 2014
@tim_cook I do hope you guys are fixing the iOS 8.0.1 no service/touch id problem and another update will be available ASAP please :)

— marklemac Mark Burr (@marklemac) September 24, 2014
Breaking. Updates Coming.
What's New in iOS 8
iOS 8 vs iOS 7 Walkthrough - Home Screen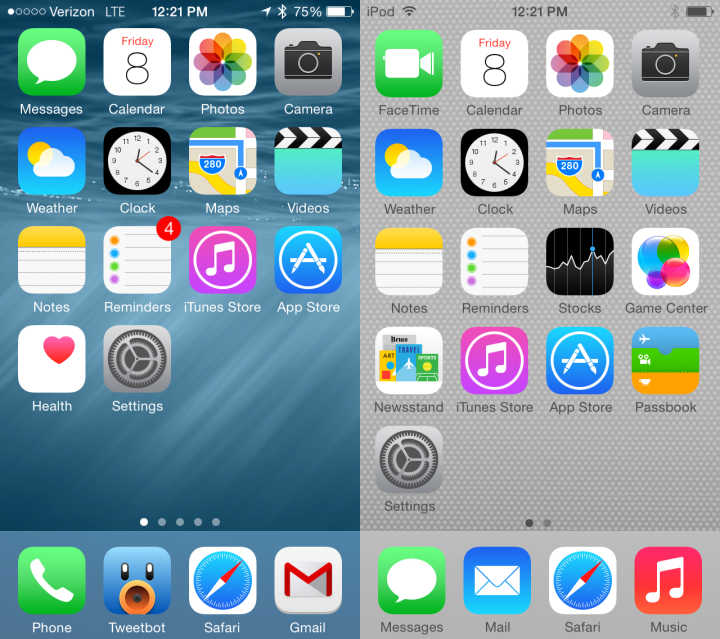 We start our iOS 8 vs iOS 7 walkthrough with the iPhone home screen, which is where you'll start your iOS 8 experience after an update this fall.
These screens are incredibly important as you see them anytime you turn on the iPhone or need to choose an app to launch. There is no way around using them, so Apple needs to make sure they work just right.
As you can see in the iOS 8 vs iOS 7 comparison above, there is no change between the home screen in the new iPhone software. Apple changed the status bar and some other small visual changes in iOS 7, but there are no updates for iOS 8.
We could see Apple change the home screen slightly for iOS 8 for the iPhone 6. The new iPhone will feature a larger 4.7-inch display with a higher resolution. This is something Apple may use to add more icons to the screen. Or they could stick with the current layout, it's tough to tell.

As an Amazon Associate I earn from qualifying purchases.