iOS 8.0.2 on iPhone 5s: Impressions & Performance
The iOS 8.0.2 update arrived on the iPhone 5s top fix several iOS 8 problems, but it's not a perfect update. This comes almost two weeks after the iOS 8 release and days after a botched iOS 8.0.1 update that Apple pulled. We'll walk through how the iOS 8.0.2 update performs on the iPhone 5s and help you decide if you should install iOS 8.0.2 or wait for the iOS 8.1 release.
This small update adds support for HealthKit, which lets apps talk tot he new iOS 8 Health app, fixes some issues with third-party keyboards and includes other tweaks. It is not a major update and doesn't deliver any speed boosts, but it is an essential one if you want to use all the new iOS 8 features.
As we witnessed, small updates can bring major problems, which is why we offer an early look at the iPhone 5s iOS 8.0.2 performance. The good news is the iPhone 5s does not appear to suffer any major problems with the iOS 8.0.2 update, but it's far from a perfect iPhone experience.
Apple is already testing iOS 8.1 and there is a promise of another iOS update in October to add features to the iPhone 6 and iPhone 6 Plus. This update may also deliver fixes to the iPhone 5s, but that is unclear. The only thing we know for sure is Apple needs to do more work on iOS 8.
Thankfully the iPS 8.0.2 update on the iPhone 5s did not break any of our iPhones. The small update disabled the iPhone 6 Plus touch screen for one team member who needed a replacement from Apple to fix the problem.
Installing iOS 8.0.2
The iOS 8.0.2 installation was very easy and straightforward. I installed over the air in about 10 to 15 minutes and did not experience any problems.
This is a small update so there was no issue with free space on the iPhone or any similar issues. You can also update by connecting to iTunes, but so long as you have a current backup there's no reason to avoid an over the air installation.
iOS 8.0.2 Performance
After installing the update I check five key areas to make sure the iPhone 5s performs well. This includes speed, apps, general bugs, battery life and connectivity. Small updates are notorious for delivering hard to fix connectivity issues, but that doesn't seem to be the case, at least not for my iPhone 5s.
Apps
While using the iPhone 6 Plus apps crash frequently, but that is not the case on the iPhone 5s with iOS 8.0.2. After testing Netflix, Tweetbot, Alien Blue, Gmail and a dozen other apps over the last several days they all are running well, better than on the iPhone 6 Plus.
iOS 8.0.2 Battery Life
The iPhone 5s battery life on iOS 8.0.2 remains the same as on iOS 8. Although we are hearing reports of lower battery life from many iPhone 5s users on iOS 8, this iPhone 5s is not effected by the problems. This may be thanks to a clean install of iOS 8 for the update instead of installing on top of iOS 7.1.2.
Here are some tips if your iPhone battery life is bad after the iOS 8 update.
iOS 8.0.2 Connectivity
After installing iSO 8.0.2 the iPhone 5s connectivity performs as expected with no real issues. I placed a Sim card in the phone to make sure data and voice worked well, and all seemed good. It's worth noting that calls sound better on my iPhone 6 thanks to VoLTE which sends calls over LTE.
WiFi is working good on the iPhone 5s with iOS 8.0.2 installed. But it not everyone is as lucky. Many users on Twitter complain that iOS 8.0.2 broke WiFi on the iPhone 5s. One possible fix is listed below.
Updated my iPhone 5s to iOS 8.0.2, and wifi stopped working. Fixed it by going to: Settings->General->Reset->Reset Network Settings.

— Charles Johnson (@Green_Footballs) September 27, 2014
iOS 8.0.2 Bugs & Issues
The iPhone 5s iOS 8.0.2 update fixes a problem with the iPhone 5s sticking in landscape, although that remains a problem on my iPhone 6 and iPhone 6 Plus so it may just be luck on the older iPhone.
As mentioned above some users are not able to use WiFi at all times while using iOS 8.02 on the iPhone 5s, but it did not impact our review unit.
Speed
Overall there doesn't appear to be any change to the iPhone 5s performance on iOS 8.0.2. The phone is not slower or faster than it was last week on iOS 8. This is a good thing as it is already performing well and the iOS 8.0.2 update fixes specific bugs instead of targeting overall speed and performance.
Should You Install iOS 8.0.2 on the iPhone 5s
If everything is working fine on the iPhone 5s with iOS 8 you may want to wait for the next update. Although our iPhone 5s is performing well, the scattered reports of broken WiFi on iOS 8.0.2 are troubling.
For users who want to use the new iOS 8 health app and want the fixes for third-party keyboards this update is one you will need to install. There are not enough widespread issues that warrant skipping it, but be ready in case you experience WiFi problems on the iPhone 5s.
It looks like the iPhone 5s iOS 8.0.2 update is OK for most users, but if you are cautious it's worth holding off.
What's New in iOS 8
iOS 8 vs iOS 7 Walkthrough - Home Screen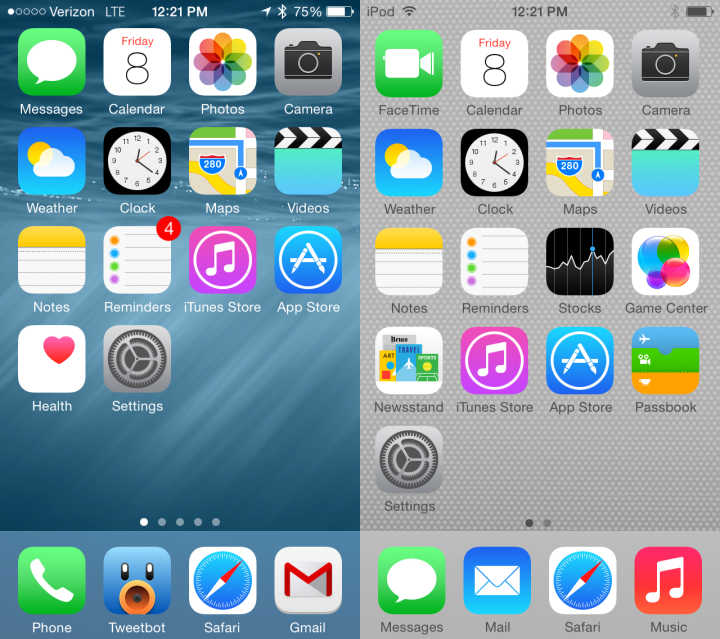 We start our iOS 8 vs iOS 7 walkthrough with the iPhone home screen, which is where you'll start your iOS 8 experience after an update this fall.
These screens are incredibly important as you see them anytime you turn on the iPhone or need to choose an app to launch. There is no way around using them, so Apple needs to make sure they work just right.
As you can see in the iOS 8 vs iOS 7 comparison above, there is no change between the home screen in the new iPhone software. Apple changed the status bar and some other small visual changes in iOS 7, but there are no updates for iOS 8.
We could see Apple change the home screen slightly for iOS 8 for the iPhone 6. The new iPhone will feature a larger 4.7-inch display with a higher resolution. This is something Apple may use to add more icons to the screen. Or they could stick with the current layout, it's tough to tell.

As an Amazon Associate I earn from qualifying purchases.