iOS 8.1.1 iPad 2 Reviews: Should You Install iOS 8.1.1?
The iOS 8.1.1 update delivers a collection of bug fixes and according to Apple it will help deliver better performance to the iPad 2 — fixing complaints of lagging and slow devices that surfaced after users upgraded to iOS 8 in September.
We'll take a look at iOS 8.1.1 iPad 2 reviews to find out how this new update performs on the oldest iPad running iOS 8. We'll also help you decide if you should install iOS 8.1.1.
Overall iOS 8.1.1 reviews for the iPad 2 are positive, but detailed testing reveals that there are not major enhancements to speed all the time. That said, for users who are already on iOS 8, the update appears overwhelmingly positive.
Here's a closer look at iOS 8.1.1 on the iPad 2 from users and a test from a publication that benchmarks the latest updates on devices using the older Apple A5 processor like that found in the iPad 2.
iOS 8.1.1 Installation
There are not widespread iOS 8.1.1 installation issues on the iPad 2. One report on the Apple Support Forums outlined a user who ran into the following error.
"Unable to Install Update  An error occurred installing IOS 8.1.1"
Connecting to iTunes and allowing the computer to perform the update fixed this iOS 8.1.1 upgrade problem. This is the easiest way to fix many installation problems and it is a good way to upgrade if you are low on storage.
iOS 8.1.1 Performance
Here's a closer look at the iOS 8.1.1 performance on the iPad 2. The iPad 2 runs an Apple A5 processor like the iPhone 4s and other devices. Ars Technica benchmarked devices running the iOS 8.1.1 update and found that while there are some improvements it is not as noticeable and significant as the iOS 7.1 update was for the iPhone 4. Although Benchmarking doesn't reveal a major boost, some user reviews claim the iPad is like new again.
If you are able to take the time to perform a clean install of iOS 8.1.1 and set up the iPad as a new device you will likely have a much better experience than adding on another update to a device you've used for years. You can do this in iTunes by choosing restore. While this wipes everything off your iPad it can solve stubborn problems.
iOS 8.1.1 Speed on iPad 2
On the Apple Support forums, JLEED80 exclaims that iOS 8.1.1. is great for the iPad 2, writing,
"Thank you, Thank you, THANK YOU Apple for the latest update!!!!

My iPad 2 is back to normal! No more Safari crashes and laggy typing.

I am so freaking happy right now! Faith restored."
Moonlighter475 also shares excitement over the iOS 8.1.1 update on the iPad 2 writing,
"Following the debacle of the initial install of iOS8, I ended up doing a total system delete and then restored with a fresh copy of iOS 8 from iTunes on my PC, after first backing up of course.

It made a big difference, was much better, but still not as good as iOS7.

Have done the iOS8.1.1 install a couple of hours ago and it seems to have further improved.

I always find that after installing an update, its a good idea to turn the iPad off completely and on again a couple of times. Seems to settle the software down."
Reddit user camarean shares a brief, but very useful iPad 2 iOS 8.1.1 review,
"So far I can say the performance is much smoother, although still not as smooth as iOS 7.1.2. It is getting pretty close though. I went as far as turning off reduced motion and still managed to get acceptable frame rates for the animations. The WiFi issue seems to be fixed, as I'm not having my connection dropped anymore. Memory mananagement also seems to have improved. Multitasking is more responsive. Safari is less laggy and I no longer have to deal with pages reloading whenever I switch tabs"
Not everyone is happy though. Some users in the same thread report that the iPad is actually slower than it was on iOS 8.1. In other forum posts iPad 2 users complain about the iPad taking up to six minutes to reboot. The photos app is slow and iBooks is unresponsive after the iOS 8.1.1 update.
iOS 8.1.1 Battery Life
One user in the Apple Support Forums reports fast iOS 8.1.1 battery life drain on the iPad 2, but overall there are not widespread complaints about the iOS 8.1.1. update knocking out battery life. When there is massive battery life drain a restore will often fix these problems.
Should You Install iOS 8.1.1 on the iPad 2?
If you are already on iOS 8 or iOS 8.1, you should install iOS 8.1.1 on the iPad 2 today. For most users there is a benefit with slightly better performance and the overall experience is much better for a vocal group of users.
Still, it's not a magical update. If you are still on iOS 7.1.2 you should stay on that update for now based on several user reviews.
If you are on iOS 7 and really want an iOS 8 feature on your iPad 2, this is the update to jump to, but for the most part staying on iOS 7.1.2 is a safer option.
What's New in iOS 8
iOS 8 vs iOS 7 Walkthrough - Home Screen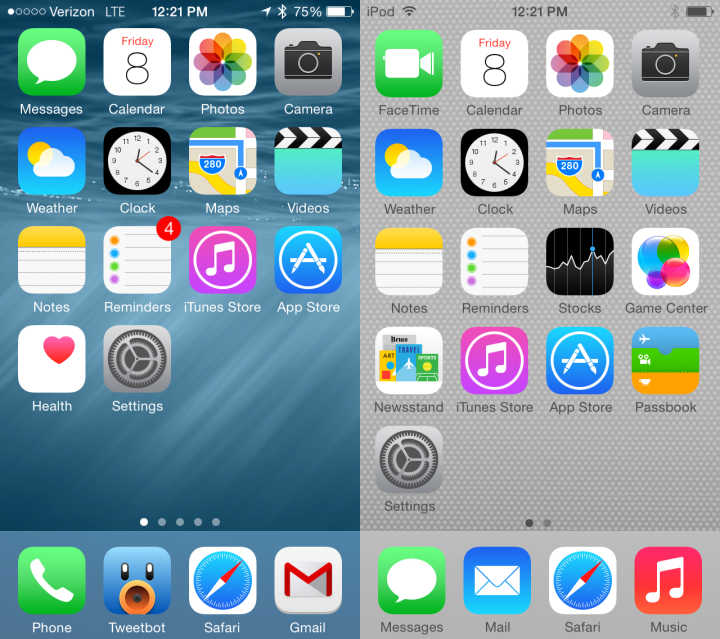 We start our iOS 8 vs iOS 7 walkthrough with the iPhone home screen, which is where you'll start your iOS 8 experience after an update this fall.
These screens are incredibly important as you see them anytime you turn on the iPhone or need to choose an app to launch. There is no way around using them, so Apple needs to make sure they work just right.
As you can see in the iOS 8 vs iOS 7 comparison above, there is no change between the home screen in the new iPhone software. Apple changed the status bar and some other small visual changes in iOS 7, but there are no updates for iOS 8.
We could see Apple change the home screen slightly for iOS 8 for the iPhone 6. The new iPhone will feature a larger 4.7-inch display with a higher resolution. This is something Apple may use to add more icons to the screen. Or they could stick with the current layout, it's tough to tell.