iOS 8.1.1 on iPad 3: Impressions & Performance
Apple's iOS 8.1.1 update delivers faster performance to older devices like the iPad 2, but how does it handle on the iPad 3? We'll take a look at the overall iPad 3 iOS 8.1.1 performance in this early review of the latest software update.
Since the iOS 8 release in September Apple's been working to quickly deliver a collection of updates to fix issues and performance. Over the last two months we've seen a handful of updates for the iPad 3 and other iOS 8 devices that fix many iOS 8 problems.
With the iOS 8.1 update we saw a speed boost for the iPad 3, even though Apple did not specifically mention it by name. The most recent iPad 3 iOS 8.1.1 update did not change the overall performance of this device much, but at this point that's a good thing.
I use the iPad Air daily, but I borrow the iPad 3 from my wife at least once a week to see how it handles specifically so I can review new updates on this older iPad. Shortly after Apple released iOS 8.1.1 I started the 300+MB download so that I could test key areas of performance.
The iOS 8.1.1 update arrives for the iPad 3 and other devices after weeks of internal testing and a developer beta that allowed for a broader test ahead of the public release. This is a sign of added scrutiny for iOS updates after a botched iOS 8.0.1 update and annoying and frustrating bugs in iOS 8 and OS X Yosemite.
Here's an early iOS 8.1.1 on iPad 3 review to help you decide if this is an update that is worth installing on your older iPad.
iOS 8.1.1 Installation
The iOS 8.1.1 installation on the iPad 3 was fast and painless. This was an upgrade from iOS 8.1, so there was no huge file to download and no need for tons of space. If you don't have enough space, you can update through iTunes for a simpler upgrade process from iOS 7 to iOS 8.
iOS 8.1.1 on iPad 3 Performance
With the iOS 8.1 update the iPad 3 performance improved, even without tweaks to speed up and disable some animations. After the iOS 8.1.1 update things appear to be the same speed, which is about as good as on iOS 7. Keep reading for a closer look at how the iPad 3 performs with iOS 8.1.1 installed in several key areas including apps, battery life, connectivity, speed and problems.
Apps
After installing iOS 8.1.1 I tested Facebook, Pinterest Netflix and several others to see if they work after the update. Not surprisingly there are no problems opening these apps and using them to watch videos, check up on popular websites and information and use the iPad just like I did a week ago on iOS 8.1.
iOS 8.1.1 Battery Life
In an early iOS 8.1.1 review it's tough to tell how this update impacts the iPad 3 battery life. The good news is that there is no major battery drain, but with great overall battery life any problems may not appear until several days later. I'll keep an eye on this, but without any major draining I don't expect to see any problems on my iPad 3.
WiFi & Bluetooth
There is no cellular connection on this iPad to test, but I did try Bluetooth and WiFi connectivity to see how they handle. The iPad 3 connects to WiFi on my home network and to a personal hotspot without any problems and maintains connectivity.
Bluetooth connected quickly to the iPad keyboard case that this iPad 3 lives in. Although one iPad iOS 8.1.1 problem is that the software keyboard does not disappear when a Bluetooth keyboard is connected this is not a problem I could reproduce.
Bugs & Issues
There are some iOS 8.1.1 problems and issues, but after a day of use I am not able to find any specific issues on my iPad 3. You can check out a list of common iOS 8.1.1 problems and fixes.
Speed
The iOS 8.1 update delivered speed improvements to the iPad 3 and the iOS 8.1.1 update does not change the overall speed of the device. The iPad 3 is not as snappy as the iPad Air, but it is as fast as it was on iOS 7.1.2 in August and early September.
Should You Install iOS 8.1.1 on the iPad 3?
If you are already running iOS 8.1 or iOS 8 you should definitely install iOS 8.1.1. This update does not slow down performance and it may fix some lingering iOS 8 and iOS 8.1 issues that impact
For users who are still on iOS 7, this is still a good update, but you may want to wait a week for our full iOS 8.1.1 review on the iPad.
What's New in iOS 8
iOS 8 vs iOS 7 Walkthrough - Home Screen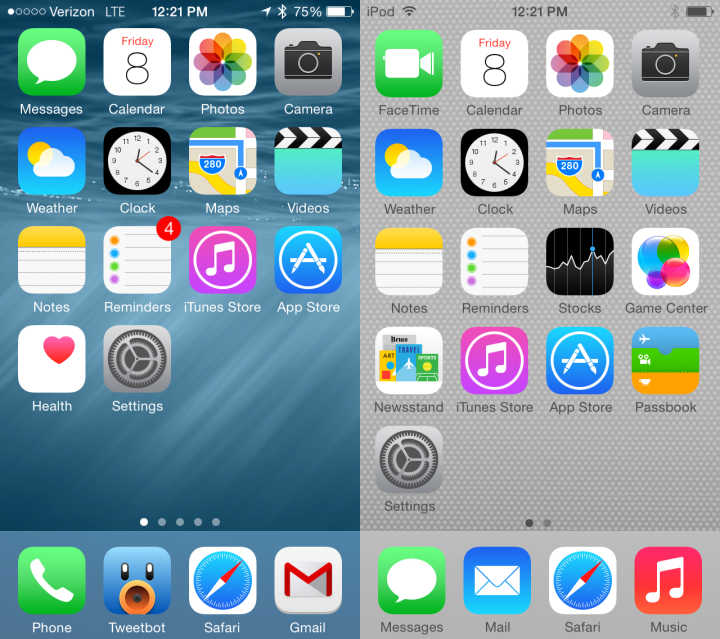 We start our iOS 8 vs iOS 7 walkthrough with the iPhone home screen, which is where you'll start your iOS 8 experience after an update this fall.
These screens are incredibly important as you see them anytime you turn on the iPhone or need to choose an app to launch. There is no way around using them, so Apple needs to make sure they work just right.
As you can see in the iOS 8 vs iOS 7 comparison above, there is no change between the home screen in the new iPhone software. Apple changed the status bar and some other small visual changes in iOS 7, but there are no updates for iOS 8.
We could see Apple change the home screen slightly for iOS 8 for the iPhone 6. The new iPhone will feature a larger 4.7-inch display with a higher resolution. This is something Apple may use to add more icons to the screen. Or they could stick with the current layout, it's tough to tell.