iOS 8.1 iPad 2 Reviews: Should You Install iOS 8.1?
The iOS 8.1 update delivers fixes and many exciting new features, but one of the best parts isn't listed in Apple's official update changes.
Users can expect better iOS 8.1 performance on the iPad 2, returning the old iPad to the speeds and performance it delivered on iOS 7.1.2 for many users. Not everyone experienced the same boost in performance as we saw with other devices, so we'll share both sides of the story.
That's in addition to the iOS 8.1 update fixing WiFi problems, Bluetooth connectivity and other features. We experienced this iOS 8.1 performance boost on the iPad 3 and iOS 8.1 on iPad 2 reviews from users share similar reports. This is in line with iPhone 4s performance boosts on iOS 8.1, but some users report sub-par performance. There are more negative reports than on the iPhone 4s.
Big updates from Apple are often remembered for slowing down old devices, but it seems iOS 8.1 on the iPad 2 is at least a step in the right direction, delivering better performance to many and fixing some problems and crashes.
Apple pushed the iOS 8.1 release out faster than we traditionally see a iOS x.1 update, and with these enhancements in tow that is a good thing. Apple does not list iPad 2 performance in the what's new section of iOS 8.1, but users report improvements with the iOS 8.1 iPad 2 update.
Read: How to Boost iOS 8.1 Performance on iPad 2 & iPad 3
After three days here are the early iOS 8.1 iPad 2 reviews from users who live with this tablet every day. We'll revisit this topic in the near future as more users update if any iOS 8.1 problems arrive.
iOS 8.1 Installation
We did not find a lot of iOS 8.1 installation issues from iPad 2 owners, but some did run into a very long update time. It's not clear if this user ended up completely stuck and needed to plug-in to restore, but that is a possibility.
#iOS 8.1 update on iPad 2, stuck here for half an hour now. Just don't do it. pic.twitter.com/R8U4VdFD5D

— Joonas Linkola (@joonaslinkola) October 22, 2014
Make sure you have a working backup before you upgrade to iOS 8.1 on the iPad 2 in case this happens to you.
iOS 8.1 on iPad 2 Performance
Users are split about the iOS 8.1 iPad 2 performance. Some users share reviews saying the iPad 2 is as fast as it was on iOS 7.1.2, while others say it is almost there, but not quite. There are also negative reviews reporting even more slow downs than on iOS 8 or iOS 8.0.2.
iOS 8.1 Speed on iPad 2
Although not as overwhelming as the iPhone 4s iOS 8.1 reviews, there are some users who share that the iOS 8.1 iPad 2 update is a big improvement.
If you haven't upgraded your iPad 2 to iOS 8.1 yet, we recommend it – much better performance than the 8.0.x releases

— FactorMax (@FactorMaxUk) October 23, 2014
https://twitter.com/Roam027/status/525131671541391360
Delayed updating my iPad 2 7.1.2 until iOS 8.1arrived…install done via iTunes…did a test drive…so far no issues that I can see…

— Richard Zacharkow (@RickZacharkow) October 22, 2014
Reddit user Patinam shares a succinct iOS 8.1 iPad 2 review that highlights some improvements,
"I already had a poor experience 8.0.2 so I thought what the hell and updated it to 8.1. Things are ever so slightly better but i'm not sure if it's just a placebo effect. Like 8.0.2, I've had to disable a lot of stuff to make it usable,"
Nerdlinger on Reddit also shares an account of iOS 8.1 iPad 2 performance,
"So I went ahead and took the plunge, as I figured that the only way things could get worse was if it bricked my iPad. So far things are a bit speedier and less laggy, and it seems a bit more stable (though it clearly hasn't been enough time to fully vet that). However, they have not fixed all bugs. For example, the copy and paste issues I had before updating are still there.

Early bottom line: it's one step forward. But as always, YMMV.

It's better than 8.0*, but still worse than 7.whateverwewereat."
It's not all roses. Some users complain that the iOS 8.1 iPad 2 update delivers bad performance.
@meadowend @simonneedham My iPad 2 is terribly laggy with iOS 8. Hoped 8.1 would be better. No such luck.

— Neil Dodd (@neildodd) October 22, 2014
iOS 8.1 has rendered my iPad 2 completely useless. Like Jack Shepherd, I HAVE TO GO BAACCKK.

— Steven Seighman (@stevenseighman) October 23, 2014
It's shaping up as another update that varies from user to user.
iOS 8.1 Battery Life
With iOS 8.1 the iPad 2 battery life improved for one user, which is an important fix. You can check out our iOS 8.1 battery life fixes and tips for more on improving your iPhone battery life.
Take this with a grain of salt…battery life on both iPad 2 and iPhone 5 seems to be vastly improved with iOS 8.1. YMMV.

— Kendal Van Dyke (@SQLDBA) October 23, 2014
WiFi & Bluetooth
The iOS 8.1 update delivers a lot of fixes for WiFi and Bluetooth connectivity. We have not found any complaints yet about WiFi on the iPad 2 using iOS 8.1 or Bluetooth for that matter. We'll continue to watch this.
Should You Install iOS 8.1 on the iPad 2?
For users on iOS 8 or iOS 8.0.2, the iOS 8.1 update for iPad 2 is worth installing. There are enough fixes and most complaints are similar to the speed drop some user saw after upgrading from iOS 7.1.2.
For users still on iOS 7.1.2 or older, it may be a good idea to hold off on the update at this time. Without an overwhelmingly positive experience there isn't enough reason for everyone to take the plunge and update yet.
You can see the new iOS 8 features listed below.
What's New in iOS 8
iOS 8 vs iOS 7 Walkthrough - Home Screen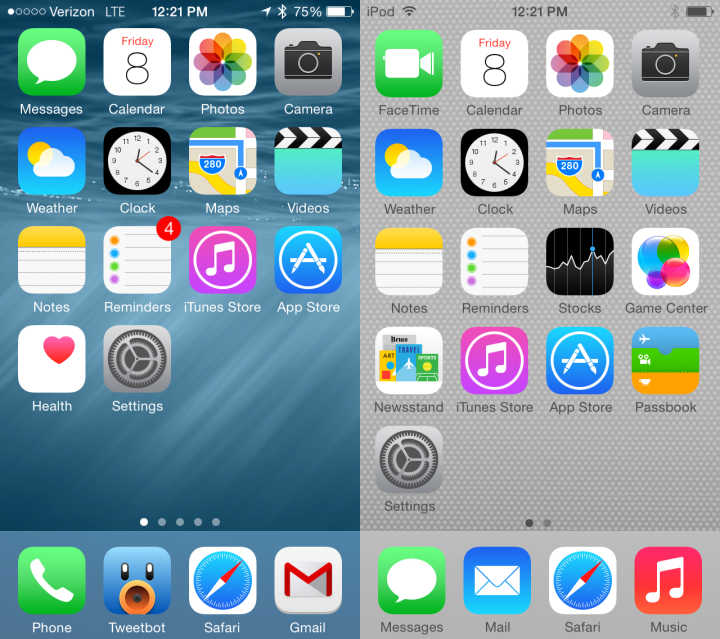 We start our iOS 8 vs iOS 7 walkthrough with the iPhone home screen, which is where you'll start your iOS 8 experience after an update this fall.
These screens are incredibly important as you see them anytime you turn on the iPhone or need to choose an app to launch. There is no way around using them, so Apple needs to make sure they work just right.
As you can see in the iOS 8 vs iOS 7 comparison above, there is no change between the home screen in the new iPhone software. Apple changed the status bar and some other small visual changes in iOS 7, but there are no updates for iOS 8.
We could see Apple change the home screen slightly for iOS 8 for the iPhone 6. The new iPhone will feature a larger 4.7-inch display with a higher resolution. This is something Apple may use to add more icons to the screen. Or they could stick with the current layout, it's tough to tell.

As an Amazon Associate I earn from qualifying purchases.