iOS 8.1 iPhone 4s Reviews: Should You Install iOS 8.1?
Apple's iOS 8.1 update brings many fixes to or big iOS 8 problems and according to the early iOS 8.1 on iPhone 4s reviews it is an update that packs in better performance and fixes to some problems like battery life and crashes.
After using iOS 8.1 on the iPhone 4s for almost two days the early reviews from users are overwhelmingly positive. Much like we saw performance improve with iOS 8.1 on the iPad 3, iPhone 4s owners report better performance and fewer crashes.
Apple's major iOS updates are known for knocking out battery life and performance on older devices, which is something that users complained about with iOS 8 and iOS 8.0.2, but so far iOS 8.1 delivers much needed improvements.
The iOS 8.1 release is smaller and more focused on fixes and performance improvements on the iPhone 4s and other devices. You can check out what's new on iOS 8.1 to see what Apple added, but you won't see any specific mentions of iPhone 4s performance. That's OK. Many times Apple delivers better performance without mentioning it and admitting performance was lacking on a previous update.
We'll revisit this as more users share their iOS 8.1 on iPhone 4s reviews, but the early reviews are very positive. If you've held off installing iOS 8 on the iPhone 4s it's time to look again.
iOS 8.1 Installation
The best news is that we did not hear about major iOS 8.1 installation problems on the iPhone 4s. One user reports his iOS 8.1 install took about 30 minutes, which is average for most iPhones.
https://twitter.com/TomOdell/status/524252527785955328
Some users may run into iOS 8.1 installation problems that require a restore using iTunes and a USB cable, so make sure you have a backup handy.
iOS 8.1 on iPhone 4s Performance
Overall it looks like the iOS 8.1 iPhone 4s update delivers better performance for most users and we are not seeing an overwhelming number of complaints about battery life, apps or connectivity. These iOS 8.1 reviews come from users on Twitter and Reddit. iOS 8 slowed performance on the iPhone 4s and even though we shared a trick to speed it up this free iOS 8.1 update does a better job.
iOS 8.1 Apps
Not many users talked about apps on the iPhone 4s running iOS 8.1. This is good considering many times complaints are easier to find and those users are more vocal. One user reports that random crashes are gone, which relate to overall performance or to apps.
https://twitter.com/TerenceSmith79/status/524324462570012672
You can count on an overall good performance of apps on iOS 8.1 on the iPhone 4s based on what we could find.
iOS 8.1 Speed on the iPhone 4s
Users overwhelmingly report great iOS 8.1 iPhone 4s speeds. Many of the users below compare it to the performance of iOS 7.1.2, the last update before iOS 8. This means a number of iPhone 4s owners now have their old iPhone experience back, plus the new iOS 8 features. If you are still on iOS 7.1.2 this is great news and another reason to upgrade.
https://twitter.com/MikeCooper/status/524847866477821952
I'm completely upgraded on iOS 8.1 (iPad Mini, iPhone 4s) and OS X 10.10 Yosemite (MBP Mid12). No problems so far, Smooth performance.#apple

— Devi (@DeviPirts) October 22, 2014
Very pleasantly surprised by how iOS 8.1 has restored near iOS7 speed to my iPhone 4S. Not bad for a device manufactured in Jan 2012!

— Andrew Treloar (@atreloar) October 22, 2014
iPhone 4S & iPad 2 owners: IMHO, iOS 8.1 – faster, less buggy (so far), SMS & answer calls via iPhone to iPad & Mac (Yosemite). Do it now!

— Titanium Snowflake – DJ Mike (@marioPS) October 21, 2014
iOS 8.1 is now smooth as iOS 7.1.2 here on my iPhone 4s.

— Gerald Emeterio ベル (@geraalodia) October 21, 2014
Not all users enjoy the iOS 8.1 update, but this is something we see on all devices. Typically you should focus on the what happens to the majority of devices, but you cannot discount these complaints. IF you experience bad iOS 8.1 performance on the iPhone 4s you may need to reset settings or start over with a clean installation.
DONT UPDATE TO IOS 8.1
if you have an iPhone 4s

It's even slower than 8.0.2

— Gordon Tant Photo (@125f8) October 22, 2014
iOS 8.1 Battery life
While there are not  lot of iOS 8.1 iPhone 4s battery life reviews from users, one owner on Reddit shares his wonderful battery life after updating to iOS 8.1. Over five hours of usage and nearly 19 hours of standby with 1% battery life left is very good for an older device like this. The user jumped straight from iOS 7 to iOS 8.1 and still enjoys the performance.
WiFi & Bluetooth
At this point there are not significant reports of any iOS 8.1 WiFi or Bluetooth connection problems from iPhone 4S owners. Connectivity problems can plague users after small updates like this, so we may see some additional reports roll in, but Apple did focused on fixing some WiFi problems and Bluetooth problems with the iOS 8.1 release.
Should You Install iOS 8.1 on the iPhone 4s?
If you've been waiting for a stable version of iOS 8 to install on the iPhone 4s it looks like the iOS 8.1 iPhone 4s update is the one you are waiting for. Overall users enjoy the improved performance and there are not many complaints about the new update.
If you are on iOS 8 or iOS 8.0.2 this is a no brainer. You should upgrade to iOS 8.1 soon to gain the speed boost and fixes to other problems.
For users on iOS 7.1.2 or older, this is still a very good update that is worth installing, but keep in mind you cannot go back to iOS 7 after upgrading.
What's New in iOS 8
iOS 8 vs iOS 7 Walkthrough - Home Screen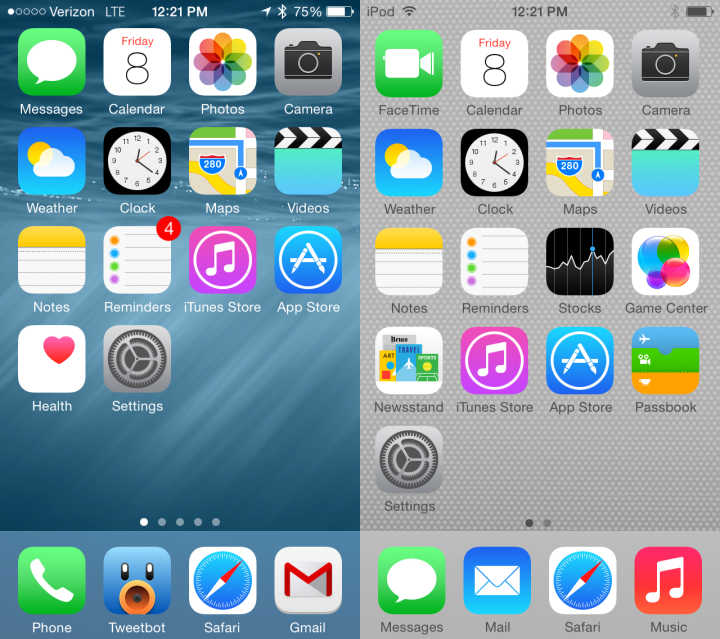 We start our iOS 8 vs iOS 7 walkthrough with the iPhone home screen, which is where you'll start your iOS 8 experience after an update this fall.
These screens are incredibly important as you see them anytime you turn on the iPhone or need to choose an app to launch. There is no way around using them, so Apple needs to make sure they work just right.
As you can see in the iOS 8 vs iOS 7 comparison above, there is no change between the home screen in the new iPhone software. Apple changed the status bar and some other small visual changes in iOS 7, but there are no updates for iOS 8.
We could see Apple change the home screen slightly for iOS 8 for the iPhone 6. The new iPhone will feature a larger 4.7-inch display with a higher resolution. This is something Apple may use to add more icons to the screen. Or they could stick with the current layout, it's tough to tell.

As an Amazon Associate I earn from qualifying purchases.