iOS 8.1 Release Time and Date
The iOS 8.1 release time and date is quickly approaching, finally bringing fixes to many outstanding iOS 8 problems that broke Bluetooth, WiFi, kept the iPhone in landscape at the wrong time and much more. Here's when iOS 8.1 comes out so you don't waste time waiting up for an iOS 8.1 release time and date at midnight.
Apple did not announce an official iOS 8.1 release time, but we have a very good idea when you can download iOS 8.1 and get the fix to many of your iOS 8 problems.
When the iOS 8.1 release time arrives on Monday October 20th the free update will bring bug fixes to the iPhone 4s through iPhone 6 Plus, iPad 2 through iPad Air and iPad mini Retina as well as the iPod touch 5th generation.
iOS 8.1 and iOS 8 allow the iPhone and iPad to connect to your Mac in new ways thanks to OS X Yosemite. Apple announced the free OS X Yosemite release last week for many Macs. With iOS 8.1 and OS X Yosemite you can answer calls on your Mac, share files easier and much more.
The iOS 8.1 release also includes a new feature for the iPhone 6 and iPhone 6 Plus. We also expect iOS 8.1 performance improvements for older devices like the iPhone 4s.
You can count on the same iOS 8.1 release time on your iPhone or iPad as an over the air download as through iTunes.
We expect an iOS 8.1 release time and date at 1 PM Eastern on October 20th. This is the same time Apple uses for all planned major iOS releases. Apple already confirmed the iOS 8.1 release date, and although they did not specifically mention the iOS 8.1 release time you can plan on downloads starting at this time.
Read: 5 Reasons to Update on iOS 8.1 Release Day
By placing the iOS 8.1 release in the middle of the day Apple is able to better respond to any potential issues with the update. You should not expect an iOS 8.1 release at 12:01 AM on October 20th. There are always some users who wait up late for an iOS release, but Apple never starts downloads like this in the middle of the night U.S. time.
Here is when you can expect the iOS 8.1 release time in your time zone.
Eastern – 1 PM
Central – 12 PM
Mountain – 11 AM
London – 6 PM
Moscow – 9 PM
New Dehli – 10:30 PM
Shanghai – 1 AM Tuesday
Tokyo – 2 AM Tuesday
Melbourne – 3 AM Tuesday
Auckland – 5 AM Tuesday
One reason Apple avoids confirming the iOS 8.1 release time is to prevent a huge number of users from rushing to download the file. This can slow download times dramatically, but it should not be as much of an issue as with iOS 8. The iOS 8.1 update should be a smaller download.
Users who are already on iOS 8 or iOS 8.0.2 can expect a small update that does not need as much storage as the iOS 8 update. This update may still need more storage than a typical small Phone or iPad update, but hopefully not the 5GB that iOS 8 requires when upgrading from iOS 7.
The iOS 8.1 update promises to bring a number of fixes for major iOS 8 problems, but there are still some reasons to avoid updating right away on Monday.
While you wait for the iOS 8.1 release time and date you can get ready by taking these 8 steps to prepare for the iOS 8.1 release. We still don't know when we will see an iOS 8 jailbreak and users who are hoping for an iOS 8 jailbreak should wait for an all clear before installing iOS 8.1. Normally we see a jailbreak arrive near a major iOS update, but Apple sped up the iOS 8.1 release this year, arriving a month after iOS 8 instead of three to four months later. The iOS 8.1 release doesn't mean the iOS 8.1 jailbreak is right around the corner like it did with earlier releases.
The iOS 8.1 release brings bug fixes to the iPhone and iPad, and it brings the camera roll back after Apple pulled the feature from iOS 8 earlier this year. If this is your first taste of iOS 8 you can see many of the new features in the video above and in the slides below.
What's New in iOS 8
iOS 8 vs iOS 7 Walkthrough - Home Screen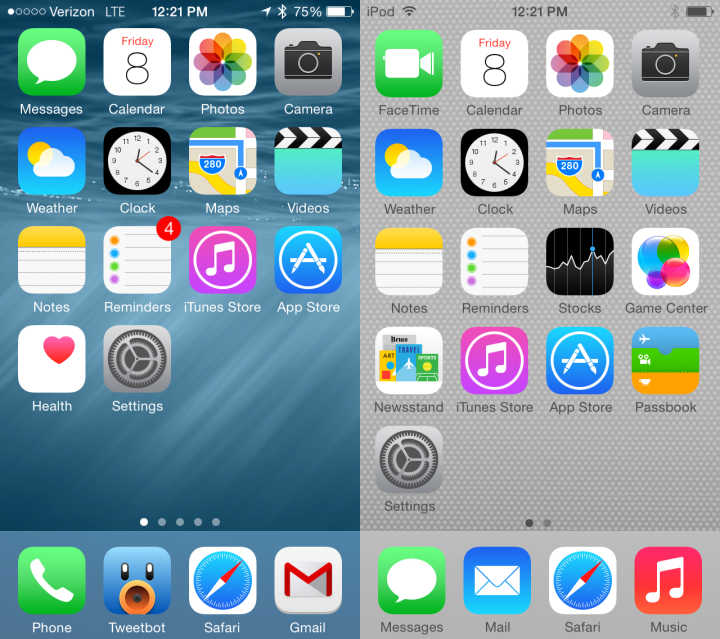 We start our iOS 8 vs iOS 7 walkthrough with the iPhone home screen, which is where you'll start your iOS 8 experience after an update this fall.
These screens are incredibly important as you see them anytime you turn on the iPhone or need to choose an app to launch. There is no way around using them, so Apple needs to make sure they work just right.
As you can see in the iOS 8 vs iOS 7 comparison above, there is no change between the home screen in the new iPhone software. Apple changed the status bar and some other small visual changes in iOS 7, but there are no updates for iOS 8.
We could see Apple change the home screen slightly for iOS 8 for the iPhone 6. The new iPhone will feature a larger 4.7-inch display with a higher resolution. This is something Apple may use to add more icons to the screen. Or they could stick with the current layout, it's tough to tell.

As an Amazon Associate I earn from qualifying purchases.