Apple's iOS 8.1 update arrives on the iPad 3, delivering improved performance for this older iPad. The iOS 8.1 release comes after iOS 8 problems frustrated many users and the iOS 8 iPad 3 update slowed performance on the old iPad.
Apple sped up the iOS 8.1 release, delivering a large number of bug fixes to the iPad 3 and to other devices running iOS 8. Normally the iOS x.1 updates come months after the initial release, but this time it arrived just over a month from the iOS 8 release.
This iOS 8.1 review on the iPad 3 comes from using the tablet as a secondary device. The iPad 3 running iOS 8.1 is primarily my wife's iPad, but I use it often to see how well it performs in comparison to the iPad Air and so it is possible to make comparisons to the new software updates like iOS 8 and iOS 8.1.
Read: 101 iPad Tips & Tricks
Apple's iOS 8 iPad 3 update slowed the device down from iOS 7.1.2. We shared tips on how to speed up the iPad 3 performance, but these changes aren't enough to completely pull it back to full speed. Even though the iOS 8.1 changes don't officially include performance enhancements the iPad 3 runs faster and smoother even with our performance tweaks removed.
In this iOS 8.1 review on the iPad 3 I will cover the overall performance, fixes for iOS 8 problems and other key areas that impact iPad 3 users. This will help owners decide if they should install iOS 8.1 on the iPad 3.
iOS 8.1 Review on iPad 3
for the past week I've worked the iPad 3 running iOS 8.1 into my daily use, despite also owning an iPad Air. By using the device for basic tasks like web surfing, checking how apps handle and more it is possible to get an idea of how well iOS 8.1 performs on this older iPad.
iOS 8.1 Performance
When it comes to testing the iOS 8.1 performance on the iPad 3 there are five important areas that I tested on the iPad 3. This includes apps, overall iOS 8.1 speed, battery life after installing iOS 8.1, Connectivity and to look for any new iOS 8.1 problems.
iOS 8.1 Apps
The iPad 3 and iOS 8.1 pair nicely and apps run well on the iPad. For this test I look at Apple's stock apps like Safari and Mail as well as third-party apps from Google, streaming apps like Netflix and of course Pinterest.
Some apps are still slow to open for the first time, but there are no standout iOS 8.1 app problems on the iPad 3.
iOS 8.1 Battery Life
The iOS 8.1 battery life on the iPad 3 remains strong, just like on iOS 8.0.2 and iOS 7. The standby battery life is especially good, leaving the iPad 3 charged even when we let it sit for a day and a half between use. This type of battery performance is key on an older tablet like this, which may not see the same daily use as a new iPad Air.
iOS 8.1 Connectivity
The iPad 3 we own is the WiFi only model so we could not check cellular connectivity. After installing iOS 8.1 on the iPad 3 WiFi continues to work without a problem and Bluetooth connected fine to the keyboard case that is a permanent fixture on this iPad. Apple claims iOS 8.1 fixes WiFi problems, but we often see small and painful issues hit a minority of devices without any real reason so some users may still experience iOS 8.1 WiFi problems.
iOS 8.1 Bugs & issues
At this point the iOS 8.1 iPad 3 experience is bug free for my device. This is a welcome change after buggy versions of iOS on several devices I own.
This is something I will keep an eye on, as some iOS 8.1 problems could appear out of the blue in the coming weeks. It took a week before iOS 8.1 landscape issues started back up on the iPhone 6 and iPhone 6 Plus, but they are back. Good performance and lack of bugs so far is a good sign, but bugs might still arrive.
iOS 8.1 Speed
iOS 8.1 is faster on the iPad 3. This update returns the old iPad 3 to speeds from iOS 7.1.2, which isn't as snappy as the new iPad Air or iPad Air 2, but its way better than using the iPad 3 in early October with iOS 8.0.2 installed.
Switching apps and multitasking is faster, animations to go from the home screen and back are also quicker. It still takes some time to open an app for the first time, but once in the app performance is good.
iOS 8.1 on iPad 3: Is It Worth It?
If you are already running iOS 8 on the iPad 3, the iOS 8.1 update is definitely worth installing. There are no bugs or problems on my iPad 3 yet and the performance is much better than on iOS 8 and iOS 8.0.2. Download and install iOS 8.1 today.
iPad 3 owners on iOS 7 face a tougher decision. The ability to answer a call on the iPad and other new iOS 8 features are tempting and iOS 8.1 performance is improved, but if everything runs smoothly as is, you may want to wait another few weeks or for iOS 8.2 before you upgrade.
What's New in iOS 8
iOS 8 vs iOS 7 Walkthrough - Home Screen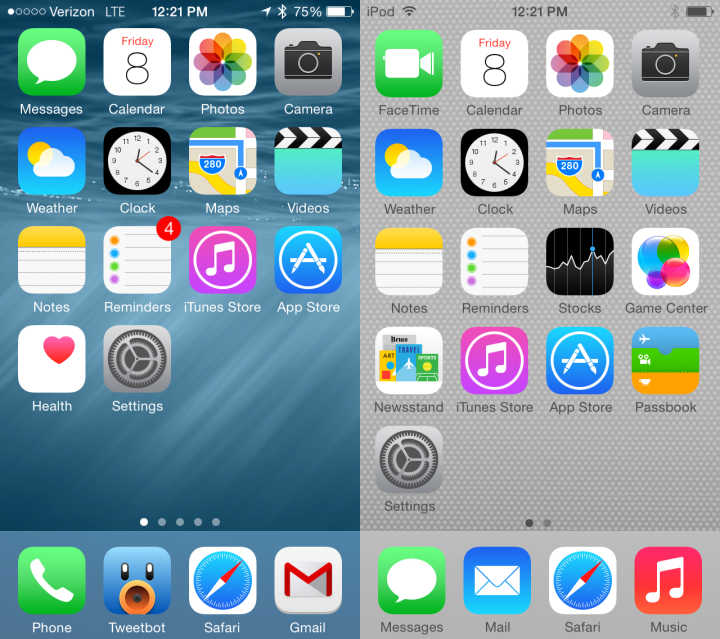 We start our iOS 8 vs iOS 7 walkthrough with the iPhone home screen, which is where you'll start your iOS 8 experience after an update this fall.
These screens are incredibly important as you see them anytime you turn on the iPhone or need to choose an app to launch. There is no way around using them, so Apple needs to make sure they work just right.
As you can see in the iOS 8 vs iOS 7 comparison above, there is no change between the home screen in the new iPhone software. Apple changed the status bar and some other small visual changes in iOS 7, but there are no updates for iOS 8.
We could see Apple change the home screen slightly for iOS 8 for the iPhone 6. The new iPhone will feature a larger 4.7-inch display with a higher resolution. This is something Apple may use to add more icons to the screen. Or they could stick with the current layout, it's tough to tell.

This article may contain affiliate links. Click here for more details.