iOS 8.1 Review: iPhone 6 Plus
The iOS 8.1 update fixes a lot of problems that annoyed iPhone 6 Plus users for the last month. This is the third update since the iPhone 6 Plus release and comes as many shoppers are still waiting for an iPhone 6 Plus to arrive.
Instead of waiting months to releases iOS 8.1, Apple delivered the free update to the iPhone 6 Plus and other devices. The iOS 8.1 release focused on a large number of bug fixes and it also adds in support for new features like Apple Pay and the last parts of handoff, text messaging and continuity between the iPhone 6 Plus and a Mac running OS X Yosemite.
Read: 21 iPhone 6 Plus Tips & Tricks
This iOS 8.1 review on the iPhone 6 Plus comes after using this new software on the iPhone 6 Plus for the last week. During this time I used the iPhone 6 Plus as my daily smartphone as I completed my iPhone 6 Plus review.
After living with the iOS 8.1 update on the iPhone 6 Plus it's easy to share what works, what doesn't work and how this changed the iPhone 6 Plus experience.
In this iOS 8.1 review on the iPhone 6 Plus I will cover iOS 8 problems, fixes and how the update changed the performance and usability of the iPhone 6 Plus. By the end of this iOS 8.1 review you'll know if you should install iOS 8.1 on your iPhone 6 Plus, or wait for another update.
iOS 8.1 Review on iPhone 6 Plus
I spent most of the last week exploring the options in iOS 8.1 on the iPhone 6 Plus to finish our iPhone 6 Plus review and to find out if everything works with the new software. Although the experience varies from user to user, this is a good general guide to what you can expect from iOS 8.1 on the iPhone 6 Plus.
I use more of the built-in iPhone apps from Apple than editor Adam Mills, but I also rely heavily on Google Hangouts, Gmail and the Hotspot feature of my iPhone 6 Plus. It is also my gateway to Fantasy Football, several presentations on how to use technology and managing a digital team. The screen is big enough that I can also watch the Miami Dolphins play on Sundays.
iOS 8.1 Performance
Apple's updates can change the performance of the iPhone in a few key areas. After installing iOS 8.1 I tested the connectivity, apps, battery life, performance and looked for potential iOS 8.1 problems and bugs. I also tested Apple Pay, which revealed a surprise and re-confirmed one of my biggest complaints about the new service.
iOS 8.1 Apps
During the iOS 8.1 review, the iPhone 6 Plus apps performed better than on iOS 8.0.2. Before the update apps crashed or froze on a regular basis, but after updating to iOS 8.1 this stopped.
One iOS 8.1 problem remains where apps like Hangouts or Messages will get stuck in landscape, but it happens less frequently than before the update. This also happens more often on the iPhone 6.
At least once a day the keyboard disappears from Messages, preventing me from sending a message until i close the app and restart it.
The rest of my apps, including streaming music and videos run perfectly fine.
iOS 8.1 Battery Life
The iPhone 6 Plus battery life on iOS 8.1 remains as good as on iOS 8 and iOS 8.0.2. Some users report problems with iOS 8.1 battery life draining quickly, especially on the iPhone 5s and iPhone 6 Plus. If this happens you should hold the home button and power button to restart the phone, and if that does not work follow this guide to fix iOS 8.1 battery life problems.
iOS 8.1 Connectivity
Apple finally fixed Bluetooth connections in the car with iOS 8.1 on the iPhone 6 Plus. It is now easier to connect the iPhone to my Ford car for music and phone calls.
The AT&T 4G LTE connectivity and WiFi connectivity are both working perfectly after updating to iOS 8.1.
iOS 8.1 Bugs & issues
The iOS 8.1 update fixed many of my iPhone 6 Plus problems, and iOS 8 problems, but it is not a perfect update.
Some apps still get stuck in landscape mode and will not switch back without closing the app or switching to other apps multiple times.
Unlike our iOS 8.1 review on iPhone 6, there are no random reboots on the iPhone 6 Plus at this time.
iOS 8.1 Speed
The iOS 8.1 iPhone 6 Plus update did not slow down the device, which is not a surprise considering it is only a month old. Aside from the bugs and issues mentioned above everything runs smoothly. There is no real speed boost to iPhone 6 Plus performance, but with landscape problems and app freezing mostly fixed the overall performance feels better.
Apple Pay
After installing iOS 8.1 I set up Apple Pay, but I could only use one credit card with the service. Apple Pay does not work with any of my banks, which limits the appeal greatly.
I was surprised to discover that my grocery store supports Apple Pay through NFC checkout, even though they are not an official partner. Unfortunately I don't want to charge my groceries to a credit card every week so I am not using Apple Pay much.
iOS 8.1 on iPhone 6 Plus: Is It Worth It?
Everyone with an iPhone 6 Plus should install the iOS 8.1 update unless there is a specific app compatibility issue with work apps or you are prevented to do so by your company IT.
The iOS 8.1 update fixes so many problems that limited the usefulness of the iPhone 6 Plus for the last month that it's an easy recommendation to make. This is the software Apple should have shipped on the iPhone 6 Plus instead of iOS 8.
What's New in iOS 8
iOS 8 vs iOS 7 Walkthrough - Home Screen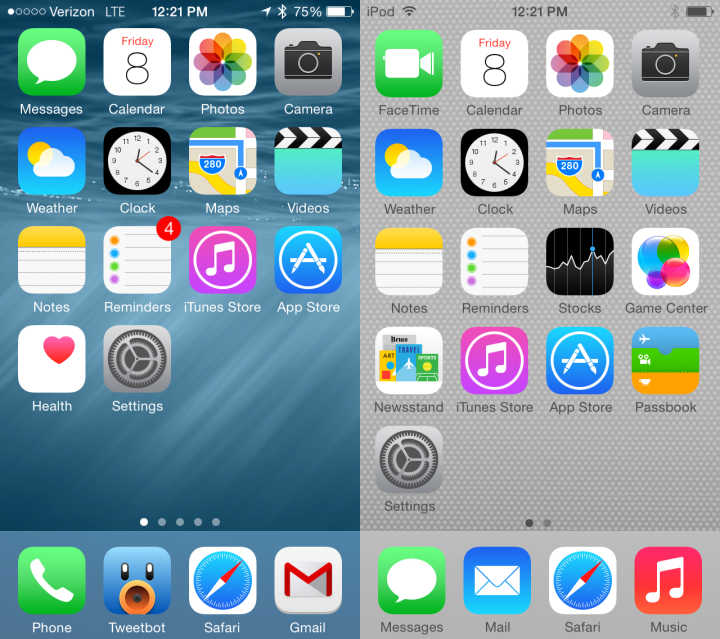 We start our iOS 8 vs iOS 7 walkthrough with the iPhone home screen, which is where you'll start your iOS 8 experience after an update this fall.
These screens are incredibly important as you see them anytime you turn on the iPhone or need to choose an app to launch. There is no way around using them, so Apple needs to make sure they work just right.
As you can see in the iOS 8 vs iOS 7 comparison above, there is no change between the home screen in the new iPhone software. Apple changed the status bar and some other small visual changes in iOS 7, but there are no updates for iOS 8.
We could see Apple change the home screen slightly for iOS 8 for the iPhone 6. The new iPhone will feature a larger 4.7-inch display with a higher resolution. This is something Apple may use to add more icons to the screen. Or they could stick with the current layout, it's tough to tell.

This article may contain affiliate links. Click here for more details.