iOS 8.2 iPhone 4s Reviews: Should You Install iOS 8.2?
A day after the iOS 8.2 release iPhone 4s owners are asking, "Should I Install iOS 8.2 on the iPhone 4s?" and wondering how the iPhone 4s iOS 8.2 performance is out in the real world. We are sharing a number of early iPhone 4s iOS 8.2 reviews to help you answer thee very questions.
In addition to the early reviews of iOS 8.2 from regular users, we are sharing an important video that shows the iOS 8.1.3 vs iOS 8.2 performance on the iPhone 4s so you can see how the update handles before you hit upgrade.
It is important to remember that these user iPhone 4s iOS 8.2 reviews come after just a day of use, so there may be some change in the overall usability, performance or the discovery of bugs after extended use.
Apple upgraded the iPhone 4s performance with iOS 8.1 last year, and even though this large upgrade doesn't specifically mention speed improvements we see some upgrades to speed in the video comparison, but other users complain of lag.
The iOS 8.2 update focuses on a lot of bug fixes, stability issues and security fixes and adds Apple Watch support to newer iPhones. There is no Apple Watch app installed on the iPhone 4s iOS 8.2 update.  Read more on what's new in iOS 8.2.
iOS 8.2 Installation
A number of iPhone 4s users ran into issues with the iOS 8.1.3 update installation, but we cannot find reports of problems upgrading to iOS 8.2 on the iPhone 4s. This is good news, but you should still back up and follow our iOS 8.2 upgrade guide.
iOS 8.2 on iPhone 4s Performance
The apps, accessories and services that people use with the iPhone 4s can influence the overall performance of an update. While many early iPhone 4s iOS 8.2 reviews are positive, keep in mind that experiences will vary from one device to another.
iOS 8.2 Speed on iPhone 4s
The video below compares the speed of the iPhone 4s iOS 8.2 update to the iOS 8.1.3 update on the iPhone 4s. In most areas the iPhone 4s on iOS 8.2 is slightly faster. This is a good video to watch if you want to know how the upgrade performs on your older iPhone 4s.
The iOS 8.2 update isn't perfect for everyone. We found one user on twitter saying that it is slower than iOS 8.1.3 on the iPhone 4s.
My iPhone 4S slightly lags after installing iOS 8.2

— Asrul Muzaffar (@asrulmm) March 10, 2015
On Reddit user sagar_ap says, "It's great as far as I can tell. The whatsapp is crappy though. Multitasking.. Gaming etc all good."
Apps
So far there are not widespread reports of app problems with iOS 8.2 on the iPhone 4s. The report above outlines an unexplained complaint about WhatsApp, but that is the only complaint we've seen so far. If you run into issues, you may need to update your apps.
Battery Life
The only Phone 4s iOS 8.2 battery life report we could find so far comes from Mafiaterror on Reddit, who shares, "I use 3G all the time so my battery is reduced to about 4- 5 hours of use (never tried the length on standby) but I don't mind because I always find a way to charge."
We expect to see more reports of iOS 8.2 battery life in the coming days and weeks, so you may want to wait to hear more.
WiFi, Cellular & Bluetooth
Overall the iOS 8.2 update does not appear to break connectivity for the iPhone 4s on WiFi, Cellular or Bluetooth. Apple focuses on fixing several Bluetooth problems in this update, and it looks like they delivered these fixes without adding major issues.
Bugs & Issues
There are some iOS 8.2 problems, bugs and issues right out of the box. One user complains that Do Not Disturb doesn't include a notification that a call came in when they turn the phone on in the morning. This is no t a widespread issue at this time.
A bigger problem is that the iOS 8.2 update turns off iMessage and FaceTime for some users. On the Apple Support Forums several users experienced this.
"I just updated my iPhone 4S to IOS 8.2 today, March 9th, and now my iMessage doesn't work. It says it's, "waiting for activation". I can't send or receive texts with iMessage but standard SMS texts seem to work fine."
If it happens to you go to Settings -> Messages -> iMessage -> On to fix it. Ig you cannot activate you may need to try resetting all settings on your iPhone.
Should You Install iOS 8.2 on the iPhone 4s?
The early reviews point to a stable and good iPhone 4s iOS 8.2 update. It is still possible to downgrade from iOS 8.2 to 8.1.3, so if you upgrade and the performance doesn't match your demands you can go back. Apple will likely close this opportunity in a few weeks.
The video above shows the comparison of iOS 8.2 vs iOS 7.1.2 on the iPhone 4s for users who might be thinking of upgrading to iOS 8.2 from iOS 7.
If you are using iOS 7 or iOS 8 jailbreak tweaks and iOS 8 themes you should not update. There is no iOS 8.2 jailbreak yet and with no iOS 8.1.3 jailbreak you can't downgrade and jailbreak either.
Even with a few noted issues, many users can install the iPhone 4s iOS 8.2 update without worrying about major problems.
What's New in iOS 8
iOS 8 vs iOS 7 Walkthrough - Home Screen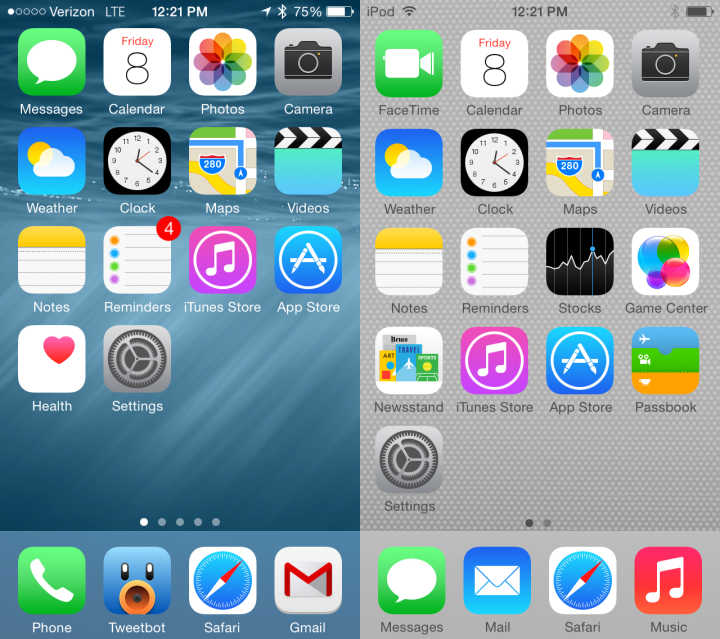 We start our iOS 8 vs iOS 7 walkthrough with the iPhone home screen, which is where you'll start your iOS 8 experience after an update this fall.
These screens are incredibly important as you see them anytime you turn on the iPhone or need to choose an app to launch. There is no way around using them, so Apple needs to make sure they work just right.
As you can see in the iOS 8 vs iOS 7 comparison above, there is no change between the home screen in the new iPhone software. Apple changed the status bar and some other small visual changes in iOS 7, but there are no updates for iOS 8.
We could see Apple change the home screen slightly for iOS 8 for the iPhone 6. The new iPhone will feature a larger 4.7-inch display with a higher resolution. This is something Apple may use to add more icons to the screen. Or they could stick with the current layout, it's tough to tell.