iOS 8 Download Times Hit 6 Hours
The iOS 8 release is here, but if you want to update to iOS 8 today you're in for a very long wait.
After starting the iOS 8 download right at 1 PM Eastern, there is still a three to six-hour estimated iOS 8 download time on our iPad mini Retina and we are seeing other iOS 8 update problems including the inability to connect to the server to check.
Read: How Long Will the iOS 8 Update Take?
There are already millions complaining that they need 4.5GBs, 5.8GBs or 6.9GBs of free space to update to iOS 8, and it looks like the iOS 8 release date problems are just getting started.
One of the first iOS 8 update problems is that the device is not able to connect to check for an update. This is the worst issue because you can't even start the iOS 8 download. The iOS 8 error message says,
"Unable to Check for Update An Error occurred while checking for a software update."
There are options to Cancel or Try again. After several tries we were able to connect and see an iOS 8 update for the iPhone 5s.
Once you connect the iOS 8 download time could be a major reason to not install iOS 8 today. On a fast WiFi connection the iOS 8 download time is three hours on the iPad mini and six hours on the iPad 3. That's not counting the time it will take you to complete the installation.
While the iOS 8 download time slowly slips by you can continue to use the iPhone or iPad, but you don't want to leave WiFi coverage. This is not an update you want to download on LTE. If you do need to leave you will be able to resume or restart the iOS 8 update later when the iOS 8 download times aren't measured in hours.
Another iOS 8 download problem we are seeing is Update Requested. It appears Apple is limiting the number of iOS 8 downloads to prevent servers from going down and some users may see an iOS 8 download message letting them know they are in line, but not downloading iOS 8 yet.
After a short period the iOS 8 download will start. In our case the download started within 15 minutes, but the iOS 8 download time is an astonishing six hours. Read how to upgrade to iOS 8 for more tips.
You don't need to install the iOS 8 update today, and there are several reasons to skip installing iOS 8 today. You can check out the iOS 8 features in the video above and in the iOS 8 walkthrough below.
What's New in iOS 8
iOS 8 vs iOS 7 Walkthrough - Home Screen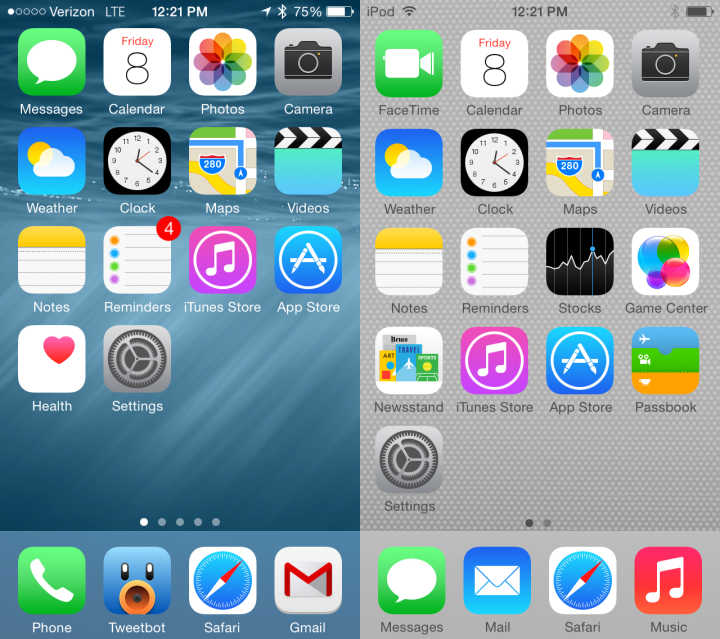 We start our iOS 8 vs iOS 7 walkthrough with the iPhone home screen, which is where you'll start your iOS 8 experience after an update this fall.
These screens are incredibly important as you see them anytime you turn on the iPhone or need to choose an app to launch. There is no way around using them, so Apple needs to make sure they work just right.
As you can see in the iOS 8 vs iOS 7 comparison above, there is no change between the home screen in the new iPhone software. Apple changed the status bar and some other small visual changes in iOS 7, but there are no updates for iOS 8.
We could see Apple change the home screen slightly for iOS 8 for the iPhone 6. The new iPhone will feature a larger 4.7-inch display with a higher resolution. This is something Apple may use to add more icons to the screen. Or they could stick with the current layout, it's tough to tell.

As an Amazon Associate I earn from qualifying purchases.