iOS 8 on iPhone 5s: Impressions and Performance
The iOS 8 update is here and iPhone 5s owners are already installing the latest update so that they can gain access to many new features that fix complaints about group messaging, add in support for third-party iOS 8 keyboards and much more.
After spending a week using the final version of iOS 8 on the iPhone 5s we can share our early review of iOS 8 with a special look at what's working and what's still a work in progress. We specifically look at iOS 8 performance on the iPhone 5s and other factors to help users decide if they should install iOS 8 on the iPhone 5s or wait a while.
Although there is a limited time to downgrade back to iOS 7.1.2, this method could close by the end of the day, leaving you on iOS 8 until Apple delivers an iOS 8.0.1 bug fix update, or until it addresses any bigger issues in an iOS 8.1 release months down the road.
There is always a chance for something to go wrong after an iOS update, and especially with a major update that adds dozens of features and changes how apps interact with iOS and with Touch ID on the iPhone.
We'll help you figure out what you need to be aware of and how well iOS 8 runs on the iPhone 5s.
iOS 8 Installation
On the actual iOS 8 release date installing the update is a pain due to so many other people trying to do this at the same time, leading to long download times. The easiest way to avoid this is to install iOS 8 manually. If you plan to wait a few days, or even a few hours, the iOS 8 problems should disappear.
Many users ran into iOS 8 storage problems when they discovered the iOS 8 update needed close to 5.8 GB free, even though the iOS 8 update is only 1.1GB in size.
If you plug-in to iTunes to install you don't need the same amount of free storage space to upgrade.
iOS 8 Performance on iPhone 5s
After installing the update there are some important iOS 8 performance tests we run to make sure you won't end up with any surprises when you take the same steps later. After using iOS 8 on the iPhone 5s for a week we have a very good idea of what works and what doesn't work. During these tests we pay special attention to the iOS 8 battery life, connectivity to WiFi and LTE. We also pay attention to how well the device runs, makes calls and look for any other iOS 8 problems that may appear.
Apps
We are already seeing some iOS 8 app updates arrive, which is great news for users that want to use all the new iOS 8 features.
The only real iOS 8 app problem I've run into is while using the new iOS 8 predictive keyboard tool. This covers up some buttons on apps that usually place them right above the keyboard and that have yet to update to shift up when predictive text is on. To get around this I often need to turn the predictive text off while using the app.
Only one other small issue I've run into is odd handling of share options in apps like Alien Blue. When I try to submit a link to view a SideBar in this Reddit app on the iOS 8 GM, it does not do anything. This is likely due to small changes in sharing behavior and something that I expect to see fixed soon.
All of the apps I use to access social media, stream music and videos and manage Fantasy Football are running fine on iOS 8 on the iPhone 5s.
One great thing about iOS 8 apps on the iPhone 5s is the ability to use Touch ID and Safari Extensions. With LastPass installed and extensions turned on I can open LastPass from the share button in Safari, unlock it with Touch ID and then tap to log in to a webpage. There are other apps that can do similar things.
iOS 8 Battery Life on iPhone 5s
iOS 8 battery life is a huge concern for many users. This makes a lot of sense considering the high chances of really bad battery life after installing a major update.
On the final version of iOS 8 by iPhone 5s battery life is very good. There are still days I need to charge up in the evening to last all day, but on those days I am talking on the phone for one to two hours.
I've already used the new iOS 8 battery usage tool to find apps that use the most battery life (Settings -> General -> Usage -> Battery Usage) to make sure any drain is not due to rogue apps. Hangouts uses a lot of battery life with background activity.
Connectivity
Another place iOS updates commonly break the iPhone or iPad is WiFi or LTE. I have not experienced any WiFi problems on iOS 8 for the iPhone 5s.
LTE and Bluetooth both appear to be working fine. I run into issues making phone calls inside my house on Verizon, even with 3 bars of service, but that is not something completely new on iOS 8. This is more likely related to coverage at home.
Bugs & Issues
Overall iOS 8 is stable and does not include a lot of bugs that interrupt my day. FaceTime Audio is still not great at switching from WiFi to LTE or the other direction when I leave or arrive at home. While on a long FaceTime Audio call there are inexplicable drops in the call even with a great WiFi connection.
I will continue to monitor the iOS 8 performance on the iPhone 5s for any bugs.
Speed
On older smartphones the iOS 8 update may slow things down, but I am not noticing any iOS 8 performance issues when opening apps, switching apps and during general use of the iPhone. I don't expect that any will appear in the coming weeks, but I will monitor this as I install iOS 8 app updates.
Should You Install iOS 8?
There is no need to install iOS 8 on day one when there are many iOS 8 download and update issues, but for most users installing iOS 8 on the iPhone 5s is a no brainer.
You get a collection of great iOS 8 features shown below, solid performance and better connectivity with the iPad. When the OS X Yosemite release date arrives you'll also be able to answer calls on your Mac, read and send text messages from your computer and quickly pick up on the app you last used.
iOS 8 Features
Here is a list of my favorite iOS 8 features. There are dozens of great iOS 8 features on the iPhone 5s and there's a new Time Lapse camera mode that delivers cool videos, but these are my top 10 iOS 8 features.
Texts, Calls, Hotspot & Handoff – Your calls and texts show up on Mac and iPad and you can easily use the iPhone hotspot as well as bring your work with you between devices when you switch from one to the other.
Notifications –  Quickly reply to notifications without leaving the app they are in.
Better Messages – Send voice and video messages. Leave and do not disturb individual Group Message threads.
New Keyboard Features & Third Party Keyboards – Apple adds predictive text and allows keyboard choices finally.
iCloud Photo Library – Access all your photos and videos in full resolution from anywhere. Paid storage starts at 20GB for 99 cents a month.
Family Share – Share apps, movies and more without using the same Apple ID and approve In App Purchases with a notification.
Siri Always Listening – When plugged in you can say, "Hey Siri." and Siri will launch so you can use the assistant.
Smart Sharing – You can now share to more than the stock list of Apps that Apple picked. This changes based on the apps you have installed.
FaceTime Call Waiting – We make a lot of FaceTime calls and we can finally switch calls easily using iOS 8.
Touch ID Support for Apps – Touch ID now works in third-party apps which makes it possible to secure other apps using your fingerprint.
The iOS 8 slideshow below shows you how the iOS 8 update compares to iOS 7 with a variety of photos and many of the best iOS 8 features you'll want to try.
What's New in iOS 8
iOS 8 vs iOS 7 Walkthrough - Home Screen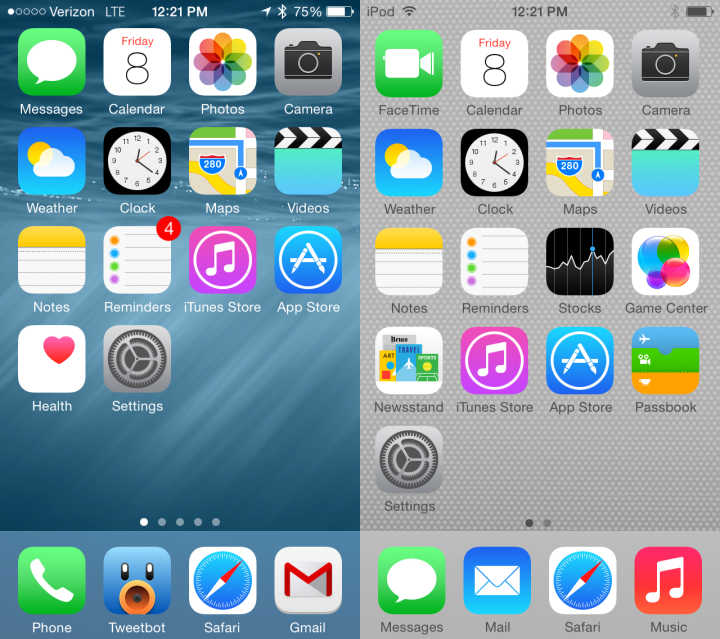 We start our iOS 8 vs iOS 7 walkthrough with the iPhone home screen, which is where you'll start your iOS 8 experience after an update this fall.
These screens are incredibly important as you see them anytime you turn on the iPhone or need to choose an app to launch. There is no way around using them, so Apple needs to make sure they work just right.
As you can see in the iOS 8 vs iOS 7 comparison above, there is no change between the home screen in the new iPhone software. Apple changed the status bar and some other small visual changes in iOS 7, but there are no updates for iOS 8.
We could see Apple change the home screen slightly for iOS 8 for the iPhone 6. The new iPhone will feature a larger 4.7-inch display with a higher resolution. This is something Apple may use to add more icons to the screen. Or they could stick with the current layout, it's tough to tell.