iOS 8 Release Date: 5 Last Minute Details & Tips
The iOS 8 release date is here and very soon you can start the iOS 8 download so that you can upgrade your iPhone, iPad and iPod touch to the latest software. iOS 8 is a free update packed with exciting new features that delivers new ways to use Touch ID, better group messaging, iOS 8 keyboard options and much more.
Here are five things you should do, or know in the hours leading up to the iOS 8 release time so you can be ready to install iOS 8 without any hassles or problems.
Apple announced the iOS 8 release date earlier this month, but didn't confirm a specific time. This left many users waiting up until the middle of the night for the iOS 8 release date to arrive.
The free iOS 8 update is compatible with the iPhone 5s, iPhone 5c, iPhone 5, iPhone 4s, iPad Air, iPad 4, iPad 3, iPad 2, iPad mini, iPad mini Retina and iPod touch 5th generation. If you own an older iPhone 4, there is no iOS 8 update.
Before you update to iOS 8 there are some things you need to know, so that the process is smooth. Upgrading on the iOS 8 release date is a challenge as millions of users are trying to do the same thing. Here's how to prepare for iOS 8.
iOS 8 Release Time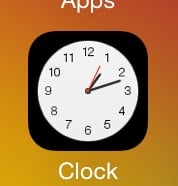 The iOS 8 release date is today, but you can't start downloading the update until 10 AM Pacific / 1 PM Eastern. This is when Apple will flip the switch to allow iOS 8 downloads.
Today you will not see an update notification, and there is a chance that you may not be able to start your iOS 8 download until a few minutes after 10 AM Pacific, but it is coming.
iOS 8 Update Tips
The iOS 8 update is exciting because it delivers a lot of new features, but if the actual process of updating to iOS 8 isn't something you  look forward to you need to check out our iOS 8 update tips, aimed at what you need to know on the iOS 8 release date.
Read: 10 iOS 8 Update Tips
We outline when you should install iOS 8 (a few hours after the start), where you should install iOS 8 (from home), how to install iOS 8 and other tips you need to know.
Prepare for iOS 8
If you plan and prepare for the iOS 8 update the process is a lot smoother and you have a backup in case things go wrong. Most of the time an iOS update is smooth, but if you choose to update to iOS 8 on release day there is a greater chance you'll run into problems.
Here are 8 Things to do Before Installing iOS 8. These small steps will make sure you iOS 8 update goes smoothly across all of your devices.
How to Update to iOS 8
We show you how to update to iOS 8, with a step by step guide. The process is easy once you do it a few times, but if this is your first update you'll enjoy this detailed guide. You can update to iOS 8 using only your iPhone, iPad or iPod touch and a WiFi connection if you want. There is also a guide to how to update to iOS 8 using iTunes.
For users who tried the iOS 8 beta or iOS 8 GM, you can follow these instructions to upgrade to the iOS 8 public release without performing a full restore.
Why You Shouldn't Update to iOS 8 Today
For all the exciting things iOS 8 delivers, there are many reasons not to update on the iOS 8 release date. If you are using a jailbreak, skip it. If you don't want to deal with bugs and long downloads, skip it.
If you own an iPad 2 or iPhone 4s, it's a good idea to wait for iOS 8 reviews and performance details on these older devices. There is no way to downgrade from iOS 8 to iOS 7.
Read: How Long Will the iOS 8 Update Take
We are already seeing many iOS 8 app updates deliver access to new features like Safari Extensions for better sharing and app usage, iOS 8 keyboards like Swiftkey and more arrive on the iTunes store. If you want to see the rest of the iOS 8 features we are excited about, check out the iOS 8 walkthrough below.
What's New in iOS 8
iOS 8 vs iOS 7 Walkthrough - Home Screen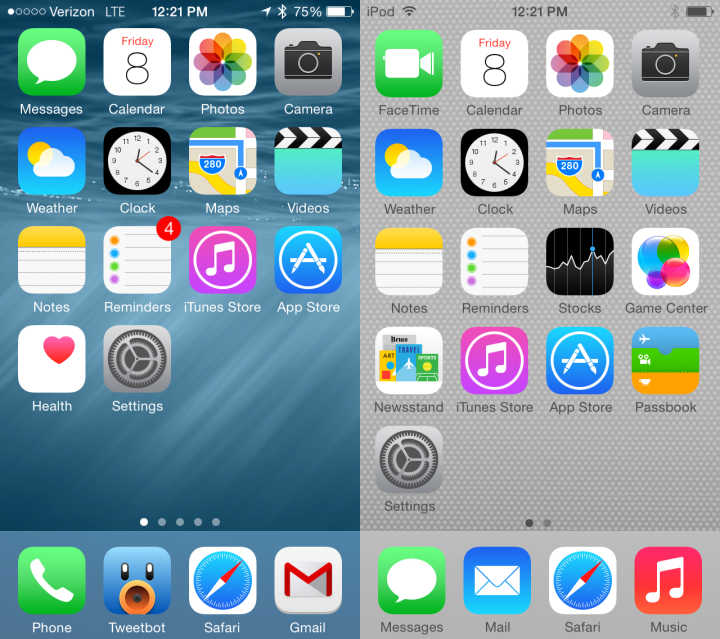 We start our iOS 8 vs iOS 7 walkthrough with the iPhone home screen, which is where you'll start your iOS 8 experience after an update this fall.
These screens are incredibly important as you see them anytime you turn on the iPhone or need to choose an app to launch. There is no way around using them, so Apple needs to make sure they work just right.
As you can see in the iOS 8 vs iOS 7 comparison above, there is no change between the home screen in the new iPhone software. Apple changed the status bar and some other small visual changes in iOS 7, but there are no updates for iOS 8.
We could see Apple change the home screen slightly for iOS 8 for the iPhone 6. The new iPhone will feature a larger 4.7-inch display with a higher resolution. This is something Apple may use to add more icons to the screen. Or they could stick with the current layout, it's tough to tell.

As an Amazon Associate I earn from qualifying purchases.