iOS 8 Release Date Breakdown
The iOS 8 release date arrives later this month, finally bringing a collection of new features and options to the iPhone and iPad — and adding cool new features to the iPhone 6.
Now that Apple announced the iOS 8 release date we know more about what this will offer, what iOS 8 features are missing for some devices and can share a breakdown of everything iPhone and iPad owners need to know about the upcoming iOS 8 release.
Apple first announced iOS 8 in June at WWDC 2014 allowing developers to start working on new iOS 8 apps well ahead of the fall iOS 8 release date. Now the iOS 8 update is finally coming to the regular iPhone users that live and sleep with the iPhone as a personal companion.
We see many exciting new iOS 8 features that will help users do more with the iPhone and iPad. Although there is not a huge visual change Siri is more powerful there are important battery saving functions and many more cool ways the iPhone, iPad and your Mac can connect.
Although some users hoped the iOS 8 release date arrived today, Apple did not deliver that. Instead they offer the iOS 8 GM for developers and carriers to test and announced the release next week.
There is more to the new software than the iOS 8 release date, so we are breaking down the details that owners need to know before Apple shares the new software.
iOS 8 Release Date
The iOS 8 release date is two days before the new iPhone on September 17th. This is just over a week away, allowing Apple to start pushing more iOS 8 apps to the iTunes store and for developers to prepare iOS 8 app updates.
The iOS 8 release date arrives on the same date for all of compatible iPhone, iPad and iPod touch devices. Users can upgrade to iOS 8 on September 17th as a free over the air update that they download over WiFi or by plugging in to iTunes.
You have to wait for the Apple Watch, but you won't have to wait any longer than September 17th for the iOS 8 release date to bring the new software to your iPhone, iPad or iPod touch.
iOS 8 Release Time
When can you download the iOS 8 update? Apple didn't confirm an iOS 8 release time, but normally the update appears online at 10 AM Pacific / 1AM Eastern.
This is how Apple delivered the iOS 7 update last year and it is certainly when we expect the iOS 8 downloads will start on September 17th.
Unlike iPhone 6 pre-orders you don't need to stay up late to get the new version of iOS 8 on your devices. The iOS 8 update will take some time to download and install so you may not want to start this at work or school.
iOS 8 App Updates
We are already seeing iOS 8 app updates arrive on iTunes this week, and we expect to see many more land on the iTunes Store over the next week.
Developers don't need to deliver a new look, but there are many exciting new iOS 8 features for developers to tap into like Touch ID support to log in to apps that may take a little bit longer to show up on the App Store.
We may see some developers hold out on an iOS 8 app update until the iPhone 6 release date or until they can also deliver an iPhone 6 app update.
iPhone 6 Exclusive Features
The iPhone 6 include several exclusive iOS 8 features. The first is Apple Pay. The iPhone 6 includes a sensor that can communicate securely with a credit card reader, allowing you to make payments from the iPhone at a physical store. This stores your existing credit cards so you can buy clothes at Macy's and food at McDonald's without reaching for a physical wallet.
The iPhone 6 also runs a new version of iOS that supports landscape mode in new ways including showing multiple panes of information on-screen at once. This is similar to how the iPad shows more information in landscape mode.
Apple's iPhone 6 also builds in support for more health tracking thanks to the M8 co-processor and the new Health App. Th Health app is on other iPhones, but the iPhone 6 will know distance and elevation.
iOS 8 Compatibility
It's no surprise that not all Apple devices get the iOS 8 update. The iPhone 4 is no longer supported with iOS 8. Apple still offers support for the device if you have problems, but there is no iOS 8 release for it. The iPod touch 4th generation and iPad 1 also do not get iOS 8, which is no surprise since neither device runs iOS 7 right now.
iPhone 5s
iPhone 5c
iPhone 5
iPhone 4s
iPod Touch 5th generation
iPad Air
iPad mini Retina
iPad mini
iPad 4
iPad 3
iPad 2
The devices listed above run iOS 8 from day one. If you own an iPhone 5, check out what iPhone 5 owners can expect from the iOS 8 release.
iOS 8 Features Not Coming to all Devices
https://www.youtube.com/watch?v=SHPACRa6Vq8&list=UUE_M8A5yxnLfW0KghEeajjw
Even if your old iPhone or iPad is getting the iOS 8 upgrade it will not get all the features. Specifically the iPhone 4s and the iPad 2 are not getting some exciting features.
The iOS 8 Health app is not available on the iPad. This includes the iPad Air and other devices. The iPad features less sensors, but it could be nice to check Health data on the iPad at some point.
The Continuity features that allow users to answer a call on the iPad or the Mac and read text messages on other devices do not work with the iPhone 4s.
Wait Until After the iOS 8 Release Date to Install
Not everyone needs to install the update on the iOS 8 release date. If there are any problems, they will likely take place on September 17th. Common iOS release date problems include busy servers that stretch the download time out dramatically and random errors when trying to activate iOS 8 with Apple after installing the update.
If you don't need iOS 8 on day one, it may be a good idea to make the iOS 8 update a weekend project.
iOS 8 Jailbreak
There is no news of an iOS 8 jailbreak that works on the iOS 8 GM, so it could be a while for the iOS 8 jailbreak release to deliver freedom to iPhone and iPad users on the new software. If you like your jailbreak tweaks you should definitely stick with iOS 7 for now.
iOS 8 Downgrade
There is no way to downgrade from iOS 8 to iOS 7 after the iOS 8 release date. If you try the iOS 8 GM now you can still use this trick to downgrade from iOS 8 to iOS 7, but after the official iOS 8 release that loophole is closed and you will be left on the new software forever.
iOS 8 Features
There are too many new iOS 8 features to count, but if you want you can start with our list of 51 exciting iOS 8 features. You can watch many of the iOS 8 features in action in the video at the top of this article for a closer look at how iOS 8 works on the iPhone.
iPhone owners need to check out 5 changes that matter most to them, and the iOS 8 vs iOS 7 walk through below outlines the new features and how they compare to the software on your current iPhone and iPad.
What's New in iOS 8
iOS 8 vs iOS 7 Walkthrough - Home Screen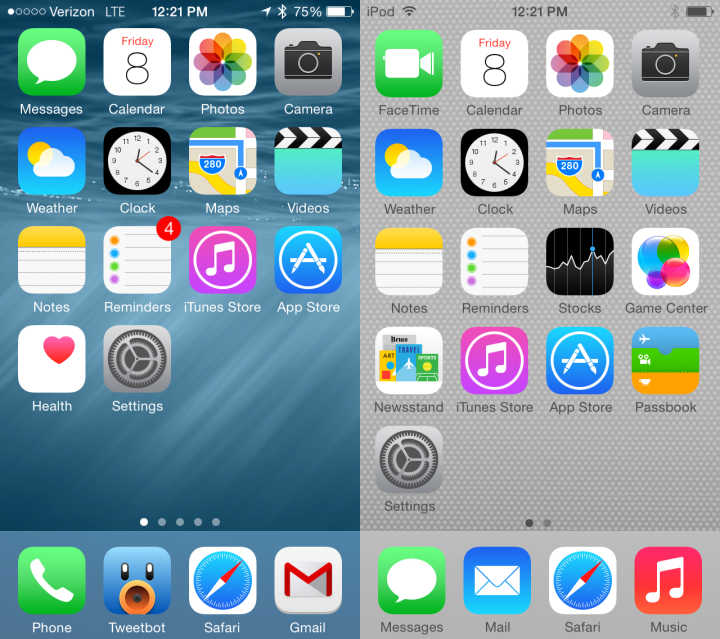 We start our iOS 8 vs iOS 7 walkthrough with the iPhone home screen, which is where you'll start your iOS 8 experience after an update this fall.
These screens are incredibly important as you see them anytime you turn on the iPhone or need to choose an app to launch. There is no way around using them, so Apple needs to make sure they work just right.
As you can see in the iOS 8 vs iOS 7 comparison above, there is no change between the home screen in the new iPhone software. Apple changed the status bar and some other small visual changes in iOS 7, but there are no updates for iOS 8.
We could see Apple change the home screen slightly for iOS 8 for the iPhone 6. The new iPhone will feature a larger 4.7-inch display with a higher resolution. This is something Apple may use to add more icons to the screen. Or they could stick with the current layout, it's tough to tell.

As an Amazon Associate I earn from qualifying purchases.