iOS 8 Release Date & Feature Video Roundup
The iOS 8 release date arrives this fall with many new features as a free update for the iPhone, iPad and iPod touch.
There is no brand new look for iOS 8, but Apple delivers a lot of new iOS 8 features that iPhone and iPad users will enjoy using.
The iOS 8 release is arguably about catching up to Android in key areas like keyboards and developer access to features like Touch ID, but there is also a huge focus on making the iPhone, iPad and Mac communicate for easier access to your files, texts, phone calls and apps from whatever device you are using.
Other iOS 8 features include a new health app that will connect to health accessories and possibly an iWatch, small design changes, better messaging, shared apps and purchases with your family and other cool new iPhone features.
Even though we've used iOS 8 for months, we won't know all the iOS 8 features until Apple announces the new iPhone in September. We cover the top features we know in this iOS 8 video, but we'll see more at an iPhone 6 event.
Apple traditionally saves a few exciting iOS features for a new iPhone and the iPhone 6 release will likely arrive with some exclusive iPhone 6 features built-in to iOS 8.
Apple's iPhone event takes place on September 9th according to two well places reports. Combined with progress on the iOS 8 beta and carrier testing we have a good idea as to when the iOS 8 release date is. We'll also share the likely iOS 8 release time, when everyone can download iOS 8 from Apple for free to start using the new features.
iOS 8 Features Video
The iOS 8 video below shows the iOS 8 features and design on the iPhone 5s running the iOS 8 beta. This is not the final version of iOS 8, and Apple could easily pull or add some features depending on bugs and other issues. Our 10 minute iOS 8 video below highlights some of the most exciting iOS 8 features to show you what's new in iOS 8. We'll also cover the possible iOS 8 release date timing for users that can't wait to try this out.
iOS 8 Release Date
We cannot share an official iOS 8 release date yet, but Apple's traditional schedule from announcement to the eventual iOS 8 release means we can share the most likely iOS 8 release date now.
Apple is very good at keeping at least one or two iOS features secret until an iPhone event, so we will not likely see an official iOS 8 release date until Apple takes the stage to show off the iPhone 6 and everything it can do. Immediately we know that the iOS 8 release date is coming after September 9th. The Wall Street Journal and Re/Code report Apple plans a new iPhone event on this day.
Developer devices run iOS 8 beta 5 now and a new beta is reportedly in the hands of carriers for testing. We may not see another iOS 8 beta until the event. If that is the case expect an iOS 8 GM release on September 9th after the iPhone event ends. Traditionally this is a final version of iOS 8 and something that any iPhone or iPad owner can install without a developer account or tricks.
We predict the iPhone 6 release date arrival on September 19th, a week-and-a-half after the iPhone event. This is a typical Apple timeline. Apple also delivers a new iOS update before the new iPhone.
This means you can expect an iOS 8 release date on September 17th. You can also count on an iOS 8 release time in the afternoon Eastern and morning on the West coast. Look for iOS 8 downloads to start at 10AM Pacific and 1AM Eastern.
It is possible that there will be some issues downloading the iOS 8 release on day one, as millions of users try to get it first. You may want to plan to wait a day or so after the iOS 8 release date to upgrade as it will be less of a hassle.
iOS 8 Devices
Not every iPhone, iPad or iPod touch can run iOS 8, but Apple will offer the free upgrade to many devices. This year Apple dropped the iPhone 4 from getting new software, but keeps the iPad 2 and the iPod touch 6th generation. Here is a list of the iOS 8 devices according to Apple's official announcement.
iPhone 5s
iPhone 5c
iPhone 5
iPhone 4s
iPod touch 5th Gen
iPad Air
iPad Mini Retina
iPad mini
iPad 4
iPad 3
iPad 2
Don't expect Apple to add or remove from this list. We should see the iOS 8 release date for all of these devices on the same day. It does not matter what carrier or model you own, Apple pushes iOS 8 updates out to all devices at the same time.
iOS 8 Features
As you saw in the iOS 8 video, there are a lot of interesting new iOS 8 features. In the iOS 8 walkthrough below we show the iOS 8 vs iOS 7 features so you can see what Apple is updating and adding to your iPhone and iPad.
The home screen and lock screen are very similar in iOS 8, but there is now an emergency ID that links to your emergency contacts and medical information as part of the Health app. Control Center and Notification Center are slightly different with new looks and the addition of widgets in the Notification Center from third-party apps.
Apple adds a Time Lapse mode to the stock camera app and with iCloud Photo Library you can keep all of your photos and videos in the cloud for easy access wherever you are and on whatever device you are using. The service keeps your files at full resolution and more storage is now cheaper.
Apple completely upgrades Messages in iOS 8 with faster photo sharing, voice messages and video messages built-in to the stock app. Group messages are now easier to handle with options to name the group, leave a group or even put an individual group on Do Not Disturb until you can talk to them.
The new iOS 8 keyboard finally includes predictive text and faster access to Emoji. Users can also install third-party keyboards from the App Store.
The Multitasking screen in iOS 8 lists your last accessed contacts in addition to your apps so you can message or call people faster.
In iOS 8 you can now see what apps are using your battery the most so that you can uninstall bad apps or avoid using power hogs when you need better iOS 8 battery life.
With Family Share you can share apps, movies and music with your family from a single purchase. You need to link the accounts with one credit card and parents can get notifications when a child wants to buy an app or make an in-app purchase — and approve or decline.
The new iOS 8 Health app pulls in health data from the iPhone sensors, apps and third-party accessories to offer a look at your complete health from fitness to medication and other health tracking.
With OS X Yosemite which arrives later this year users will be able to connect easier to the iPhone from their Mac. You'll be able to use it as a hotspot easier, answer a regular phone call on your Mac, receive text messages on your Mac and handoff an email or other app work from iPhone to Mac when you switch devices. The phone calls and texts will also come to the iPad when it is next to your iPhone.
Users can also now use AirDrop to share files from an iPhone or iPad to Mac, and the other way around. This is an awesome addition that along with enhanced iCloud Drive features makes moving files to the iPhone and iPad easier.
Check out the iOS 8 walkthrough below to see screenshots of these new features and see how it compares to iOS 7.
What's New in iOS 8
iOS 8 vs iOS 7 Walkthrough - Home Screen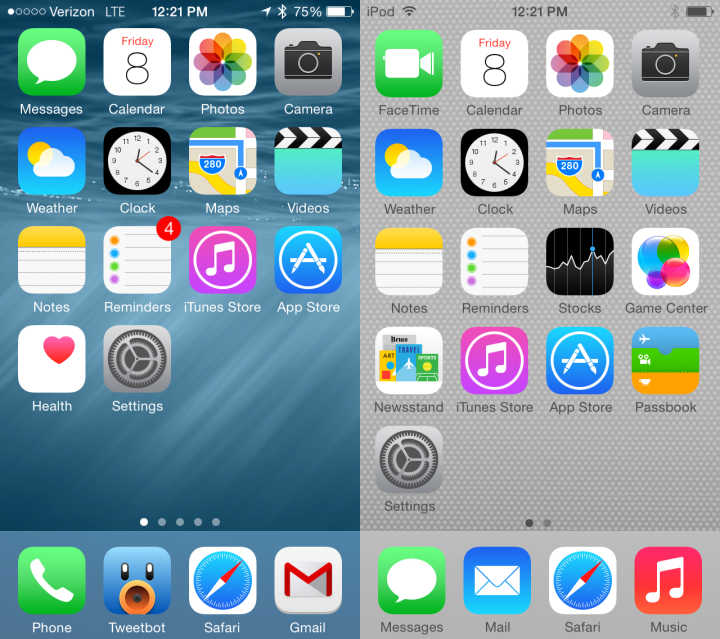 We start our iOS 8 vs iOS 7 walkthrough with the iPhone home screen, which is where you'll start your iOS 8 experience after an update this fall.
These screens are incredibly important as you see them anytime you turn on the iPhone or need to choose an app to launch. There is no way around using them, so Apple needs to make sure they work just right.
As you can see in the iOS 8 vs iOS 7 comparison above, there is no change between the home screen in the new iPhone software. Apple changed the status bar and some other small visual changes in iOS 7, but there are no updates for iOS 8.
We could see Apple change the home screen slightly for iOS 8 for the iPhone 6. The new iPhone will feature a larger 4.7-inch display with a higher resolution. This is something Apple may use to add more icons to the screen. Or they could stick with the current layout, it's tough to tell.

As an Amazon Associate I earn from qualifying purchases.