iOS 8 Release Date Excitement Keeping Users Up til Midnight
The iOS 8 release date is September 17th and after all the excitement over a late night iPhone 6 pre-order, a lot of users are looking forward to downloading the iOS 8 update at midnight.
It's easy to think there is an iOS 8 release date at midnight, after all we are used to midnight releases for video games, midnight movie openings and midnight iPhone 6 pre-order start times, but these users are in for a wasted night.
Apple confirmed the iOS 8 release date for September 17th last week, but did not mention a specific time. Thanks to Apple's predictable schedule the iOS 8 midnight release is not something you can count on at 12 AM Eastern or even 12 AM Pacific.
The iOS 8 release time is 10 AM Pacific 1 PM Eastern on September 17th. This is the same time Apple released the last several iOS updates and with the potential for server problems and other issues the chance Apple decides to switch to a midnight iOS 8 release time is very unlikely.
Read: 8 Reasons Not to Update to iOS 8 on Day One
If you are looking for more information, and like the many users below you stayed up late to be first to start the download on the iOS 8 release date you can use this time to follow our iOS 8 release date tips that will help you get ready for Apple's free update.
One reason more users think the iOS 8 release happens at midnight is that many iOS 8 app updates are arriving on iPhones and iPads, putting iOS 8 front and center for many.
Here are a small sample of users waiting up for an iOS 8 release date arrival at midnight, who are in for frustration and disappointment.
.and I'm thinking iOS 8 was gonna be available at midnight :/

— el ✈ (@el_complejo) September 17, 2014
so supposedly iOS 8 comes out tonight at midnight

— WYLER (@xTylJames) September 17, 2014
Really hope iOS 8 is dropping at midnight.

— Mauricio. (@ChineseSekret) September 17, 2014
https://twitter.com/Shae_baybayx0/status/512035371476353024
https://twitter.com/queenxxkay/status/511969108900839424
https://twitter.com/Cannibalistica/status/511965493692235777
https://twitter.com/millyhere_/status/512058736937279488
There is such a small chance that Apple will change things up and release iOS 8 at midnight that you should stop waiting and go to bed.
Read: How Long Will the iOS 8 Update Take?
There is good reason to be excited about the iOS 8 update. Apple includes a ton of exciting new features like better group messages, the ability to answer a phone call on the iPad, Touch ID support for apps and better sharing in Safari as well as many others. Here's a look at our top 10 iOS 8 features;
Texts, Calls, Hotspot & Handoff

 – Your calls and texts show up on Mac and iPad and you can easily use the iPhone hotspot as well as bring your work with you between devices when you switch from one to the other.

Notifications

 –  Quickly reply to notifications without leaving the app they are in.

Better Messages

 – Send voice and video messages. Leave and do not disturb individual Group Message threads.

New Keyboard Features & Third Party Keyboards

 – Apple adds predictive text and allows keyboard choices finally.

iCloud Photo Library

 – Access all your photos and videos in full resolution from anywhere. Paid storage starts at 20GB for 99 cents a month.

Family Share

 – Share apps, movies and more without using the same Apple ID and approve In App Purchases with a notification.

Siri Always Listening

 – When plugged in you can say, "Hey Siri." and Siri will launch so you can use the assistant.

Smart Sharing

 – You can now share to more than the stock list of Apps that Apple picked. This changes based on the apps you have installed.

FaceTime Call Waiting

 – We make a lot of FaceTime calls and we can finally switch calls easily using iOS 8.

Touch ID Support for Apps

 – Touch ID now works in third-party apps which makes it possible to secure other apps using your fingerprint.
You can check out the iOS 8 features slide show below to see what all you can expect from this free update that is coming to the iPhone 4s, iPhone 5, iPhone 5c, iPhone 5s, iPad Air, iPad 4, iPad 3, iPad 2, iPad mini, iPad mini Retina and iPod touch 5th generation.
What's New in iOS 8
iOS 8 vs iOS 7 Walkthrough - Home Screen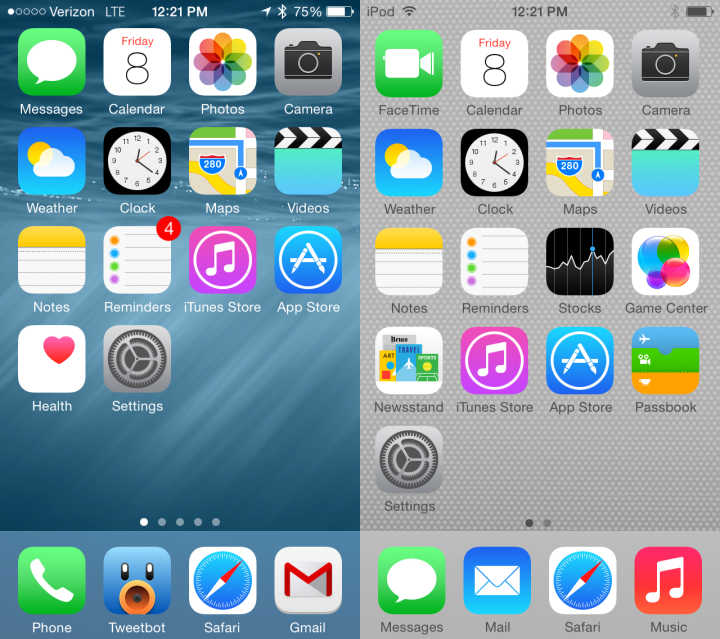 We start our iOS 8 vs iOS 7 walkthrough with the iPhone home screen, which is where you'll start your iOS 8 experience after an update this fall.
These screens are incredibly important as you see them anytime you turn on the iPhone or need to choose an app to launch. There is no way around using them, so Apple needs to make sure they work just right.
As you can see in the iOS 8 vs iOS 7 comparison above, there is no change between the home screen in the new iPhone software. Apple changed the status bar and some other small visual changes in iOS 7, but there are no updates for iOS 8.
We could see Apple change the home screen slightly for iOS 8 for the iPhone 6. The new iPhone will feature a larger 4.7-inch display with a higher resolution. This is something Apple may use to add more icons to the screen. Or they could stick with the current layout, it's tough to tell.

As an Amazon Associate I earn from qualifying purchases.