The iOS 8 Release Date: Everything We Know
With an iPhone 6 launch date all but confirmed for September 9th, it should only be a matter of days before we learn about the highly anticipated iOS 8 release date. With that in mind, we want to take a look at everything we know right now about the iOS 8 release date for the iPhone, iPad and the company's aging iPod touch.
In June, Apple made a number of big announcements at its annual WWDC event. Among those announcements was a new iOS update dubbed iOS 8, a new operating system that the company said would be coming to replace the current iOS software, iOS 7. At the event, the company went into great detail about the operating system that will almost certainly accompany the new iPhone 6 to shelves.
On stage, Apple went into detail about many of the iOS 8 update's key features including the new Photos application, changes to the popular iMessage service, tweaks to the iOS design, a new keyboard, and plenty of other features that should make it a sizable upgrade over last year's massive iOS 7 update for iPhone and iPad. For those that missed out of what iOS 8 offers, have a look at the video below.
Apple also announced that it would be releasing the iOS 8 update to the public sometime this fall after a beta period. The iOS 8 beta update was released that very same day and for the past three months, developers and regular old iPhone and iPad owners alike have been poking and prodding the new iOS 8 release for bugs and issues.
While nothing is confirmed, it looks like the iOS 8 update could move out of the beta program and into the hands of the general public in just a few short weeks.
The company recently sent out invites to a media event on September 9th wherein the company is expected to announce its brand new iPhone 6 and a new iWatch. The iPhone 6 probably won't arrive without a brand new iOS update so there is speculation that the iOS 8 update and its release date will be announced in just a few short days.
With September 9th just a few short days away, we want to take a look at everything we know about the iOS 8 release date for iPhone, iPad, and the fifth-generation iPod touch.
A Bit of History
Before we get to the iOS 8 release date, we want to take a look at everything we know about Apple's iOS release patterns. Apple tends to stick to very predictable release patterns when it comes to its iPhone releases, iOS releases and so on. Here are a few of the things that we know about Apple and its iOS release history for the iPhone and iPad:
It always announces an iOS release date for older devices alongside the new iPhone.
iOS release dates typically fall a few days before the arrival of the iPhone.
The iOS release date, the specific release date, rarely emerges ahead of Apple's event.
Apple tends to release its iOS updates during the week around 10AM PST.
Keep those in mind as we take a closer look at iOS 8 release rumors.
iOS 8 Release Date
Right now, iOS 8 beta users are on the fifth version of the iOS 8 beta update. Apple reportedly released the iOS 8 beta 6 update to testing partners and according to the unofficial information, testing on the iOS 8 beta 6 update had to be completed by September 5th before next week's launch.
We still haven't seen the iOS 8 GM (Gold Master) emerge though with the iOS 8 announcement all but confirmed for September 9th, we could see Apple release the iOS 8 GM shortly after it gets done announcing its new products on stage. The iOS 8 GM will be the final version of the beta and it should mirror Apple's public iOS 8 release.
iOS 8 release date rumors remain scarce though thanks to iPhone 6 release rumors, we have some ideas. With the iPhone 6 release date rumored for the week of September 15th, we predict the iOS 8 release in and around September 17th, a week-and-a-half after the iPhone event. This is a typical Apple timeline and it falls just before the iPhone 6's alleged release date of September 19th.
Here's how the last three iOS and iPhone release went down:
In 2011 Apple announced the iPhone 4s on October 4th and delivered an iOS 5 release on October 12th and an iPhone 4s release date on October 14th.
In 2012 Apple announced the iPhone 5 on September 12th and delivered an iOS 6 release on September 19th and the iPhone 5 release date on September 21st.
Last year in 2013 Apple announced the iPhone 5s on September 10th and delivered an iOS 7 release on September 18th and the iPhone 5s release on September 20th.
The iPhone 6 release date is not confirmed but reports indicate that Apple is closing in on the final version of iOS which means that the iOS 8 update should be released within the next week or two for a slew of Apple devices.
Here's the list of devices that will be getting the iOS 8.0 update:
iPhone 6
iPhone 5s
iPhone 5c
iPhone 5
iPhone 4s
iPad Air
iPad 4
iPad 3
iPad 2
iPad mini with Retina Display
iPad mini
iPod touch fifth-generation
While we don't have a concrete iOS 8 release date nailed down just yet, we know that there's a good chance that all of these iOS 8 updates will share a common release date. Apple, unlike Google and Android, releases all of its software updates on the same day for all users. It can cause problems but it's still much faster than Android updates.
iOS 8.0.1 Update
A new report from BGR suggests that Apple is already working on an iOS 8.0.1 update and that it has seeded it to testing partners ahead of the iOS 8.0 release date this fall. While a release date is still unconfirmed, Apple is known for pushing out quick bug fixes to alleviate initial issues that iPhone and iPad users encounter from the get go.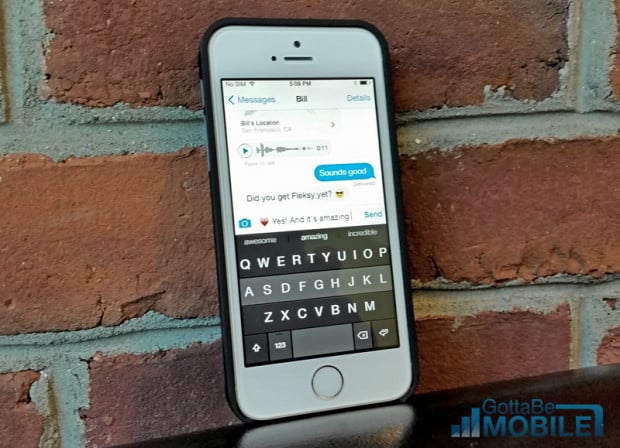 Last year, Apple released an iOS 7.0.1 update for the iPhone 5s and iPhone 5c shortly before they went on sale in late September. This doesn't guarantee an iOS 8.0.1 update in the hours or days after the iPhone 6 release but we know that Apple loves to get a few bug fixes out in the weeks after an iPhone release date. We could see the same here.
What's New in iOS 8
iOS 8 vs iOS 7 Walkthrough - Home Screen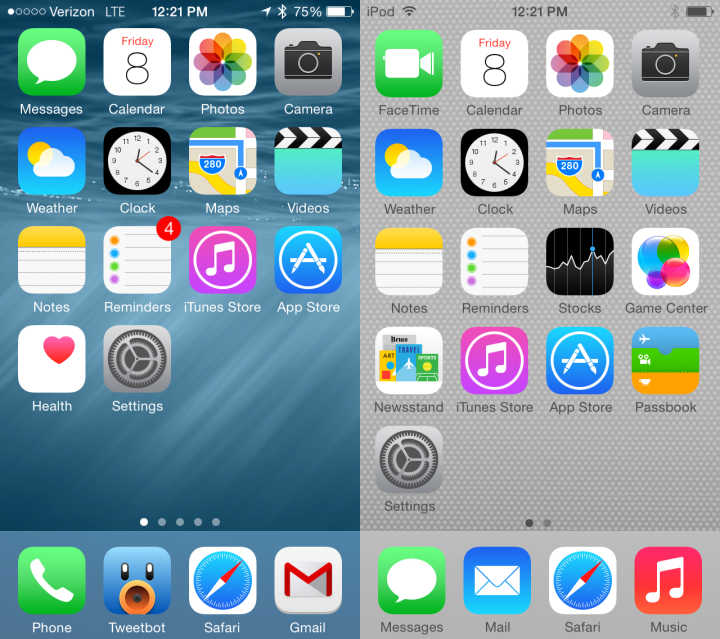 We start our iOS 8 vs iOS 7 walkthrough with the iPhone home screen, which is where you'll start your iOS 8 experience after an update this fall.
These screens are incredibly important as you see them anytime you turn on the iPhone or need to choose an app to launch. There is no way around using them, so Apple needs to make sure they work just right.
As you can see in the iOS 8 vs iOS 7 comparison above, there is no change between the home screen in the new iPhone software. Apple changed the status bar and some other small visual changes in iOS 7, but there are no updates for iOS 8.
We could see Apple change the home screen slightly for iOS 8 for the iPhone 6. The new iPhone will feature a larger 4.7-inch display with a higher resolution. This is something Apple may use to add more icons to the screen. Or they could stick with the current layout, it's tough to tell.