iOS 8 Release Date & What to Expect from iOS 8
iOS 8 is the newest version of Apple's mobile operating system. Like iOS 7 last year it delivers a collection of new features, but this year there is not a major change to what your iPhone software looks like. The iOS 8 release date later this month brings a free update to the iPhone, iPad and iPod touch. Apple finally adds some exciting iOS 8 features that the company ignored for many years including customizable keyboards, better messaging and much more.
Update: iOS 8 Release Date Confirmed
Apple announced iOS 8 at WWDC 2014 earlier this year and the Gotta Be Mobile staff are using an iOS 8 beta that offers an early look at the new features and options that everyone gains access to on the iOS 8 release date later this year.
Apple confirmed a fall iOS 8 release date for the fall, but we are still waiting for Apple to announce the specific iOS 8 release date when you will be able to download iOS 8 to your current iPhone, iPad or iPod touch. If you plan to buy the iPhone 6, it will come with iOS 8 already installed on it.
Apple hosts a special event on September 9th, where they will show off a new iPhone and possibly many other exciting devices — and this is when we can expect to learn the exact iOS 8 release date.
The one thing that is not likely is an iOS 8 release date or an iPhone 6 release date on September 9th. Apple typically announces a new iPhone and a release date soon after, but never on the same day.
iOS 8 brings many new features and refines some of the design changes that Apple started with iOS 7 last year. We see a new Multitasking design with access to contacts, better connectivity between the iPhone, iPad and a Mac and delivers many wonderful changes to how photos are stored and shared after you press the shutter on the iPhone.
For owners that don't plan to buy an iPhone 6 with a larger screen, the free iOS 8 release delivers a new experience that may be enough for many users, instead of buying a new iPhone every year. There is no iPhone 4 iOS 8 release, so you need an iPhone 4S or newer, iPad 2 or newer or iPod touch 5th generation to use the new version of iOS.
After testing iOS 8 with developers for months, Apple is finally ready to announce the specific iOS 8 release date so users can download the free update and do more with their iPhone and iPad.
iOS 8 Release Date
Even though there is no confirmed iOS 8 release date until the end of the special iPhone 6 event on September 9th, it's easy to predict the iOS 8 release date thanks to the event date and Apple's traditional iOS release timeline.
The iPhone 6 event is on September 9th, so iPhone 6 pre-orders may start on Friday September 12th and the iPhone 6 release date is almost certainly planned for September 19th. AT&T, T-Mobile and Verizon are all prepared for the iPhone 6 release date later this month.
With all of these dates in mind the iOS 8 release date is very likely planned for September 17th, two days before the new iPhone. This lets Apple roll out the software to millions of users before the very hectic iPhone 6 release slams systems.
For the last five years Apple relied on this timing to deliver a new iPhone and new iOS software.
iOS 3 release two days before the iPhone 3GS
iOS 4 release three days before the iPhone 4
iOS 5 release two days before the iPhone 4S
iOS 6 release two days before the iPhone 5
iOS 7 release two days before the iPhone 5s
Even though the iOS 8 release date lines up with a new iPhone, this is the same time for an iOS 8 iPad release.
There are often some iOS 8 release date problems that prevent users from downloading the update quickly, but after the initial rush dies down the iOS 8 upgrade process is normally smooth.
Overall expect a fast and easy iOS 8 update from iOS 7 for most devices. If your iPhone or iPad is almost full you may need to plug in to iTunes to download and install iOS 8. For other users it is possible to install iOS 8 over the air as an update that you download over WiFi.
You can anticipate an iOS 8 release time at 10AM Pacific /1PM Eastern on September 17th. There are plenty of reasons for regular users to wait a few days to upgrade. If you plan to buy the iPhone 6 in the first week of the release you may not even want to bother with the hassle of upgrading to iOS 8 on an old iPhone.
Exciting iOS 8 Features
Apple packs in a lot of exciting new iOS 8 features that users will enjoy. We've spent most of the summer testing the new features and exploring what Apple has to offer.
The main thing to remember is that not every iPhone and iPad gets all the iOS 8 features and there is always a chance that the iOS 8 update will add more problems for some users than it fixes.
We expect to hear from some users that iOS 8 battery life is worse on their iPhone, and accusations that Apple slows down the old iPhones with new software, but this doesn't happen to every user. The iPhone 4s iOS 8 performance may be an issue for some users and it will certainly not get all the iOS 8 features.
Soon after the official iOS 8 release date we will share reviews of the iOS 8 performance on Apple's devices including the iPhone 5s, iPhone 5, iPad Air, iPad mini Retina, iPad mini, iPad 3 and other devices.
The iOS 8 video above runs down many of the new iOS 8 features that you'll enjoy using later this year. For some of these features you will need a Mac running OS X Yosemite. Apple announced the new version of Mac software, this summer and there is a public beta allowing users to try some of the new features.
Top 10 iOS 8 Features
It's hard to narrow down the best iOS 8 features, but after using the update for months on the iPhone here are the top 10 iOS 8 features you'll enjoy using this fall.
Texts, Calls, Hotspot & Handoff – Your calls and texts show up on Mac and iPad and you can easily use the iPhone hotspot as well as bring your work with you between devices when you switch from one to the other.
Notifications –  Quickly reply to notifications without leaving the app they are in.
Better Messages – Send voice and video messages. Leave and do not disturb individual Group Message threads.
New Keyboard Features & Third Party Keyboards – Apple adds predictive text and allows keyboard choices finally.
iCloud Photo Library – Access all your photos and videos in full resolution from anywhere. Paid storage starts at 20GB for 99 cents a month.
Family Share – Share apps, movies and more without using the same Apple ID and approve In App Purchases with a notification.
Siri Always Listening – When plugged in you can say, "Hey Siri." and Siri will launch so you can use the assistant.
Smart Sharing – You can now share to more than the stock list of Apps that Apple picked. This changes based on the apps you have installed.
FaceTime Call Waiting – We make a lot of FaceTime calls and we can finally switch calls easily using iOS 8.
Touch ID Support for Apps – Touch ID now works in third-party apps which makes it possible to secure other apps using your fingerprint.
Make sure you check out the iOS 8 vs iOS 7 walkthrough below that outlines more of what the iOS 8 release offers iPhone, iPad and Mac users this fall.
What's New in iOS 8
iOS 8 vs iOS 7 Walkthrough - Home Screen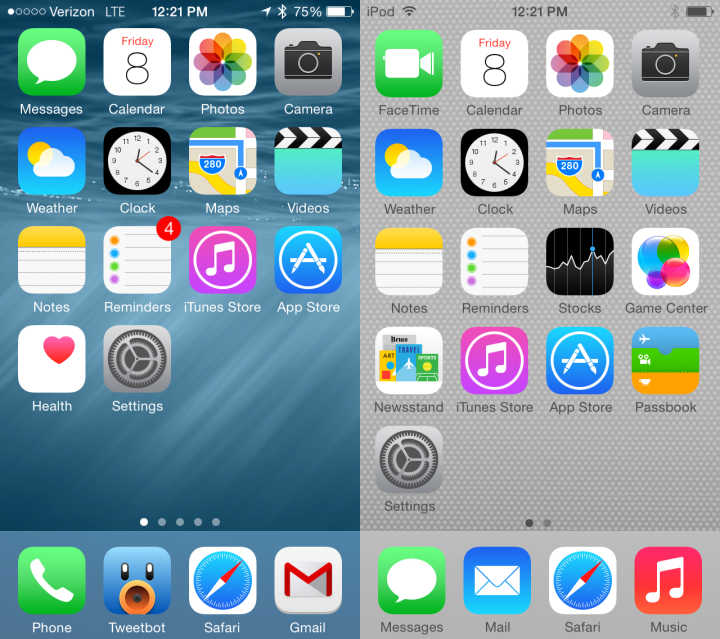 We start our iOS 8 vs iOS 7 walkthrough with the iPhone home screen, which is where you'll start your iOS 8 experience after an update this fall.
These screens are incredibly important as you see them anytime you turn on the iPhone or need to choose an app to launch. There is no way around using them, so Apple needs to make sure they work just right.
As you can see in the iOS 8 vs iOS 7 comparison above, there is no change between the home screen in the new iPhone software. Apple changed the status bar and some other small visual changes in iOS 7, but there are no updates for iOS 8.
We could see Apple change the home screen slightly for iOS 8 for the iPhone 6. The new iPhone will feature a larger 4.7-inch display with a higher resolution. This is something Apple may use to add more icons to the screen. Or they could stick with the current layout, it's tough to tell.

As an Amazon Associate I earn from qualifying purchases.