When Does iOS 8 Come Out? iOS 8 Release Time Revealed
The iOS 8 release time is not official, but Apple's schedule is predictable enough that we are confident when you can expect to start the iOS 8 download for iPhone, iPad and iPod touch.
Expect the iOS 8 release time to come at the same time as an over the air download direct to your iPhone or iPad and to a computer as you download iOS 8 in iTunes.
Update: The iOS 8 Release is Here – How to Update to iOS 8
We know the iOS 8 release date is September 17th thanks to Apple's announcement during the iPhone 6 and iPhone 6 Plus event. Apple continues with the tradition of an iOS 8 release two days before the new iPhone release date. Although Apple is known for sharing many details at events, the company did not announce an official iOS 8 release time.
Read: 51 Cool iOS 8 Features
If you want to install iOS 8 without any issues you'll want to avoid trying to start the iOS 8 download right away, but for users that can't wait for the new iOS 8 features on the iPhone 4s, iPhone 5, iPhone 5s, iPhone 5c and other devices — here's when you can expect the iOS 8 release time.
The iOS 8 release time is 10 AM Pacific, 1 PM Eastern on September 17th, less than 48 hours before the iPhone 6 release date. Even though Apple did not announce this time or confirm it this is the same time Apple released major updates for the last several years. This includes most, if not all, of the iOS 8 betas that led up to this iOS 8 release date.
An iOS 8 release time in the middle of the morning makes a lot of sense for the California-based company, allowing all support staff to be ready in case issues take place. There are many new iPhone buyers that wish the iPhone 6 pre-orders started at this time instead of the middle of the night.
Here is a look at the iOS 8 release time for your time zone.
Eastern – 1 PM
Central – 12 PM
Mountain – 11 AM
London – 6 PM
Moscow – 9 PM
New Dehli – 10:30 PM
Shanghai – 1 AM Thursday
Tokyo – 2 AM Thursday
Melbourne – 3 AM Thursday
Auckland – 5 AM Thursday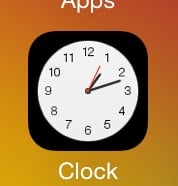 Apple does not confirm the iOS 8 release time to help prevent a rush to download iOS 8 as soon as it is available. The first hour of a new iOS update is filled with errors and complaints from users who run into trouble completing the iOS 8 download in a timely manner. Other problems include the chance of not being able to connect to Apple's servers at the end of the iOS 8 update to verify the update.
Users ran up against a lot of small issues with the iOS 7 release in 2013 when Apple announced over 200 new features and a complete new look for the iPhone and iPad software. This year there is a significant amount of excitement for the iOS 8 release date, but many users are more focused on the iPhone 6 and iPhone 6 Plus.
Read: iOS 8 Features Skip iPhone 4s, iPad
The iOS 8 update is free for the iPhone 4s and newer, iPad 2 and newer and for the iPod touch 5th generation. Users can install the iOS 8 update without connecting to a computer, but you will not be able to use the device while part of the update completes, so be wary of performing this in the middle of the day when the iOS 8 release starts.
The iOS 8 video above shows many of the new iOS 8 features on camera, so you can see what the new update delivers. This is the same software that runs on the iPhone 6, but the new iPhones gain a few features like Reachability and Apple Pay that aren't coming to the older devices.
For more, check out the iOS 8 walkthrough below, highlighting a large collection of new iOS 8 features like the option to pick a third party iOS 8 keyboard and other cool upgrades that make it easier to use the iPhone, iPad and a Mac together.
What's New in iOS 8
iOS 8 vs iOS 7 Walkthrough - Home Screen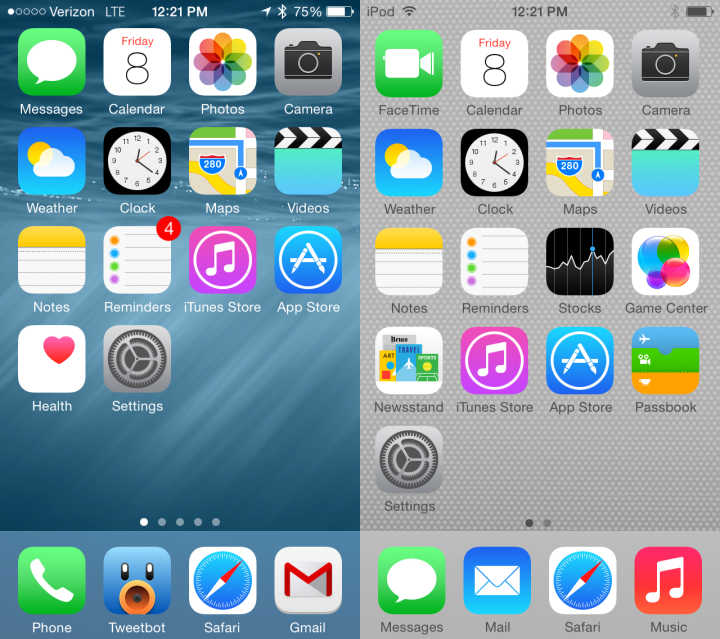 We start our iOS 8 vs iOS 7 walkthrough with the iPhone home screen, which is where you'll start your iOS 8 experience after an update this fall.
These screens are incredibly important as you see them anytime you turn on the iPhone or need to choose an app to launch. There is no way around using them, so Apple needs to make sure they work just right.
As you can see in the iOS 8 vs iOS 7 comparison above, there is no change between the home screen in the new iPhone software. Apple changed the status bar and some other small visual changes in iOS 7, but there are no updates for iOS 8.
We could see Apple change the home screen slightly for iOS 8 for the iPhone 6. The new iPhone will feature a larger 4.7-inch display with a higher resolution. This is something Apple may use to add more icons to the screen. Or they could stick with the current layout, it's tough to tell.

As an Amazon Associate I earn from qualifying purchases.