iOS 8 vs iOS 7: 5 Things iPad Owners Need to Know
Very soon you'll be able to install iOS 8 on the iPad to deliver a large collection of new iOS 8 features that will supercharge your iPad.
In this quick rundown of iOS 8 vs iOS 7, we'll show you five things that iPad owners need to know about the iOS 8 update.
Apple hosts an event on September 9th where we expect to hear about new iOS 8 features and learn the official iOS 8 release date, but you don't need to wait for Apple to take the stage to get the scoop on the most important details for iPad owners.
iOS 8 is a free update that adds new features without a major change to the look of the software like iOS 7 delivered last fall. Instead Apple focuses on fixing some iOS 7 problems, making better use of iOS 7 features and adding great new features to the iPad.
We expect an iOS 8 release date the week after Apple's September 9th announcement, so you can expect to download iOS 8 around September 17th, a few days before the rumored iPhone 6 release date. You can expect an iPad iOS 8 release date on the same day as the iOS 8 iPhone release.
Here are the most important iOS 8 vs iOS 7 details that iPad owners need to know about to be ready, keep their expectations in check and see what's coming.
iOS 8 Comes to all iOS 7 iPads
The great part about the iOS 8 release is that Apple is able to deliver a free iOS 8 update to all the iPads running iOS 7. That includes the older iPad 2 that is still hanging on and any newer device.
Unless you are still using the original iPad you can install iOS 8 when it arrives later this month. The full list of iOS 8 devices includes the iPad 2, iPad 3, iPad 4 (iPad with Retina), iPad Air, iPad mini and iPad mini with Retina display.
Take Calls and Send Texts on the iPad
In iOS 8 you can now use the iPad to do much more than when it ran iOS 7. Even if you only own a WiFi iPad you will be able to use it to answer calls and to send text messages. These are regular calls from any phone including a landline and texts that you send to your Android using friends.
With iOS 8 there is a connectivity between the iPad and the iPhone that makes it easier to connect your iPad to the Internet and to share calls and texts. When you get a call on the iPhone, if it is near your iPad you can answer the call on the iPad — using it like a big speakerphone. You can also keep your text conversations in sync and continue them on the iPad. On iOS 7 these activities only worked with iMessage and FaceTime.
Easier Access to Your Photos
In iOS 7 you could use Photo Stream to see you recent photos and videos, but you couldn't access all of your photos and videos all the time.
In iOS 8 Apple adds iCloud Photo Library, which delivers access to every photo and video you take. This also keeps your edits and albums in sync across all of your devices.
You may need to purchase more storage to make this work for you, but Apple already promised affordable plans with 20GB for 99 cents a month during WWDC.
Don't Expect To Run Two Apps at Once
Early iOS 8 rumors suggested the iPad would be able to run two apps side-by-side like the Galaxy Note 3 and Galaxy Note tablets, but this doesn't look like the case any more.
Instead you can count on multitasking just as it is in iOS 7, with the hope of split-screen multitasking on the iPad with iOS 8.1 or iOS 9 in the future.
New iOS 8 Features
Like the iOS 7 update there are a lot of cool new iOS 8 features, but not all of them will come to older devices. We typically see Apple drop some features from older devices like the iPad 2 or iPad 3. One thing that may not make it to the iPad 2 is the Handoff feature that some speculate relies on Bluetooth Low Energy. Apple includes this on the iPad 3 and newer, but the iPad 2 uses an older type of Bluetooth that may not support all the iOS 8 features.
You can expect a number of exciting iOS 8 features like those shown below, offering a better messaging app, new photo options and much, much more as part of a free update. The new iPad Air 2 release is rumored for a month later in October.
What's New in iOS 8
iOS 8 vs iOS 7 Walkthrough - Home Screen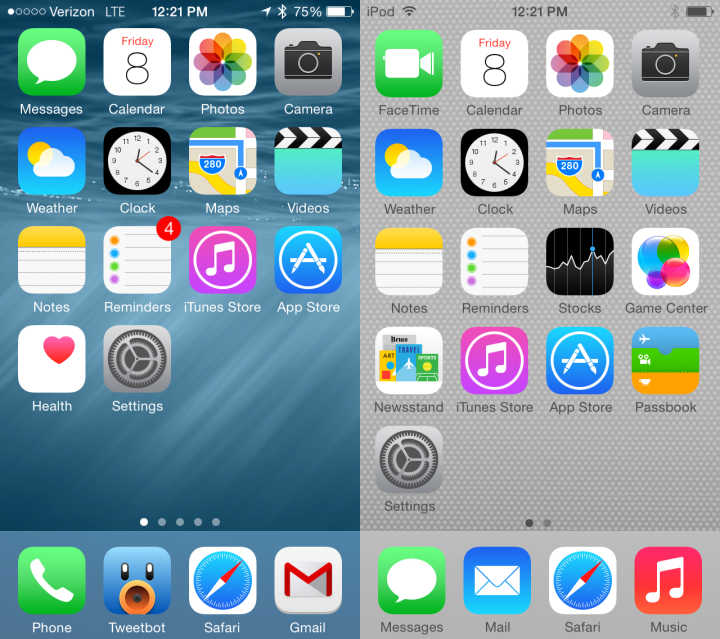 We start our iOS 8 vs iOS 7 walkthrough with the iPhone home screen, which is where you'll start your iOS 8 experience after an update this fall.
These screens are incredibly important as you see them anytime you turn on the iPhone or need to choose an app to launch. There is no way around using them, so Apple needs to make sure they work just right.
As you can see in the iOS 8 vs iOS 7 comparison above, there is no change between the home screen in the new iPhone software. Apple changed the status bar and some other small visual changes in iOS 7, but there are no updates for iOS 8.
We could see Apple change the home screen slightly for iOS 8 for the iPhone 6. The new iPhone will feature a larger 4.7-inch display with a higher resolution. This is something Apple may use to add more icons to the screen. Or they could stick with the current layout, it's tough to tell.