iOS 9 vs iOS 8: What's New in iOS 9
See what's new in iOS 9 with our in depth look at the new iOS 9 features and a comparison to iOS 8. This will walk you through the latest features in iOS 9 and the new iOS 9.0.1 features.
The iOS 9 release date is coming on September 16th for users who own an iPhone, iPad or iPod touch capable of running iOS 8 at the current time.
Our iOS 9 vs iOS 8 comparison will help you discover what's new in iOS 9 and see some of the exciting upgrades in action.
This look at what's new in iOS 9 will help you discover the new features in the iOS 9 update that Apple did not announce on stage, but that you can expect soon. We look at the iPad and iPhone iOS 9 upgrades to see what is coming.
Update: September 23rd with what's new in iOS 9.0.1 and how to upgrade. 
[contextly_sidebar id="IXqGZZGrfaNuRCQkgfXe4xuj12zi00tO"]You will see some new iOS 9 visual changes that help round out the operating system and major new features like multitasking on the iPad. Not all features will arrive on every device this fall, but if you own an iPhone 6, iPhone 6 Plus or iPad Air 2 many of these will arrive soon. You can also count on an iOS 9 update to arrive on the iPhone 6s and iPhone 6s Plus.
Like iOS 8, the iOS 9 update is a free download for your device. The iOS 9 downloads start on September 16th, and while Apple did not confirm the time, it will likely arrive at 10 AM Pacific, 1 PM Eastern.
While the iOS 9 update may look like a small update at first glance, there are an impressive number of new iOS 9 features and changes that make this more than just a small upgrade for iPhone and iPad users. After using the iOS 9 beta for months there are clear benefits to the iOS 9 update.
Watch the iOS 9 video above to see what's new in iOS 9. This 13-minute video looks at the new iOS 9 features and changes on the iPhone 6 Plus and the iPad Air 2, but the majority of these new features should come to older devices as well.
Apple's iOS 9 update runs on the iPhone 4s, iPhone 5, iPhone 5c, iPhone 5, iPad 2, iPad 3, iPad 4, iPad Air, iPad mini, iPad mini Retina, iPod touch 5th generation and iPod touch 6th generation.
Read our iOS 9 review for an in depth look at how well these new iOS 9 features perform on the iPhone 6 and iPad Air 2.
Click on any of the images below to jump directly to a specific iOS 9 vs iOS 8 walkthrough slide to see how that compares. The iOS 9 screenshots are on the left and the iOS 8 screenshots are on the right so you can see how the two versions compare. With some new features we will only show the iOS 9 screenshots.
iOS 9 vs iOS 8: What's New in iOS 9
iOS 9 vs iOS 8 Walkthrough - Home Screen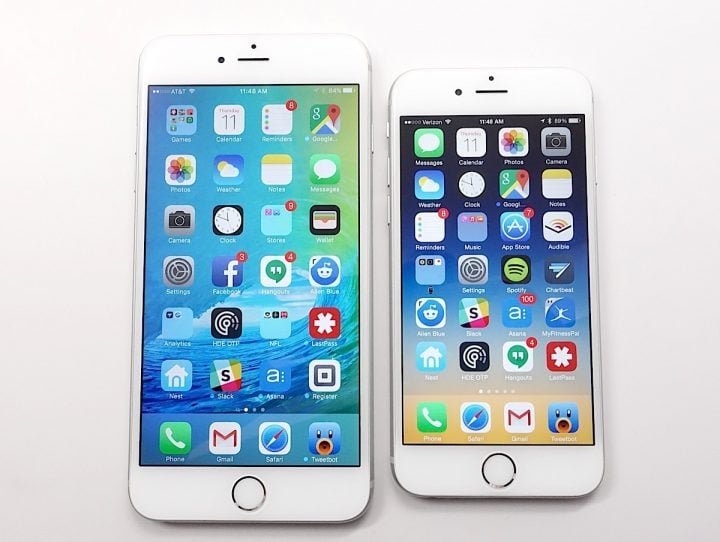 The image above shows that the iOS 9 home screen looks very much like the one on iOS 8. This is not surprising, but you will notice one major change to this screen.
The new iOS 9 font on the home page carries over through settings and apps. It's surprising how much the look of the system can change with a small tweak to a new font.
From the home screen you can now swipe left to a new search screen, and you can still swipe down to Spotlight from any of the home screen pages.
When you upgrade you will also see options to add iCloud Drive to your home screen.
Apple adds two new default iOS 9 apps that you cannot delete. Find iPhone and Find Friends apps now come with the iPhone by default. You can hide them in a folder, but you cannot delete the apps. The Find My iPhone app is a very good addition, while Find My Friends is still not as widely used.