iPad Air 2 Release & Features Breakdown
The iPad Air 2 release is close as Apple prepares for the October Apple Event on October 16th, where we expect to see the new iPad Air 2, iPad mini 3 and many other Apple announcements.
Apple tries to keep new products a secret, but with leaks and annual upgrade timelines it is clear that one thing you can count on is a new iPad Air 2.
Although the company increases iPhone model names with a number, it's possible that this will simply be the new iPad Air, but many consumers will call it the iPad Air 2 for ease of identifying the newest iPad.
Here's a look at what we know about the iPad Air 2 based on leaks, Apple's traditional behavior and reports from insiders who can't wait for Apple to make the announcement.
iPad Air 2 Release Date
You can count on Apple to go for a fast iPad Air 2 release date. It is unlikely that we'll see a release on October 16th, but with a report that Apple started production of the iPad Air 2 a while ago you can expect to see one soon after the event.
Apple's history suggests the iPad Air 2 release date will arrive on October 24th, just over a week after the announcement. Apple typically delivers new iPads on the next Friday after an Apple event.
iPad Air 2 Live Stream
You can count on an iPad Air 2 live stream so you can see everything Apple announces at the October Apple Event.
After some speculation Apple added a spot on the Apple Live Stream page for the event. The iPad Air 2 live stream starts at 10AM Pacific / 1PM Eastern on October 16th, and you can watch it live on Apple products.
Although not officially supported there is normally a way to watch the Apple event live on a Windows PC using VLC.
iPad Air 2 Display & Design
The iPad Air already features a Retina display, but there is a new report from the iOS 8.1 beta that suggests Apple may be ready to deliver a Retina HD iPad with a higher resolution display. It's possible this is just the groundwork for the rumored iPad Pro, but perhaps Apple is ready to wow with a stunning 3,072 x 2,304 resolution display on the iPad Air 2. 
https://twitter.com/hamzasood/status/520012272274776064/photo/1
The Michael Report claims Apple is using a new manufacturing technique that allows for a thinner overall design of the iPad Air 2 and that should deliver better quality, but the report is not clear if Apple is ready to go to the level of the iPhone 6 and iPhone 6 Plus.
With this change w could see the iPad Air 2 come in at 7mm thick, which is 0.5mm drop from the iPad Air and thinner than the iPhone 6 Plus. We're also hearing that there will be a speaker grill that looks more like the iPhone 6, a redesigned volume button area and no mute switch.
Finally there are multiple reports that Apple plans to offer a gold iPad Air 2 for the first time. BloomBerg backs this report. If this is true, expect a
iPad Air 2 Features
The iPad Air 2 features that may convince you to buy this new iPad include better cameras, a very important spec jump that you'll actually notice, more storage and Touch ID. Here's a closer look at the potential iPad Air 2 features.
Apple is finally ready to offer better cameras on the iPad Air 2, much to the delight of users who want to use the tablet to take photos. This may be the only gadget they own, or they simply like the big viewfinder. Whatever the reason look for a 8MP rear-facing camera that can take clearer, more detailed photos and an improved FaceTime HD camera on the front.
Don't look for Micro SD card support, but you may be able to get more storage without breaking the bank. Apple delivered better storage options on the iPhone 6 and we could see 32GB, 64GB and 128GB options become the standard for the iPad Air 2, with no 16 GB option. If this happens, we may see the original iPad Air stay on as a 16GB option at $399.
Apple Pay is important to Apple and you may be able to use the iPad Air 2 to make mobile payments. This is thanks to a new Touch ID sensor that replaces the home button. This will allow users to login without a passcode, make iTunes purchases and to use Touch ID in third-party apps.
We may even see Apple boost iPad Air 2 battery life with a more efficient Apple A8 processor and other power sipping upgrades.
One big iPad Air 2 spec upgrade could be a boost to 2GB of RAM. This sounds boring and technical, but it would allow the iPad to keep your apps open and ready better than the iPad Air 2. If you've ever re-opened an app or Safari and the iPad had to reload the page, it's because the iPad essentially closed the app while it was in the background to free up memory for something else.
iPad Air 2 Specs
Here are the leaked iPad Air 2 specs, including the 2GB of RAM boost that should deliver much wanted performance.
Apple A8 Processor
2GB RAM
32/64/128GB storage options
FaceTime HD camera
8MP camera
7mm thick
Touch ID
NFC
iPad Air 2 Software: iOS 8.1 Release
We expect to see Apple announce the iOS 8.1 release at the event. This software update will deliver a large number of bug fixes to the iPhone and iPad and unlock Apple Pay.
One of the long rumored features for iOS 8.1 on the iPad is split screen multi-tasking. This would allow users to run two apps at once, side-by-side. While rumors are quieter now, it would make sense for Apple to announce this feature for iOS 8.1 on the iPad Air 2, which rumors indicate will pack more RAM and a faster processor.
If you aren't running iOS 8 on your current iPad you can see many of the new features in the slide show below. iOS 8 allows users to answer a call with the iPad, respond to text messages and use handoff which efficiently switches between apps and open documents when you switch between your iPhone and iPad.
What's New in iOS 8
iOS 8 vs iOS 7 Walkthrough - Home Screen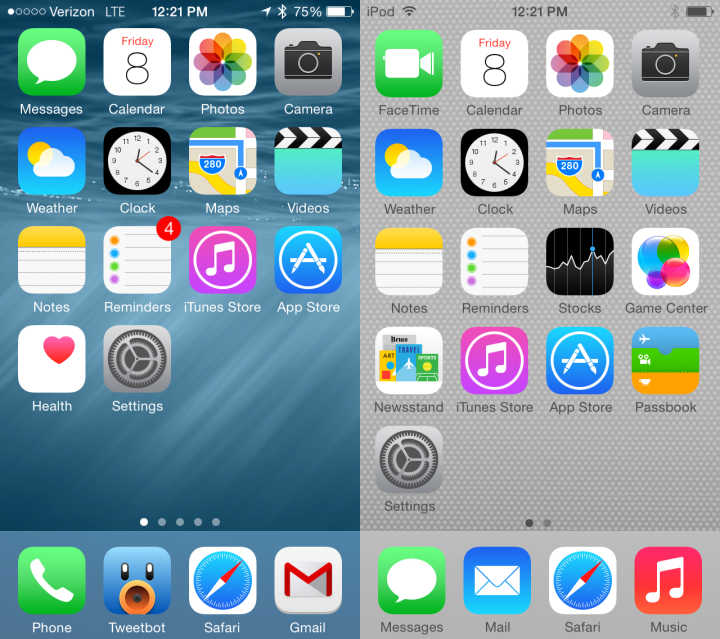 We start our iOS 8 vs iOS 7 walkthrough with the iPhone home screen, which is where you'll start your iOS 8 experience after an update this fall.
These screens are incredibly important as you see them anytime you turn on the iPhone or need to choose an app to launch. There is no way around using them, so Apple needs to make sure they work just right.
As you can see in the iOS 8 vs iOS 7 comparison above, there is no change between the home screen in the new iPhone software. Apple changed the status bar and some other small visual changes in iOS 7, but there are no updates for iOS 8.
We could see Apple change the home screen slightly for iOS 8 for the iPhone 6. The new iPhone will feature a larger 4.7-inch display with a higher resolution. This is something Apple may use to add more icons to the screen. Or they could stick with the current layout, it's tough to tell.

As an Amazon Associate I earn from qualifying purchases.