The iPad Air 2 looks like the iPad Air, but it includes improvements and refinements that come together to deliver a vastly improved experience that is hard to completely understand until you make the switch.
On paper it seems like such a small upgrade, but the thinner and lighter iPad also packs in a better display, Touch ID and blazing fast speed that makes even the iPad Air feel slow. All of these small upgrades come together into an iPad Air 2 that feels like much more than a small upgrade that it looks like at first glance.
After using the iPad Air 2 for several months, and upgrading from the iPad Air, this iPad Air 2 review will focus on the overall value of the newest iPad as we make our way into 2015 and chatter about bigger iPads continues.
The iPad Air 2 is the best all-around tablet you can buy for entertainment, productivity, gaming and other activities, which is why it earns a Gotta Be Mobile Editor's Choice Award.
iPad Air 2 Review Summary
What We Like: The iPad Air 2 is thin and light, with blazing fast speed, a screen that is easier to use in bright light and finally supports Touch ID.
What We Don't Like: The iPad Air 2 should start with 32GB of storage and it would be great to see Apple deliver better sound.
Bottom Line: The iPad Air 2 is one of the best tablets you can buy and is more than a minor update to the iPad Air.
The iPad Air 2 is $499 for the 16GB model, but Amazon often sells it for $445. More storage is $100 for each jump in price and there are LTE models starting at $629.
iPad Air 2 Display
At first glance the iPad Air 2 display look just like the one in the iPad Air, but there is a big difference that you notice when you start to use the new iPad Air 2. The 9.7-inch display delivers the same 2,048 x 1,536 resolution as the iPad Air, but that's where things start to change.
Apple uses a new process to remove the gaps that normally sit between the glass, the touch sensor and LCD. This new process helps make the iPad Air 2 thinner but it also makes the screen look better. Colors are more vibrant and images and video look incredible on the iPad Air 2 screen.
There is also a new anti-reflective coating on the iPad Air 2 display that reduces glare by 56% according to Apple. In the real world this means lights that hit the screen are less distracting and when we watch a video on the iPad in bed the glare from a lamp or a TV is not as noticeable. The photo above shows what this looks like compared to the iPad Air display.
iPad Air 2 Design
The iPad Air 2 design is familiar, but new at the same time. Apple found ways to cut the weight to below a pound and to shrink the thickness to 6.1mm. This sounds like a small change, but as soon as you pick the iPad Air 2 up it's clear that this is a difference that you can feel, especially if you upgrade from an older iPad that weighed well over a pound.
Apple finally offers a gold iPad Air 2 to match the iPhone 6 and new MacBook. Despite the new color, Apple uses the same aluminum construction that iPad owners are familiar with. The light weight makes it easy to hold with one hand, and it is not as slippery as the iPhone 6. Although it's possible to hold the iPad Air 2 with one hand for some tasks, it still feels most natural with two hands.
The home button includes Touch ID, a fingerprint sensor, that makes logging in to the iPad, buying items on iTunes and logging into websites and apps as simple as placing a finger on the home button. This is a great addition for anyone with an iPhone 5s or newer who likely rests their thumb on the iPad home button and waits for it to unlock.
iPad Air 2 Cameras
The iPad Air 2 camera now takes slightly better looking photos, which is great news for users that rely on the iPad as their main digital camera. This may be a small subset of users, but it is a welcome upgrade. The camera also records 1080P HD video. Apple offers a range of camera features to help take better photos including exposure control, 120 frames-per-second slow motion video, burst mode photos, a timer and a panorama mode.
On the front of the iPad is a FaceTime HD camera that lets in more light than previous iPads for better looking photos and video conferencing. One thing that really stands out is the second microphone on the back of the iPad Air 2 that switches on when you use the rear camera for a video call.
iPad Air 2 Performance
The iPad Air 2 is blazing fast thanks to a A8X chip that delivers snappier performance than the iPad Air and that often feels faster than a computer for some tasks. Every activity feels faster on the iPad Air 2, from switching apps to scrolling and working inside apps for productivity and entertainment. Although gaming is not the primary purpose of our iPad Air 2 use, the power inside delivers great looking games and the iPad Air 2 loads the games faster than earlier models.
Listening to music or movies on the iPad Air 2 speaker is good, but it is something we rarely do for long periods. It's fine for sharing a short video, but when it is time to watch anything longer you'll want Bluetooth speakers or a pair of good headphones. With iOS 8 it is possible to take phone calls on the iPad Air 2 and call quality through this option is good.
Even with the increased speed, the iPad Air 2 battery life is great. Apple promises 10 hours of battery life and that is something that we easily achieved during our extended tests. The standby battery life is also excellent, so there is little chance of trying to turn on the iPad Air 2 and finding it dead.
Apple includes a more affordable 64GB storage option, but still no support for Micro SD cards. The base 16GB iPad Air 2 does not offer enough storage for most users and Apple should really replace it with a 32GB iPad Air 2 at $499.
iPad Air 2 Software
The iPad Air 2 software delivers a lot of the magic and on iOS 8 and the newest iOS 8.2 update there is increased connectivity between the iPad Air 2, the iPhone and Mac. The slides below show many of the new iOS 8 features that help users do more with the iPad Air 2.
What's New in iOS 8
iOS 8 vs iOS 7 Walkthrough - Home Screen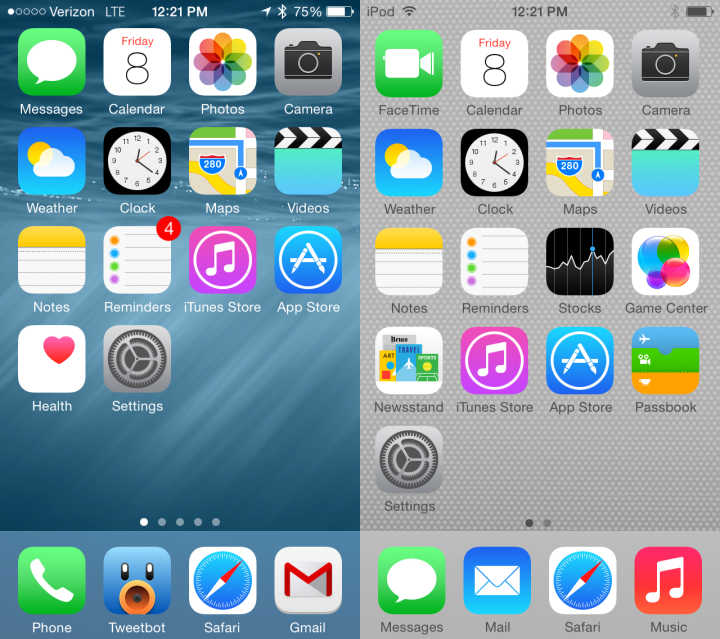 We start our iOS 8 vs iOS 7 walkthrough with the iPhone home screen, which is where you'll start your iOS 8 experience after an update this fall.
These screens are incredibly important as you see them anytime you turn on the iPhone or need to choose an app to launch. There is no way around using them, so Apple needs to make sure they work just right.
As you can see in the iOS 8 vs iOS 7 comparison above, there is no change between the home screen in the new iPhone software. Apple changed the status bar and some other small visual changes in iOS 7, but there are no updates for iOS 8.
We could see Apple change the home screen slightly for iOS 8 for the iPhone 6. The new iPhone will feature a larger 4.7-inch display with a higher resolution. This is something Apple may use to add more icons to the screen. Or they could stick with the current layout, it's tough to tell.
Apple also supports Apple Pay on the iPad Air 2 for payments inside apps. This simplifies some transactions, allowing users to make payments by placing a finger on the Touch ID sensor. Other notable upgrades make it simple to pick up on work from the iPhone on the iPad, better manage group iMessages, check texts on the iPad and even answer calls on the iPad Air.
The new iPad keyboard in iOS 8 offers better autocorrection and predicts the words you will type next. It is also possible to install third-party keyboards on the iPad Air 2 without jailbreaking or installing special tweaks. With Family Sharing you can link up every iTunes account in the house and share apps, movies, music and more.
iPad Air 2 Review Verdict
After years of revisions and refinements the iPad Air 2 is the best iPad yet and remains one of the best tablets you can buy. Even with increased competition from the Amazon Fire HDX 8.9, Nexus 9 and Samsung tablets it is a top pick that is worth the price.
The iPad Air is tempting at $100 less, but after upgrading from the iPad Air to the iPad Air 2, there are clear benefits to owning and using the new iPad Air 2 that go well beyond the looks.

This article may contain affiliate links. Click here for more details.