iPhone 4s iOS 8.1.3 Update: 5 Things You Need to Know Now
The iOS 8.1.3 update is almost two weeks old, but many users are still deciding if they should install the update, especially on an old device like the iPhone 4s. After taking a look at early iPhone 4s iOS 8.1.3 reviews we are sharing 5 things that iPhone 4s owners need to know today.
Apple delivered the iOS 8 update months ago and many iPhone 4s owners held off on the upgrade until iOS 8.1 arrived with a performance boost. In the following months Apple rolled out a number of smaller updates culminating in the iOS 8.1.3 update that is available now.
There are still 25% of iPhone and iPad users on iOS 7 and a good number may be iPhone 4s owners who are hesitant to upgrade and experience potential slowdowns and issues that often come with major updates on older devices.
Apple is already working on a bigger iOS 8.2 update, but there is a new reason that some iPhone 4s owners need to consider upgrading from iOS 7 to iOS 8.
With the iOS 8.1.3 update Apple made a change that makes upgrading from iOS 7 to iOS 8 easier on a device without much free storage, like an 8GB iPhone 4s or 16GB iPhone 4s. The iOS 8.1.3 update reduces the amount of free space you need to install the update from iOS 7. If there is still not enough room you can plug-in to a computer and update using iTunes.
Users continue to ask if it is safe to install the iPhone 4s iOS 8.1.3 update, which is what we want to help them figure out by sharing five important details about this small, but useful iOS 8 update.
iPhone 4s iOS 8.1.3 Update … Update
Although some people are still waiting, many users are already using iOS 8.1.3 on the iPhone 4s. There were some issues upgrading with devices needing a full restore and some users are not thrilled with the performance, which is slightly slower than on iOS 8.1.2.
The video below offers a comparison of iOS 8.1.2 vs iOS 8.1.3 on the iPhone 4s. The iOS 8.1.3 update is slightly slower in this example, but if you aren't looking at devices side-by-side it may not be as bad.
It's important to share that while there are some potential issues we have not heard of horrible battery draining, broken WiFi or other major issues on the iOS 8.1.3 update.
It's a Good Time to Leave iOS 7
It is certainly a good time to upgrade from iOS 7 to iOS 8. Even though the iPhone 4s is older and does not get all the same features as an iPhone 6 you still get a better Message app, refinements in style and other handy features. Checkout the iOS 7 vs iOS 8 comparison at the bottom of this article.
Another reason you should get off iOS 7 is a nasty piece of malware that can collect texts, photos and even start a voice recording. It's not incredibly likely that you will be targeted by this, but on iOS 7 it is something that a user could accidentally install by clicking on a link and it doesn't matter if you are jailbroken.
If you are on iOS 7 the app that does this hides itself and restarts whenever you restart the phone. On iOS 8 you can see the app and it cannot restart itself. This means you can uninstall it. You can checkout more details in our coverage. If you don't upgrade, don't install a profile form a link unless you know what you are doing.
Speed Up iOS 8.1.3 on iPhone 4s
There are many things you can do to speed up the iPhone 4s iOS 8.1.3 update. You need to disable some features and change settings to make this work, but in the end the iPhone 4s runs faster.
The video above outlines many of the steps to speed up the iPhone 4s performance, and you can read our earlier coverage on how to get better iPhone 4s performance on iOS 8.
iOS 8.1.3 Problems & Fixes
There are no shortage of users sharing iOS 8.1.3 problems in the Apple Support Forums, so users should take note of potential issues with the upgrade. We shared a collection of common iOS 8.1.3 problems that users should read before upgrading.
If you prepare for the iOS 8.1.3 update you can avoid some of the issues and be better prepared to deal with any trouble that comes with upgrading.
As for the rest of the problems, we shared a collection of iOS 8.1.3 problems and fixes to help users address the most common issues that they can fix without visiting an Apple Store for help.
iOS 8.1.3 Jailbreak & iOS 8.1.2 Downgrade
There is no iOS 8.1.3 jailbreak and it's very likely that there will not be one. The iOS 8.2 release is coming in March or April and the teams behind the jailbreak will likely save any new exploits for that release. If you need a jailbreak, stay on iOS 8.1.2 for now.
If you already upgraded, you can still downgrade from iOS 8.1.3 to iOS 8.1.2. Here is a step-by-step guide to downgrade iOS. Apple typically stops signing older updates relatively quickly, so you will need to downgrade soon. Make sure the iOS 8.1.2 line on this page is still green before you try to downgrade to iOS 8.1.2.
What's New in iOS 8
iOS 8 vs iOS 7 Walkthrough - Home Screen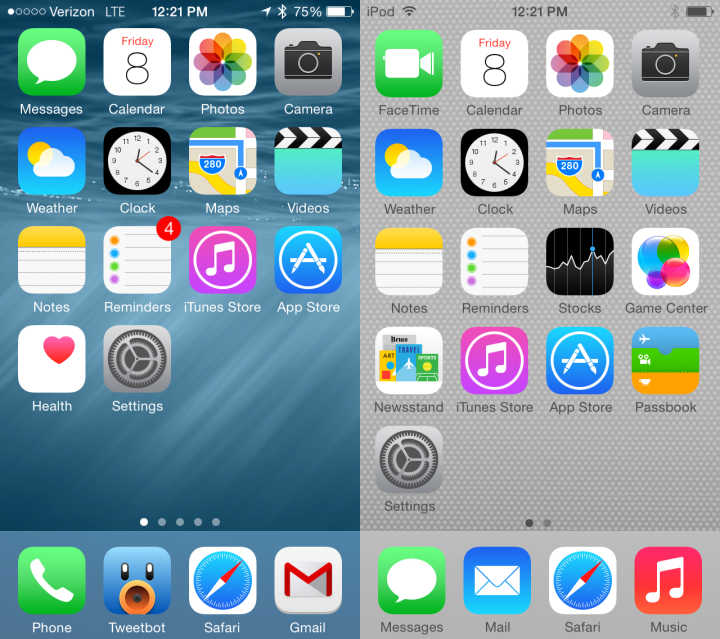 We start our iOS 8 vs iOS 7 walkthrough with the iPhone home screen, which is where you'll start your iOS 8 experience after an update this fall.
These screens are incredibly important as you see them anytime you turn on the iPhone or need to choose an app to launch. There is no way around using them, so Apple needs to make sure they work just right.
As you can see in the iOS 8 vs iOS 7 comparison above, there is no change between the home screen in the new iPhone software. Apple changed the status bar and some other small visual changes in iOS 7, but there are no updates for iOS 8.
We could see Apple change the home screen slightly for iOS 8 for the iPhone 6. The new iPhone will feature a larger 4.7-inch display with a higher resolution. This is something Apple may use to add more icons to the screen. Or they could stick with the current layout, it's tough to tell.