iPhone 4s iOS 8.1.3 vs iOS 8.1.2 Update Comparison
A new iPhone 4s iOS 8.1.3 vs iOS 8.1.2 update comparison video will help you decide if you should install the iOS 8.1.3 update on the aging iPhone 4s or stick with the current software while you wait for iOS 8.2, iOS 8.3 and iOS 8.4.
In the early iPhone 4s iOS 8.1.3 reviews we shared a video that showed slightly slower performance after the update. As we often see with these types of small updates the performance on older devices can vary from one device to the next. A new video shows the Phone 4s camera booting faster on iOS 8.1.3 than on iOS 8.1.2, but some other tasks are just slightly slower.
There are still many users on iOS 7 or on an older version of iOS 8 waiting to see if it is worth installing the iPhone 4s iOS 8.1.3 update. A new video shows the performance in several key areas that will help you decide if you should upgrade.
Watch the six-minute iPhone 4s iOS 8.1.3 vs iOS 8.1.2 performance comparison video below to see if it is worth upgrading to you.
The iPhone 4s camera boots faster and the App Store opens faster on iOS 8.1.3 than on iOS 8.1.2, but many of the other tasks are fairly close. The boot time is close enough that you don't need to worry about any difference. The App Installation and webpage test are slower on iOS 8.1.3, but it is possible that connection speed variations account for these differences.
If you decide that you want to upgrade, you can use our guide to install iOS 8.1.3 without using iTunes. Apple makes it easier to upgrade from iOS 7 thanks to the need for less storage, and this is a smaller update if you plan to upgrade from iOS 8.1.2 to iOS 8.1.3, so it should be pretty quick. Plan to spend at least 20 minutes on the process including downloading and upgrading.
If you are upgrading you can see what is new in iOS 8 in the comparison below that walks through the major changes from iOS 7 to iOS 8.
What's New in iOS 8
iOS 8 vs iOS 7 Walkthrough - Home Screen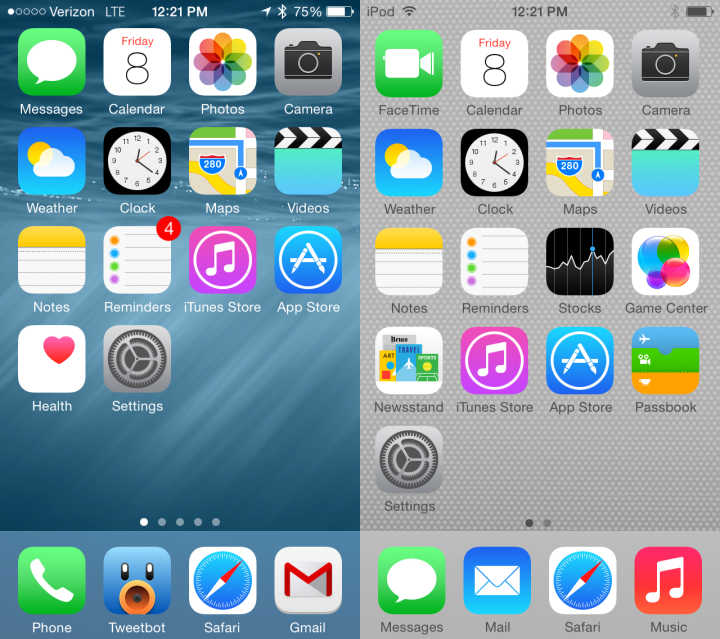 We start our iOS 8 vs iOS 7 walkthrough with the iPhone home screen, which is where you'll start your iOS 8 experience after an update this fall.
These screens are incredibly important as you see them anytime you turn on the iPhone or need to choose an app to launch. There is no way around using them, so Apple needs to make sure they work just right.
As you can see in the iOS 8 vs iOS 7 comparison above, there is no change between the home screen in the new iPhone software. Apple changed the status bar and some other small visual changes in iOS 7, but there are no updates for iOS 8.
We could see Apple change the home screen slightly for iOS 8 for the iPhone 6. The new iPhone will feature a larger 4.7-inch display with a higher resolution. This is something Apple may use to add more icons to the screen. Or they could stick with the current layout, it's tough to tell.
We recently shared 5 things iPhone 4s owners need to know about the iOS 8.1.3 update outlining the overall opinion on the update, including why you might want to upgrade to get off iOS 7 if you are still on the old software. There are some iOS 8.1.3 problems that users need to know about before updating, but if you prepare for the update with a backup many users will not run into major issues. There are several fixes for iOS 8.1.3 problems that allow you to fix bugs or issues without asking Apple for help.
There is no way to downgrade from iOS 8.1.3 to iOS 8.1.2 anymore, so once you upgrade you are stuck there. There is no iOS 8.1.3 jailbreak at this time and may not be one for this update.
If you choose to upgrade to iOS 8.1.3 on the iPhone 4s, you can take several steps to further improve performance on this older device. You can reduce the motion and animations, turn off transparency, reset your settings and if all else fails restore and start from scratch for better performance.
At this point it looks like there will be several other significant updates for the iPhone 4s before Apple makes a switch to iOS 9 that will likely not come to the iPhone 4s. The iOS 8.2 update should arrive in March and add support for the Apple Watch on most devices, but the Apple Watch is not compatible with the iPhone 4s. After that we should see iOS 8.3 and iOS 8.4 deliver new features and other bug fixes.