iPhone 6 Jailbreak Release: What to Expect
Buyers are already waiting for the iPhone 6 jailbreak release and the new iPhone 6 and iPhone 6 Plus are not even on store shelves.
Shortly after Apple announced the iPhone 6 users took to twitter to ask how to jailbreak the iPhone 6 and if there is an iOS 8 jailbreak release yet, but the answers are disappointing for anyone that is eager to use the iPhone 6 or iPhone 6 Plus jailbreak.
Over the past year iPhone jailbreak teams delivered new ways to jailbreak the iPhone 5s and multiple iOS 7 jailbreaks, but there is more drama and competition in the jailbreak arena than we've seen in a while.
Couple that with a new Apple A8 chip and NFC support and Apple Pay that leads to the potential for a tougher iPhone 6 jailbreak.
Although there was talk of a reverse engineered iOS 8 jailbreak, there is little new information about the iPhone 6 jailbreak release that we can share. After following the jailbreak community closely for several years there are definitely some things users can expect from the iOS 8 and iPhone 6 jailbreak release.
No Fast iPhone 6 Jailbreak Release
With a new processor, payments and a new version of iOS you shouldn't expect an iPhone 6 jailbreak release anytime soon. There are already some potential buyers trying to decide if it is worth buying the new iPhone now and giving up their jailbreak.
iPhone 6 won't be of any use to me until an iOS 8 jailbreak is available.

— Chico DeBarge (@nashthemack) September 12, 2014
It's possible that we'll see a similar fast iOS 8 and iPhone 6 jailbreak release date if the Evad3rs or Pangu are able to crack through the security, but a release in the next month or two would be a surprise.
Apple already promised an iOS 8 update in October to enable Apple Pay. Although not confirmed it is likely iOS 8.0.1. if you want to get in on the iPhone 6 jailbreak you may want to hold off on installing the first iOS 8 update in case it closes a security hole. When the release is closer you can look for confirmation from a source like MuscleNerd to see if it is OK to install a new iOS 8 update on the iPhone 6.
iOS 8 and iPhone 6 Jailbreak Teases
So far the big names in iOS jailbreaking are quiet as the iOS 8 release date approaches next week, but after the iPhone 6 release date on the 19th you can expect to start seeing teasers.
Every year someone with talent shows a screenshot or video with early progress towards a jailbreak. We expect to se legitimate iPhone 6 jailbreak teasers and boasts from someone with a history of working on a successful jailbreak.
Lots of Fake iPhone 6 Jailbreaks
You can always count on fake iOS 8 jailbreaks and fake iPhone 6 jailbreak tools to tempt users into filling out surveys or asking for donations. We saw this countless times with iOS 7 and the iPhone 5s, and the only surprise is that there aren't that many fakes yet.
Don't pay money for an iPhone 6 jailbreak or fill out surveys for an iOS 8 jailbreak unless you are making a donation to a recognized legitimate jailbreak.
iPhone 6 Jailbreak Drama
In the run up to an iPhone 6 jailbreak release expect some drama between competing teams. If you follow the talented jailbreak team members on Twitter you'll see a decent amount of drama between various factions. The best bet for the average user waiting for the iPhone 6 jailbreak release is to keep the Twitter searching to a minimum.
Don't pester known jailbreak team members with questions about the iOS 8 and iPhone 6 jailbreak release over and over, and certainly don't tweet angrily at them while they work on something that they give away.
iOS 8 & iPhone 6 Jailbreak Release Dates
Although there is a chance that we could see an iOS 8 jailbreak release date arrive before the iPhone 6 jailbreak release it is likely that both will arrive at the same time so that Apple can't patch security holes and prevent the other jailbreak.
What's New in iOS 8
iOS 8 vs iOS 7 Walkthrough - Home Screen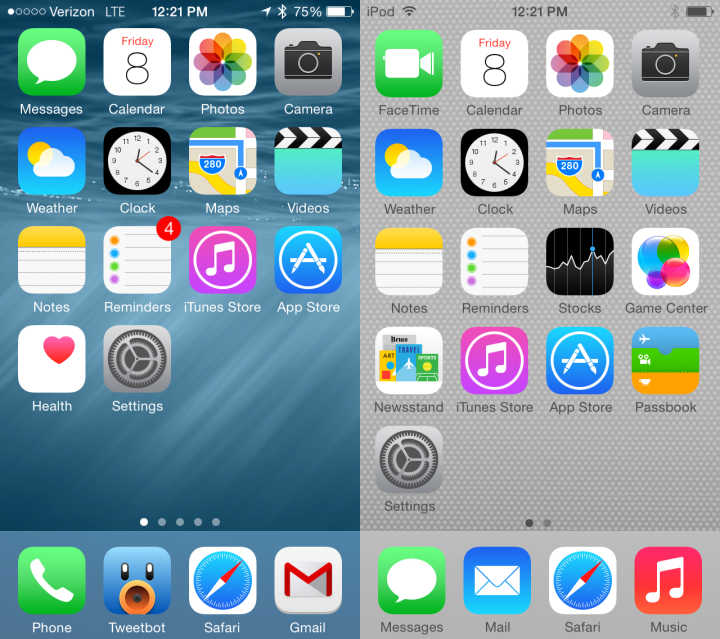 We start our iOS 8 vs iOS 7 walkthrough with the iPhone home screen, which is where you'll start your iOS 8 experience after an update this fall.
These screens are incredibly important as you see them anytime you turn on the iPhone or need to choose an app to launch. There is no way around using them, so Apple needs to make sure they work just right.
As you can see in the iOS 8 vs iOS 7 comparison above, there is no change between the home screen in the new iPhone software. Apple changed the status bar and some other small visual changes in iOS 7, but there are no updates for iOS 8.
We could see Apple change the home screen slightly for iOS 8 for the iPhone 6. The new iPhone will feature a larger 4.7-inch display with a higher resolution. This is something Apple may use to add more icons to the screen. Or they could stick with the current layout, it's tough to tell.

As an Amazon Associate I earn from qualifying purchases.