iPhone 6 Manual: Download The Guide to Your New iPhone
The iPhone manual included in the iPhone 6 and iPhone 6 Plus box is minimal at best, and only covers the obvious things you need to get started but there is a free iPhone 6 manual download that you can carry with you on your iPhone or any other device so that you know how to use your new iPhone.
This iPhone manual is designed for iOS 8 on the iPhone 6, iPhone 6 Plus and other iPhones. Even if this isn't your first iPhone, you'll learn something new in this iPhone 6 manual.
Apple calls this the iPhone User Guide for iOS 8, but it's as close to an iPhone 6 manual as you'll get. With over 32 chapters on how to use the iPhone 6 and iPhone 6 Plus, as well as other iOS 8 features found on the iPhone 5s, iPhone 5c, iPhone 5 and iPhone 4s.
There are special sections explaining how to use the iPhone 6 in business, how to add a new keyboard language and the many iOS 8 and iPhone 6 accessibility options available. In this 180 page iPhone 6 manual you'll learn how to be a master of your new iPhone.
Users can learn how to use all the new iOS 8 features and the iPhone 6 features that are not on the older devices. There are also some added areas for the iPhone 6 Plus features like landscape mode. Keep this in mind as you read the iPhone 6 manual, or is you download this as your iOS 8 manual on an older device. Apple calls out features that are not on every device, so look for that if something you try is not working.
iPhone 6 Manual Download
The easiest thing to do is download the iPhone 6 manual to your new iPhone so you can search it and read it as you need to learn how to perform a task.
You don't need to pay for an iPhone 6 manual download, as Apple offers a free user guide. You just need to know where to look and how to save it to your iPhone, iPad or computer. It is a PDF, so you can open it on pretty much any device, or you can print it if you feel the need to use almost 200 pages of paper.
Download the iPhone 6 manual by opening the PDF in your Safari browser on the iPhone or iPad. You can read it in Safari, but if you want to use it more than once, the best thing to do is tap on Open in iBooks in the upper right to save the iPhone 6 manual to the iPhone or iPad.
If you are on a Mac, PC or Android device you should see a download option available somewhere on the page, you may need right-click to save the iPhone 6 manual PDF to your computer.
Not everyone will read the iPhone 6 manual, but it really is a great way to learn everything the iPhone 6 and iPhone 6 plus can do. Since this is also an iOS 8 manual you can use these guides to do more with your current phone on the new iOS 8 software.
You can also check out our iOS 8 and iPhone 6 how to articles, like the iPhone 6 setup guide above, which shows you how to set up the iPhone 6 or iPhone 6 Plus right out of the box. Each of these sections in the iPhone 6 manual includes details about the iPhone 6 settings that you can adjust to customize the iPhone to fit your needs and use.
The slide show below includes a walk-through of the new iOS 8 features.
What's New in iOS 8
iOS 8 vs iOS 7 Walkthrough - Home Screen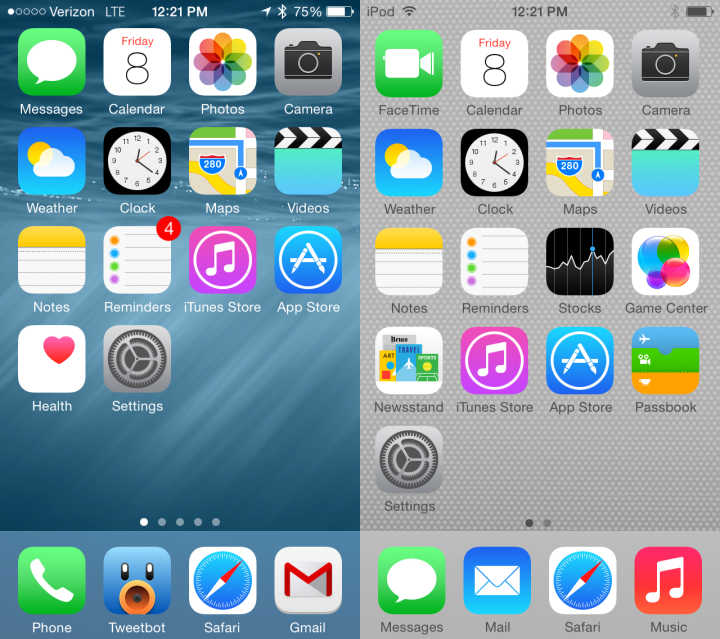 We start our iOS 8 vs iOS 7 walkthrough with the iPhone home screen, which is where you'll start your iOS 8 experience after an update this fall.
These screens are incredibly important as you see them anytime you turn on the iPhone or need to choose an app to launch. There is no way around using them, so Apple needs to make sure they work just right.
As you can see in the iOS 8 vs iOS 7 comparison above, there is no change between the home screen in the new iPhone software. Apple changed the status bar and some other small visual changes in iOS 7, but there are no updates for iOS 8.
We could see Apple change the home screen slightly for iOS 8 for the iPhone 6. The new iPhone will feature a larger 4.7-inch display with a higher resolution. This is something Apple may use to add more icons to the screen. Or they could stick with the current layout, it's tough to tell.

As an Amazon Associate I earn from qualifying purchases.