iPhone 6 vs iPhone 4: 5 Things Buyers Need to Know
The iPhone 6 and iPhone 6 Plus offer a new design, bigger screens and lots of new features to upgrades, but if you plan to upgrade from the iPhone 4 to the iPhone 6 you're in for one of the biggest upgrades of all.
Most iPhone 6 comparisons focus on newer devices, but this iPhone 6 vs iPhone 4 comparison will help iPhone 4 owners understand the key differences between their device and the iPhone 6 that Apple announced this month.
We'll touch on the iPhone 6 Plus, which includes many of the same features in a larger screen, but for the most part we'll focus on the 4.7-inch iPhone 6 vs iPhone 4.
Apple no longer sells the iPhone 4 and it just stopped major software updates for this device, which means it is on the way out. If you are able to upgrade, now is a great time to get at least $200 for an old iPhone 4, which will be worth considerably less in two months.
Apple stopped selling the iPhone 4 one year ago, so most users with an iPhone 4 are at the end of a contract and eligible to upgrade to the iPhone 6 at the $199 price on a new two-year contract. There are also new plans that let you pay $0 down and make monthly payments for the iPhone 6 that may be brand new to many iPhone 4 owners.
iPhone 6 vs iPhone 4 Screen
The iPhone 4 uses a 3.5-inch Retina display that many users love. This is the perfect size for a vocal group of iPhone owners, but if you want to buy a new iPhone you're going to need a bigger screen.
Apple upgrades the iPhone 6 display to a 4.7-inch Retina HD display that is significantly larger than the iPhone 4. This larger screen includes a higher 1,334 x 750 resolution that is a nice jump from the 960 x 640 resolution on the iPhone 4.
iPhone 6 – 4.7-inch 1,334 x 750 – 326 pixels per inch
iPhone 4 – 3.5-inch 960 x 640 – 326 pixels per inch
Essentially you're looking at a bigger display that delivers better looking images and video thanks to advancements in screen technology and a higher resolution.
You may find the iPhone 6 a little tough to use with one hand when you first pick it up, but the iPhone 6 is still within the realm of one-handed use. Apple also adds a one-handed mode called Reachability that allows you to slide the top of the display down to reach the upper edge.
iPhone 6 vs iPhone 4 Size & Design
The iPhone 4 design was the first to feature a glass back that looked wonderful, but was also easy to break when dropped. Apple since switched to more metal on the iPhone 5 and now an all metal iPhone 6 design.
Apple delivers a much larger iPhone this year, here's how it measures up to the iPhone 4.
iPhone 6 Plus – 158.1 x 77.8 x 7.1mm – 172 grams
iPhone 6 – 138.2 x 67.1 x 6.9mm – 129 grams
iPhone 4 – 115.2 x 58.6 x 9.3mm – 137 grams
The new iPhone 6 is larger, but it is also lighter than the iPhone 4. If you think the iPhone 6 is too big you can hold a Galaxy S4, which is about the same size to see what you think.
iPhone 6 vs iPhone 4 Features
In the past several years Apple delivered a lot of new features and now with the iPhone 6 even more upgrades that will make the iPhone 6 an incredible upgrade from the iPhone 4.
The iPhone 4 features 4G, but no LTE, a 5MP rear facing camera and an older processor. When you upgrade to the iPhone 6 you'll get a much better camera, faster internet and now the option to make payments using Apple Pay by tapping the iPhone to a credit card reader.
4G LTE – This is a faster internet that will change how you use your iPhone. Streaming videos, music and even surfing the web are better on 4G LTE.
Camera – The new iPhone 6 includes an 8MP camera with a better sensor that will certainly take better looking photos than the iPhone 4.
Apple Pay – NFC in the iPhone 6 will allow you to pay for things with the iPhone 6 or iPhone 6 Plus. The technology is not part of the iPhone 4.
Apple Watch – The Apple Watch will not connect to the iPhone 4 at all. If you want to use this new wearable next year you'll need a new iPhone.
Storage – The Phone 6 is available with up to 128GB of storage and 64GB is now $100 cheaper. Compared to the max of 32GB on the iPhone 4 this is a lot of extra space.
For more differences, check out the iPhone 6 vs iPhone 4 specs and what the iPhone 4 will miss without an upgrade to iOS 8.
iPhone 6 vs iPhone 4 Specs
Not every iPhone owner wants to compare specs, but if you do, the iPhone 6 is a clear winner. Apple adds faster WiFi, a new 64 bit processor that unlocks better performance and gaming and the iPhone 6 battery life should be longer for most users.
iPhone 6 Specs
Apple A8 64-bit Processor
iOS 8
4.7-inch display
16GB / 64GB / 128GB storage options
1.2MP front-facing camera
8MP rear-facing camera
802.11ac WiFi
4G LTE
Touch ID Fingerprint Sensor
NFC
iPhone 4 Specs
Apple A4 Processor
iOS 7.1
3.5-inch display
8GB /16GB / 32GB storage options
VGA front-facing camera
5MP rear-facing camera
3G / 4G
802.11 b/g/n WiFi
The specs add up to what the device can do, and the aging iPhone 4 is not going to be capable of running apps and games at the same speeds and quality as the iPhone 6.
iPhone 6 vs iPhone 4 Support & Updates
The iPhone 4 is no longer getting iOS updates. iOS 8 adds new features like better group messaging, connectivity with your iPad for texts and calls, third party keyboards and many other exciting iOS 8 features.
There is no iOS 8 iPhone 4 update and there will not be any other major updates going forward. Apple will still offer the occasional security fix if something huge happens, but software support for the iPhone 4 is over.
On the iPhone 6 and iPhone 6 Plus, support is just starting. You can expect three or more years of support for new software updates and you'll also find cases and accessories more frequently in the coming months and years now that Apple stopped selling the iPhone 4S as well.
What's New in iOS 8
iOS 8 vs iOS 7 Walkthrough - Home Screen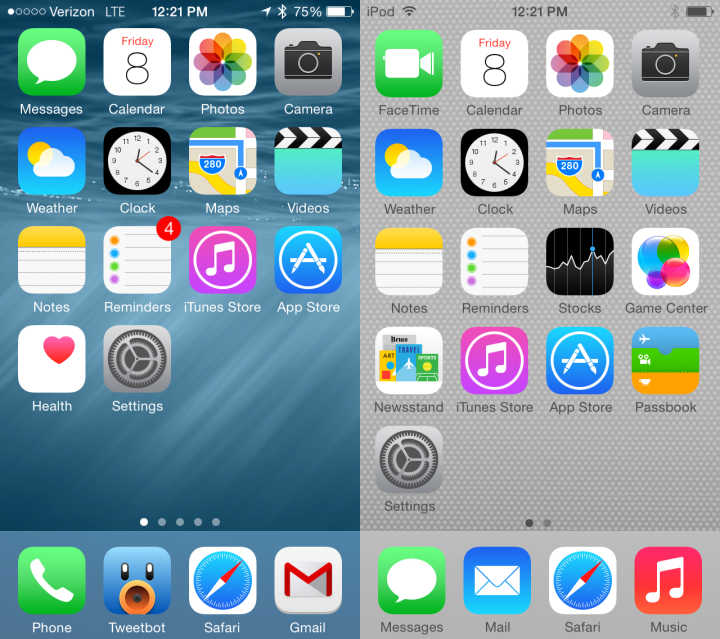 We start our iOS 8 vs iOS 7 walkthrough with the iPhone home screen, which is where you'll start your iOS 8 experience after an update this fall.
These screens are incredibly important as you see them anytime you turn on the iPhone or need to choose an app to launch. There is no way around using them, so Apple needs to make sure they work just right.
As you can see in the iOS 8 vs iOS 7 comparison above, there is no change between the home screen in the new iPhone software. Apple changed the status bar and some other small visual changes in iOS 7, but there are no updates for iOS 8.
We could see Apple change the home screen slightly for iOS 8 for the iPhone 6. The new iPhone will feature a larger 4.7-inch display with a higher resolution. This is something Apple may use to add more icons to the screen. Or they could stick with the current layout, it's tough to tell.

As an Amazon Associate I earn from qualifying purchases.