Is the Samsung Galaxy S8 Safe?
"Is the Samsung Galaxy S8 safe?", "Can I fly with the Galaxy S8?" and "Will the Galaxy S8 explode?" are all common questions that we are hearing from potential buyers.
All of these questions make sense considering the Galaxy Note 7 recall last year. After the Galaxy Note 7 battery problems and Galaxy Note 7 explosions, you couldn't even take the Note 7 onto a plane. This left users annoyed, frustrated and saddled them with the hassle of returning the Galaxy Note 7 for a phone they may not have wanted.
Even if you weren't involved in the exploding Galaxy Note 7, you've heard about it and the hassles that come from owning a new Samsung smartphone.
With all of the issues and Galaxy Note 7 problems, many potential buyers are wondering if the Galaxy S8 is safe to own, use and fly with.
Is the Galaxy S8 Safe?
While it will take a few months before there is enough real world data to call the Samsung Galaxy S8 safe, there is a lot of evidence that Samsung learned from the Note 7 explosions and battery problems.
One of the best pieces of evidence is that the Galaxy S8 release was not rushed. Samsung could have felt the pressure and pushed through a quick update to keep buyers from switching to the iPhone. That is not the case as the phone arrived in late April.
Samsung is also open about the battery testing and processes that go into making sure the phone is ready to withstand your daily life. There is an eight step Samsung Galaxy S8 battery test that checks multiple points of failure and abuse.
https://youtu.be/7Pvg7wOSeOI
Here's the Galaxy S8 battery test, that includes enhancements and new safety tests.
Durability Test – more frequent battery testing that includes overcharging, puncturing and extreme temps.
Visual Inspection – Each battery is checked to make sure it is safe.
X-Ray – Samsung performs an X-Ray test to make sure there are no internal abnormalities.
Disassembling test – Take the battery apart to check quality and safety.
OCV Test – Check for changes in voltage throughout manufacturing.
Charge/Discharge Test – Large scale charging and discharging tests.
TVOC – Testing to make sure there isn't any possibility of leaking.
Accelerated Usage Test – Simulated accelerated consumer usage scenarios.
Ultimately, this is a long way of saying Samsung is testing batteries in new ways and more intense ways. How does this play out in the real world?
Thanks to What's Inside and Jerry Rig Everything, we know that the Galaxy S8 battery can withstand a lot of abuse without exploding.
In the video above you see the Galaxy S8 survive a lot of abuse and in the video below it does well in a scratch, bend and even burn test.
Given all this evidence and the new battery testing that Samsung is performing before shipping the Galaxy S8, it's very likely that you can fly, drive, charge and live with your Galaxy S8 without any major worries.
If you are concerned, you should wait one or two months to see if anything happens. You should be cautious with any reports of exploding Galaxy S8 models as we expect that someone will either a prank or fake an explosion for views, attention or even insurance fraud.
5 Reasons to Buy the Galaxy S8 & 4 Reasons Not To
It's One of the Best Android Phones You Can Buy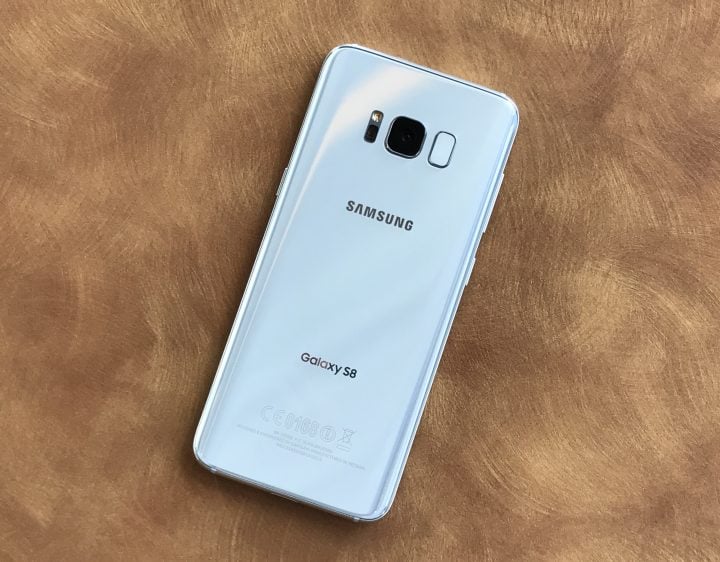 The Samsung Galaxy S8 is one of the best Android smartphones you can buy. If you are looking at top of the line Android phones in 2017, it's down to the Galaxy S8 and the LG G6.
Samsung went big with features that you will actually use and a very impressive curved screen that looks great. There are over a dozen awesome Galaxy S8 features that you can count on.
Additionally, the Galaxy S8 is a popular phone so you know that there will be a lot of accessories and cases made for it. We've already seen a number of amazing Galaxy S8 cases, Galaxy S8+ cases and official Galaxy S8 accessories that help complete the experience.
When it comes down to it, there is a lot to love about this phone. If you walk out of a store with the Galaxy S8 there is a very good chance you will be happy for the next year or longer.

As an Amazon Associate I earn from qualifying purchases.