Knife Hit App: 5 Things to Know
The Knife Hit app sounds like an app you might be worried to find on your kid's phone, but it's not some new crazy YouTube challenge that you need to be concerned about.
Read: Baseball Boy – 5 Things to Know
This is what you need to know about the free Knife Hit app for iPhone and Android that is frequently in the top 10 free apps list. Here are more of the best iPhone apps and the best Android apps.
What is the Knife Hit App?
The Knife Hit app is a free game from Ketchapp and Estoty which is a simple, but addictive game.
You tap the screen to throw knives at wood blocks or other spinning circles made of cheese, tomatoes and other items. You need to split the spinning circle and collect apples without hitting another knife.
The app is free to download and play on iPhone and Android.
How to Play Knife Hit
To play Knife Hit you tap the screen to throw a knife at a rotating circle. You need to throw all of your knives without hitting any of your knives or any existing knives on the wood.
It gets tougher as the wood spins faster and as there are more knives. You can tap rapidly to throw all of your knives in a second, or you can take your time and line up your throws.
You will get to boss battles every few levels where it is harder and you can unlock a new knife.
If you hit a knife you lose and you will need to either watch and ad or start over.
Is Knife Hit Safe For Kids?
One of the biggest questions we've heard from parents is, "Is Knife Hit safe for kids to play?"
Despite a potentially worrying name, Knife Hit is safe for kids to play. It is rated 4+ on iTunes and Everyone on Google Play.
You throw knives, but only at inanimate objects and even the boss battles are just tougher versions of that premise. There is no blood or actual violence.
There are a lot of ads, but so far they are all age appropriate and for other games.
Knife Hit In App Purchases
While Knife Hit is free to download and play, there are plenty of in-app purchases.
You can spend up to $19.99 on in-app purchases to get new knives, remove ads or get free continues.
No Ads + Free Continue 

$2.99

No Ads 

$1.99

Free continue 

$1.99

Red Knives Pack 

$1.99

Blue Knives Pack 

$3.99

Purple Knives Pack 

$9.99

Black Knives Pack 

$19.99
You don't need to make any purchases to play the game, but if you are a frequent player you may want to spend the $2.99 to remove the ads that slow down your play and get the free continues.
Knife Hit Cheats & Hacks
You'll find a lot of Knife Hit cheats listed online that promise unlimited apples, to remove ads and to unlock all knives for you without paying anything.
These Knife Hit cheats ask you for a username, which you don't have in the game and then pretend to connect to your account.
Once you choose that you want, you'll see a line of computer code show up, in an attempt to make you think they are hacking the game.
Onc that finishes you will need to verify by signing up for an offer, taking a survey or giving your personal information to an unknown entity.
Here's the truth. You won't get the offer and you won't get the unlimited apples and knives. You will get a bunch of spam, a bunch of annoying calls and a bunch of junk mail. Don't give your personal information for a game hack. Any user testimonial is not real.
20 Best Apps to Make Money in 2020
Google Opinion Rewards - Make Money By Answering Questions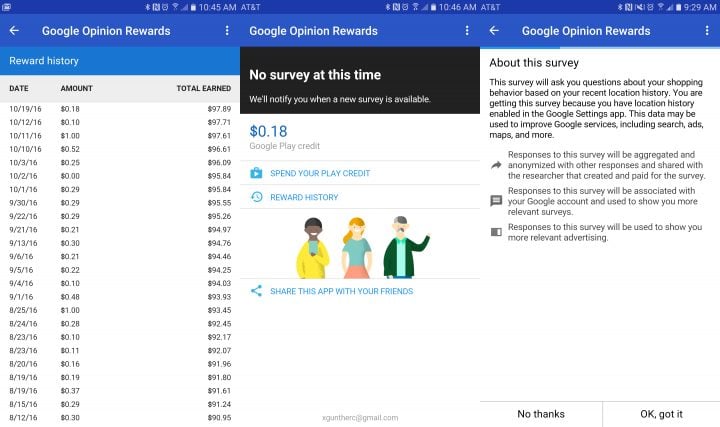 You can make money answering survey questions on your smartphone with Google Opinion Rewards. Also known as Google Surveys by many users, this free app rewards you for sharing your opinion. This works on iPhone and Android, but the best way to make money is on iPhone.
A member of the Gotta Be Mobile team earned over $100 with Google Opinion Rewards. All you need to do is answer questions and you'll earn anywhere from a 10 cents to a dollar. You can also answer Google Opinion Rewards surveys in stores to really earn more money.
The money that you make works for Google Play Credits on Android that you can use to buy apps, movies, books, and even spend on in app purchases for games like Clash of Clans without spending your cash.
iPhone users get the credit sent to PayPal when they have a balance of $2, which can happen every two or three weeks depending on how many surveys you qualify for. It's easy to earn when you start, but surveys may become less frequent as you go.
Download Google Opinion Rewards for Android and Google Opinion Rewards for iPhone.

As an Amazon Associate I earn from qualifying purchases.